News Archive
Bradley Nilsson Recipient of the 2016 Goergen Award for Excellence in Undergraduate Teaching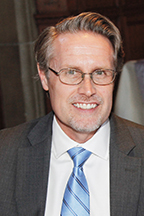 Chemistry Professor Bradley Nilsson has been selected to receive the 2016 Goergen Award for Excellence in Undergraduate Teaching. The award will be presented at a special award ceremony in the Hawkins Carlson Room located in Rush Rhees Library at 4:00pm on Wednesday October 5, 2016, just before Meliora Weekend.
The award recognizes Professor Nilsson for his excellence in teaching the first semester undergraduate organic chemistry laboratory courses (CHM 173 and CHM 207) , and the second semester organic chemistry lecture courses (CHM 172 and CHM 204). He also developed a graduate level course in Bioorganic Chemistry and Chemical Biology (CHM 440); advanced undergraduate students account for 84% of student enrollment.  Along with classroom performance, the award recognizes innovation in course design and curriculum, teaching methods and style, integration of research and teaching, and the ability to create a rigorous and relevant environment in the classroom, where students of all abilities and experiences with chemistry are stimulated and challenged.
Established in 1997 by University Trustee Robert Goergen and his wife, Pamela, the Goergen Award for Excellence in Undergraduate Teaching (formerly titled the Goergen Award for Distinguished Achievement and Artistry in Undergraduate Teaching) recognizes the distinctive accomplishments and skills of individual teachers in undergraduate courses in the College. The Award aims to recognize the full scope of educators' work that contributes to excellence in undergraduate education.
For more information and a list of previous Goergen Award winners, please click here:
http://www.rochester.edu/college/ourfaculty/goergen/
Related Links...