News Archive
Neidig recognized by Department of Energy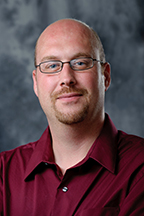 Michael Neidig, an assistant professor of chemistry, is one of 49 scientists to be recognized this year by the Department of Energy as one of the nation's "exceptional researchers" in his or her "crucial early career years."
The DOE's prestigious Early Career Award consists of a five-year, $750,000 grant. Neidig, who was named the Wilmot Assistant Professor of Chemistry in May, will use the grant to study the electronic structure and bonding in lanthanides and actinides, including short-lived and transient molecules.
"These elements are not well understood, especially compared to the more traditional metals, such as iron and cobalt," says Neidig.
Actinides, which include uranium, are particularly important in nuclear energy and nuclear nonproliferation. Lanthanides are important in the manufacture of semiconductors, hybrid car components, and glasses, among other products.
(Learn more about Professor Neidig's work and lab)
"A better understanding of the chemistry of these elements is not only exciting from a fundamental standpoint," Neidig says. "The insight obtained is important due to the critical role that these elements play in environmental, nonproliferation, and energy issues."
Neidig calls the award a "significant personal honor" that presents an exciting opportunity to expand his research into heavy elements for the next five years.
Neidig earned his PhD in chemistry at Stanford University and his MPhil in chemistry at the University of Cambridge in the UK. He worked as a postdoctoral fellow at Los Alamos National Laboratory before joining Rochester's chemistry department in 2011.
Article by: Peter Iglinski, UR Newscenter
Related Links...