Recent News
October 14, 2021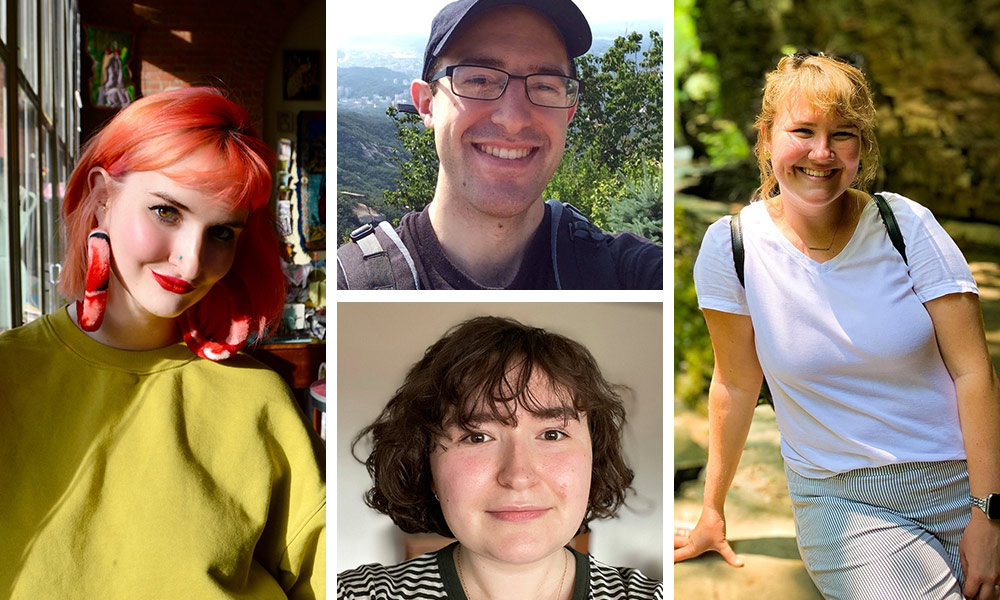 The four University of Rochester recipients of this year's Edward Peck Curtis Award for Excellence in Teaching by a Graduate Student come from different disciplines. But they have several things in common.
---
August 18, 2021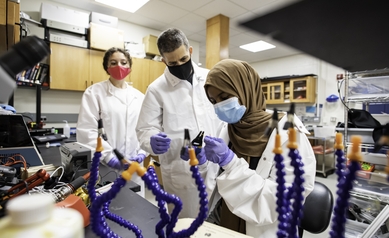 "Science is nature's art," Mariana Espinosa-Polanco said. The art and psychiatry major is a rising senior at The City College New York (CCNY) and one of the eight scholars in the inaugural class of NEUROCITY. "I graduate in December and plan to continue to pursue science because of this experience."
---
July 26, 2021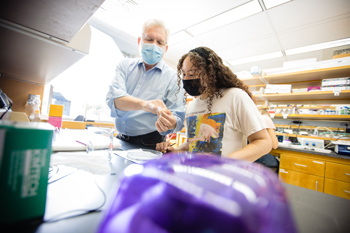 The Del Monte Institute for Neuroscience Diversity Commission (NDC) is working to create a pipeline for underrepresented minorities interested in pursuing neuroscience research. Eight undergraduate students from City College of New York (CCNY) are living and working at the University of Rochester this summer as part of a new program called NEUROCITY. NEUROCITY is a partnership between the University and City College New York.
---
June 30, 2021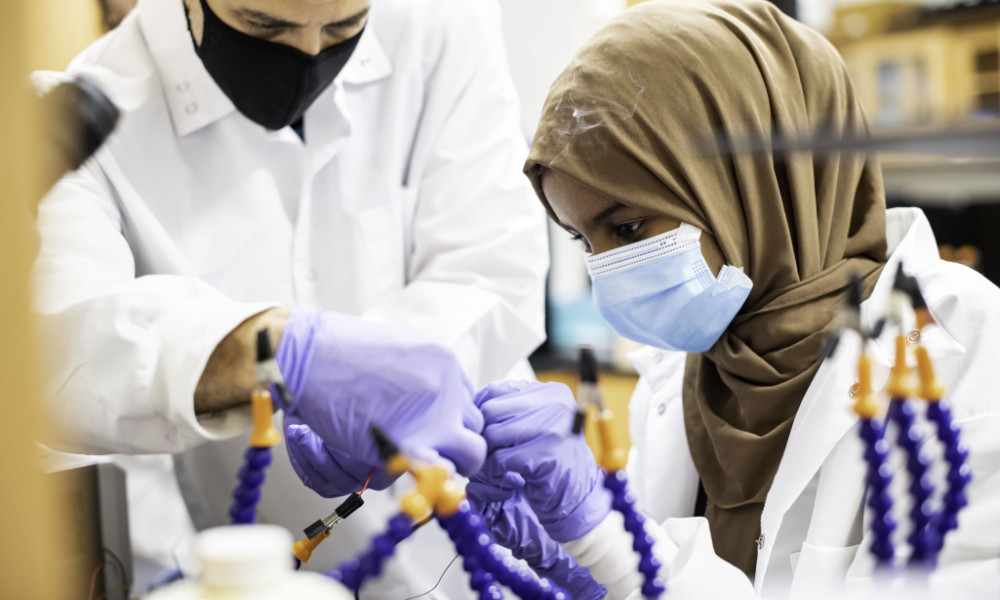 Lulu Abdullahi (right), a junior at East High School in the Rochester City School District, practices soldering to repair an experiment component with Manuel Gomez-Ramirez, an assistant professor in the University's Department of Brain and Cognitive Sciences. For six weeks, Abdullahi and a classmate visited the River Campus as part of NeURo East, a Del Monte Institute for Neuroscience program that gives underrepresented high school students access to scientific research experiences in an academic setting. In the fall, the program will expand to six students who will rotate through multiple Rochester labs during the academic year.
---
June 25, 2021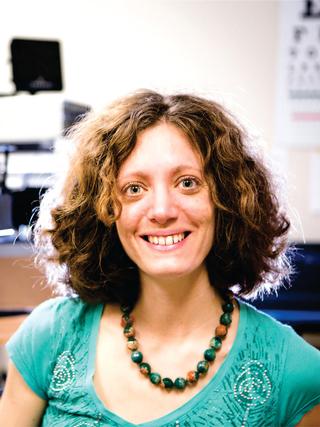 Four University faculty members, including Martina Poletti, representing "some of the most promising young men and women in the early stages of their academic careers," have been awarded James P. Wilmot Distinguished Assistant Professorships at the University of Rochester.
---
April 16, 2021
Up to half-a-million people each year suffer occipital strokes that cause loss to some portion of their vision, permanently affecting how they navigate through life.
---
March 25, 2021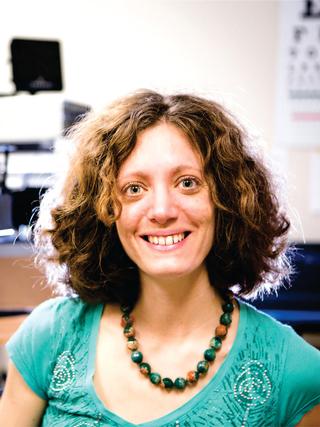 VSS is pleased to present the 2021 Young Investigator Award to Martina Poletti. Dr. Poletti is an assistant professor in the Department of Brain and Cognitive Sciences at the University of Rochester. She is recognized for fundamental contributions to our understanding of eye movements, microsaccades, and the nature of visual-motor function and attention within the foveola. She received her Bachelor's degree and Master's degree at the University of Padova, and completed her doctoral and postdoctoral work at Boston University.
---
March 22, 2021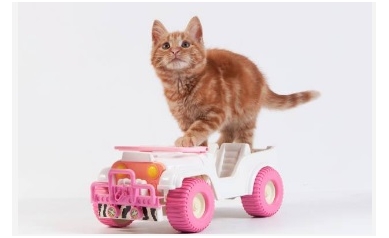 Have you ever wondered why you are able to hear a sentence and understand its meaning – given that the same words in a different order would have an entirely different meaning? New research involving neuroimaging and A.I., describes the complex network within the brain that comprehends the meaning of a spoken sentence.
---
February 16, 2021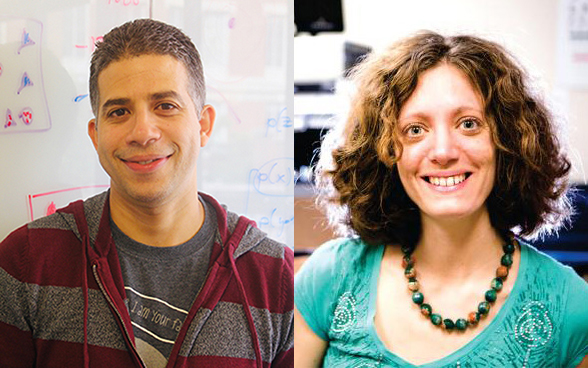 Two University of Rochester researchers in the Department of Brain and Cognitive Sciences are being honored with a celebrated award for their contributions to and leadership in the scientific community.
---
September 2, 2020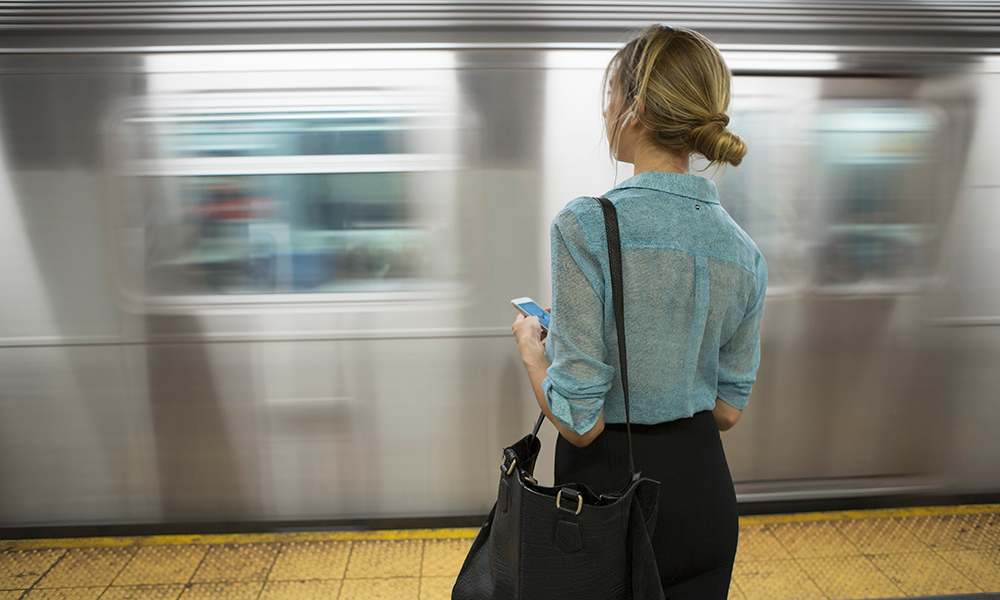 Major NIH award to study how the brain infers structure from sensory signals may have applications for disorders like schizophrenia and offer insights for artificial intelligence.
---
June 15, 2020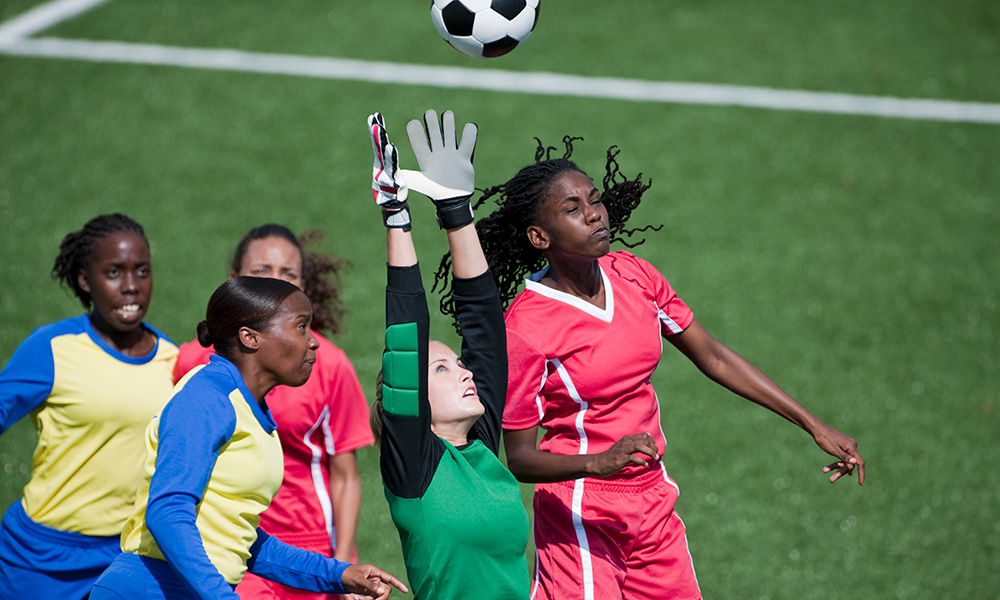 New Rochester research indicates some neurons may be more adept than previously thought in helping you perceive the motion of objects while you move through the world.
---
May 27, 2020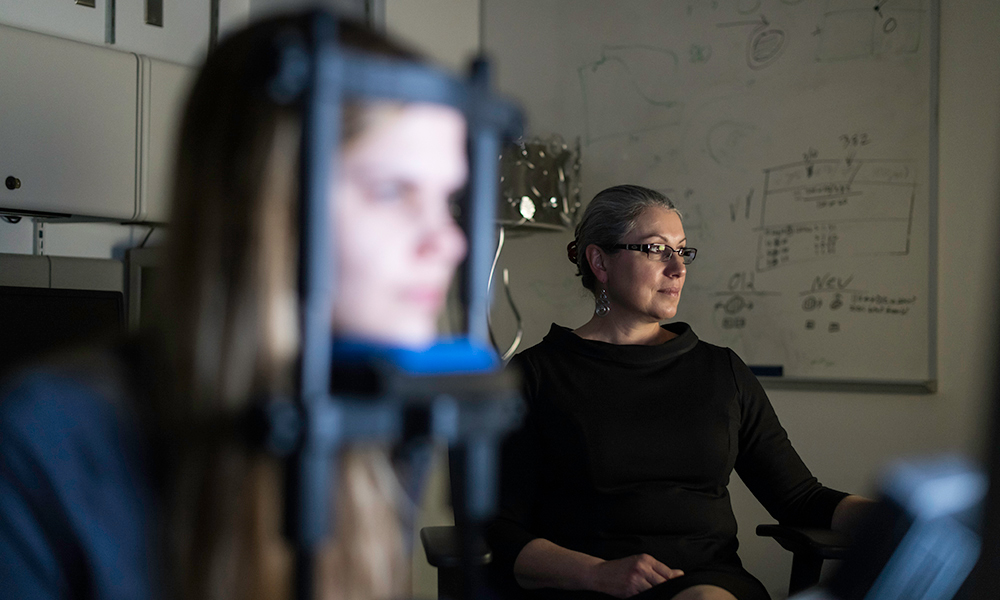 A person who has a stroke that causes vision loss is often told there is nothing they can do to improve or regain the vision they have lost.
---
May 4, 2020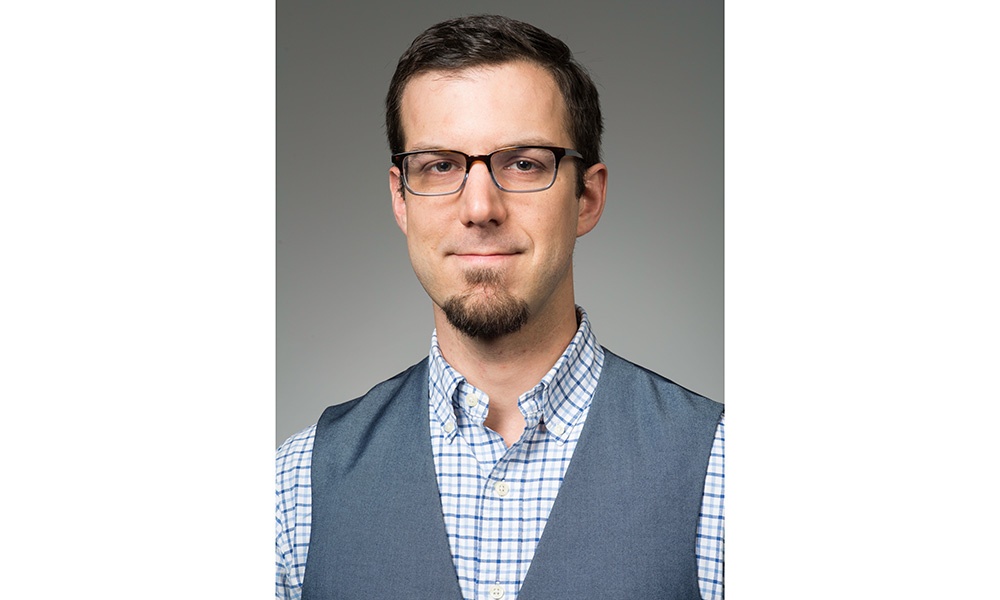 University of Rochester faculty member Adam Snyder has been named one of this year's recipients of a Sloan Research Fellowship, a national recognition awarded to young scientists considered to be potential future leaders in the scientific community.
---
April 24, 2020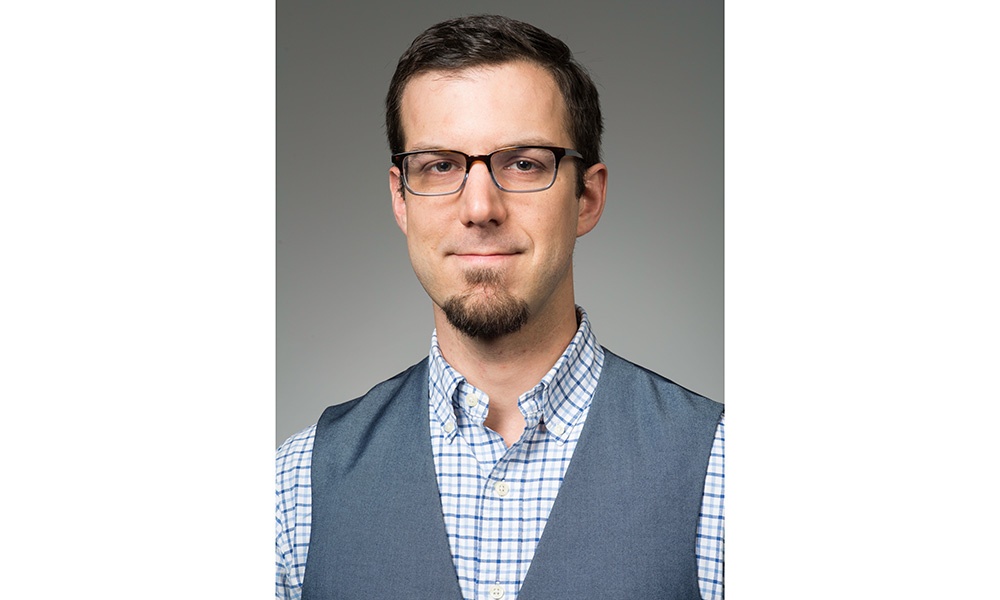 Adam Snyder, Ph.D., joined the Del Monte Institute for Neuroscience in July 2018 as an assistant professor in Brain and Cognitive Sciences, Neuroscience, and the Center for Visual Science. He received his B.A. in Language and Mind from New York University and went on to complete his Ph.D. in Cognitive Neuroscience from the City College of New York. His research focuses primarily on vision, visual attention and memory.
---
February 12, 2020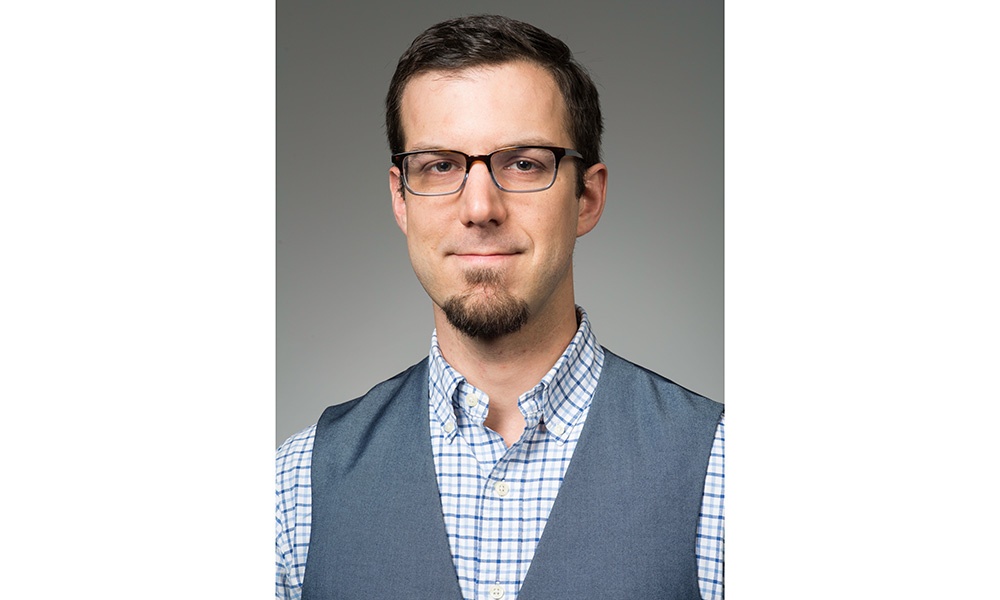 The Alfred P. Sloan Foundation is pleased to announce the selection of 126 extraordinary early career researchers as recipients of the 2020 Sloan Research Fellowships. Awarded annually since 1955, the fellowships honor scholars in the U.S. and Canada whose creativity, leadership, and independent research achievements make them some of the most promising researchers working today.
---
February 10, 2020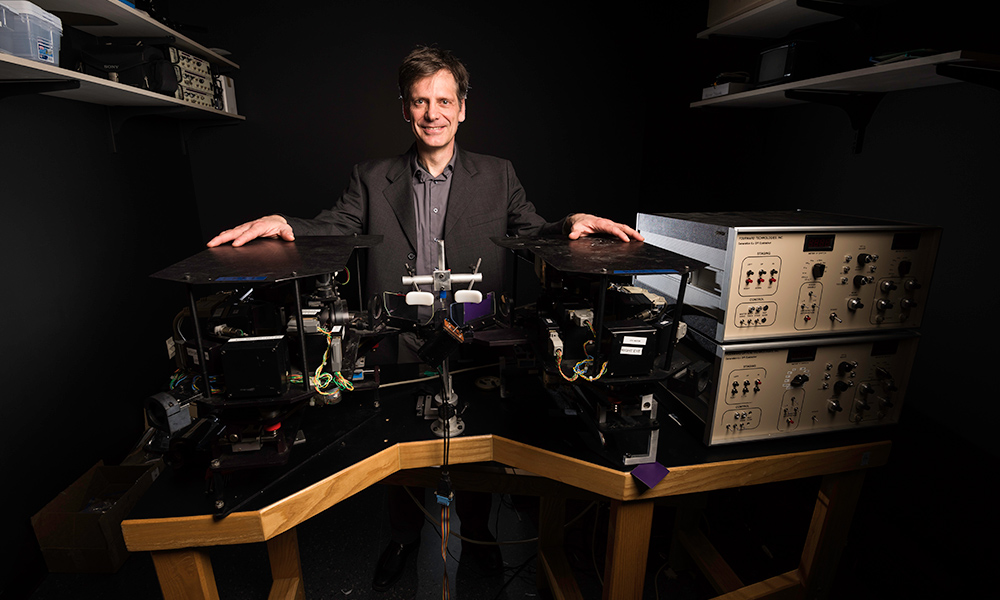 Researchers previously assumed that visual acuity was primarily determined by the optics of the eye and the anatomy of the retina. Now, researchers from the University of Rochester—including Michele Rucci, a professor of brain and cognitive sciences, and Janis Intoy, a neuroscience graduate student at Boston University and a research assistant in Rucci's lab in Rochester—show that small eye movements humans aren't even aware of making play a large role in humans' visual acuity. The research, published in the journal Nature Communications, may lead to improved treatments and therapies for vision impairments.
---
January 29, 2020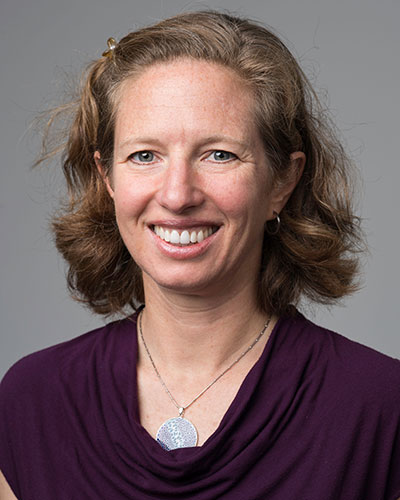 Farran Briggs, Ph.D., joined the Del Monte Institute for Neuroscience in 2017 as an associate professor in the Departments of Neuroscience, Brain and Cognitive Sciences, and the Center for Visual Sciences. She received her B.A. in Biology from Dartmouth College and Ph.D. in Biology from the University of California, San Diego. Her work focuses on neuronal circuits in the visual system, and how attention affects the brain's ability to process visual information.
---
October 2, 2019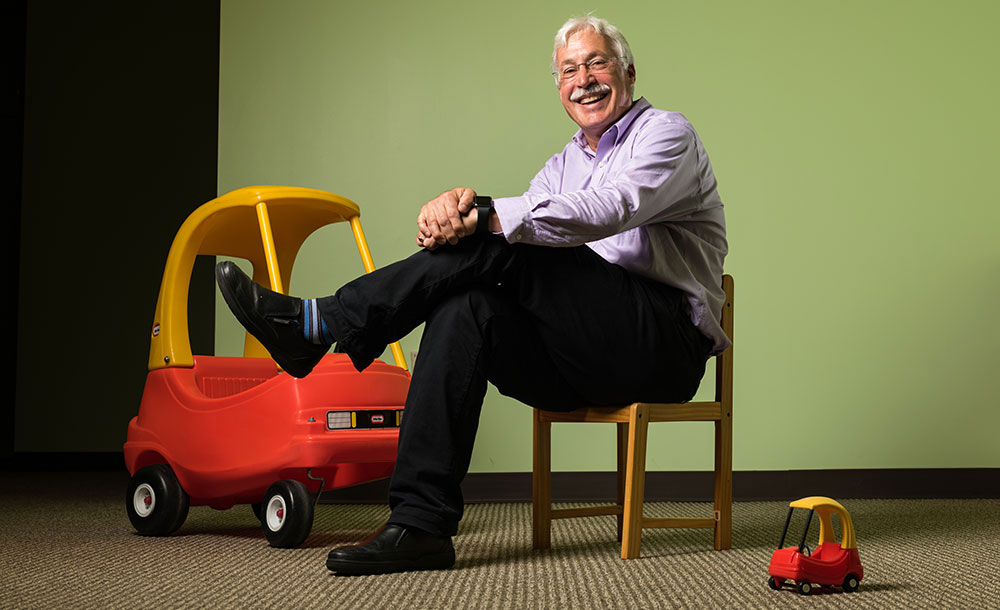 When Karl Rosengren's oldest daughter was a toddler, he and his wife—Rochester's new president, Sarah C. Mangelsdorf —observed her attempting to get into a doll-sized toy car that was no bigger than her foot.
---
September 18, 2019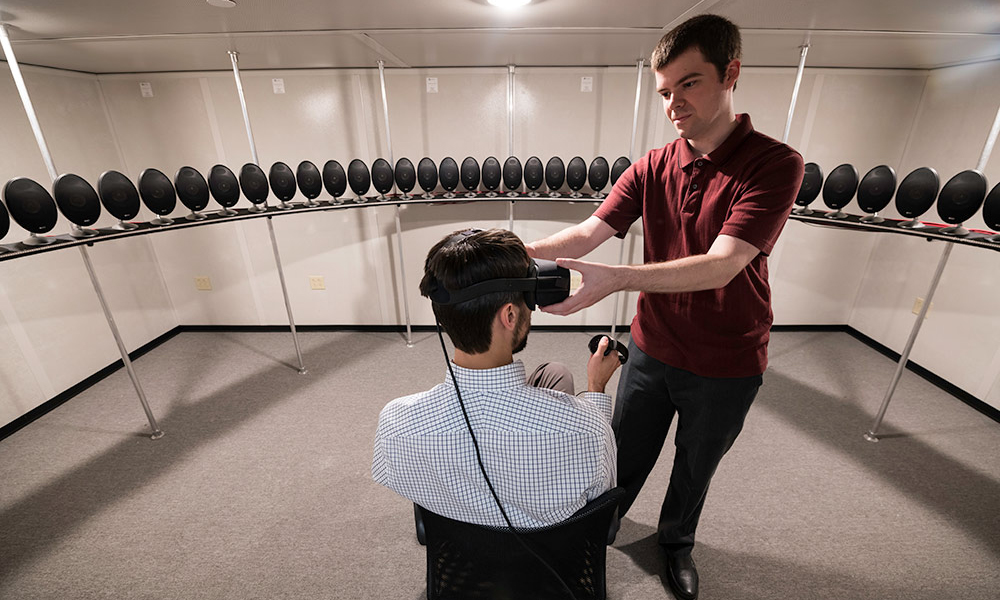 A $1.5 million grant from the National Science Foundation will provide additional impetus to a University of Rochester initiative applying augmented and virtual reality in health, education, product design, remote communication, entertainment, and other fields.
---
September 6, 2019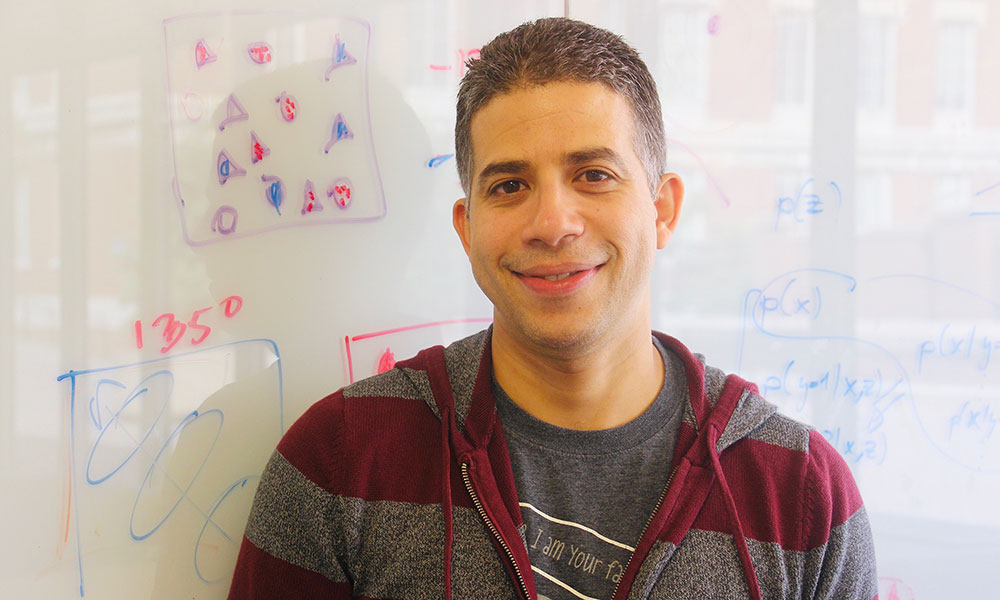 This summer, Manuel Gomez-Ramirez arrived from Brown University to join the University of Rochester (UR) as an assistant professor in the Departments of Brain and Cognitive Sciences (BCS) and Neuroscience. His Haptic Perception Lab will focus on developing mechanistic models of how objects are perceived and manipulated with our hands, with the ultimate goal of using these models to optimize neural stimulation strategies for brain-computer interfaces and neuroprosthetics. We sat down with Manny, the guitar-playing, cocktail-making neuroscientist, to talk about what he's most looking forward to at UR.
---
July 2, 2019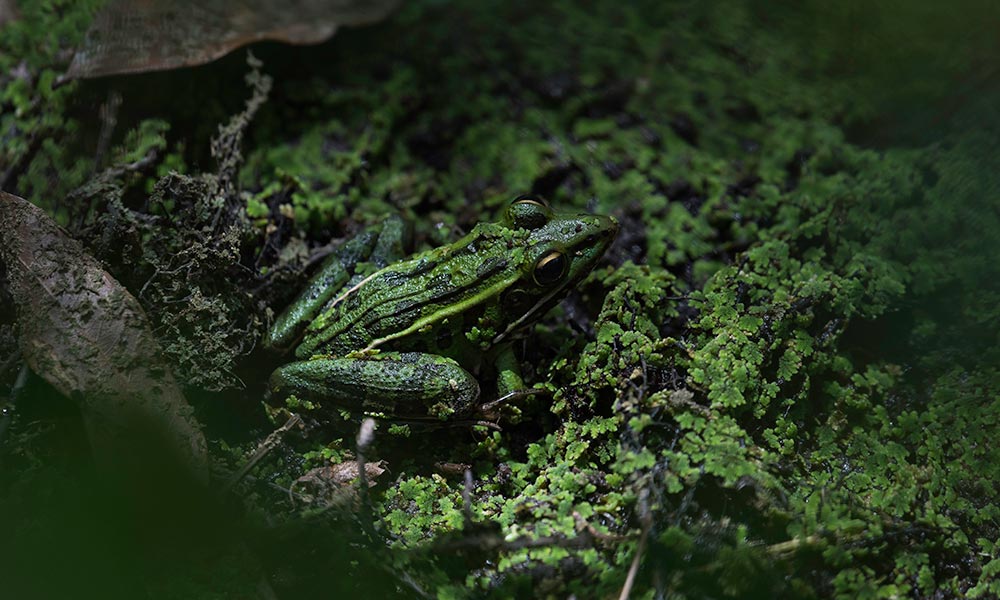 According to new research from scientists at the University of Rochester, one reason human beings are good at discerning smaller moving objects in the foreground is that the brain becomes desensitized to the motion in the larger background. Conversely, when a person's brain is more sensitive to background motion, the negative trade-off is that she will be less sensitive to smaller foreground objects. The research, published in the journal Nature Communications, could lead to new training programs for elderly adults and patients with conditions such as schizophrenia, which has been linked to weaker motion segregation.
---
May 28, 2019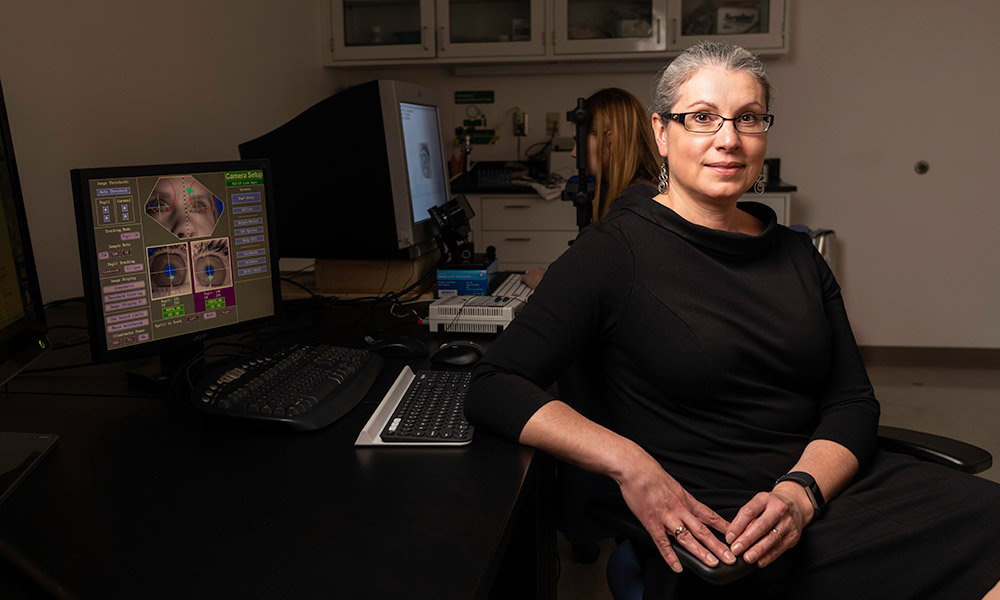 Practice results in better learning. Consider learning a musical instrument, for example: the more one practices, the better one will be able to learn to play. The same holds true for cognition and visual perception: with practice, a person can learn to see better—and this is the case for both healthy adults and patients who experience vision loss because of a traumatic brain injury or stroke.
---
May 16, 2019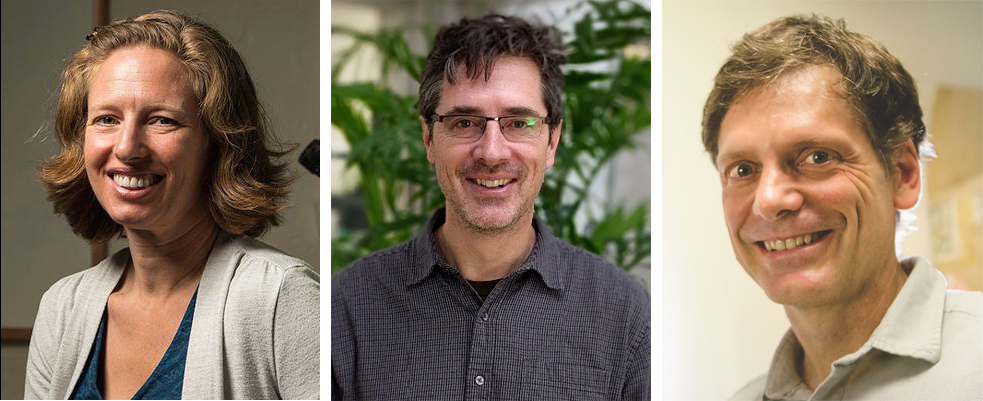 Congratulations to Farran Briggs, Jude Mitchell, and Michele Rucci, who were all 2019 recipients of University Research Awards (URA).  Originally called Provost's Multidisciplinary Awards, the University Research Awards (URA) provide "seed" grants for promising, high-risk projects, says Robert Clark, provost and senior vice president for research.
---
May 10, 2019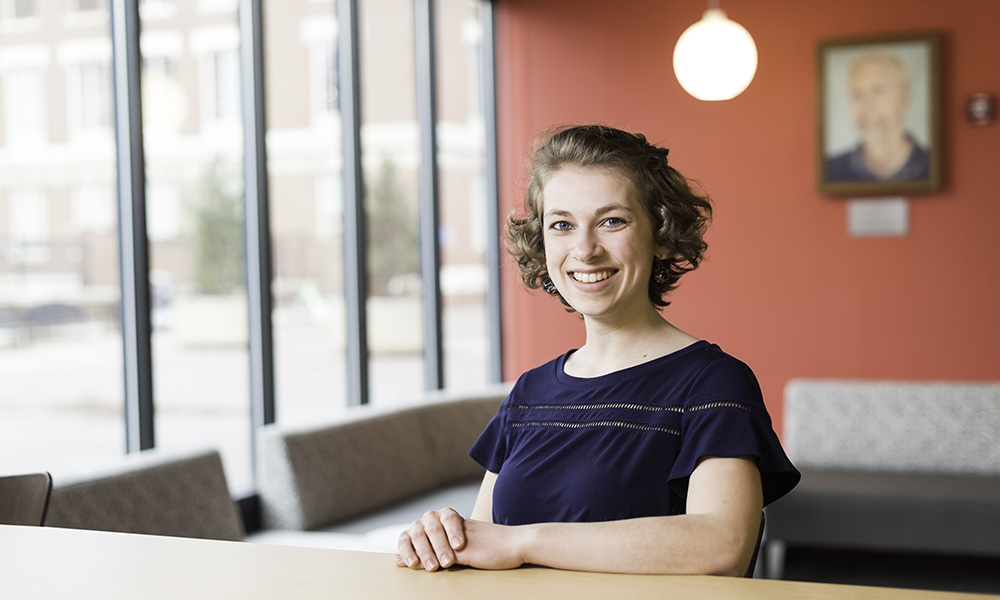 Hannah Dick '19, '19E knew she wanted to pursue a college degree in music. But that wasn't all. Graduating with dual degrees in percussion and brain and cognitive science, she plans to use music to help people.
---
March 27, 2019
From New Scientist: As you learn your first language, your brain stores about 1.5 megabytes of information just a little over the amount that would fill a floppy disc (that is what the picture for the save icon represents, if you are too young to remember them).
---
January 22, 2019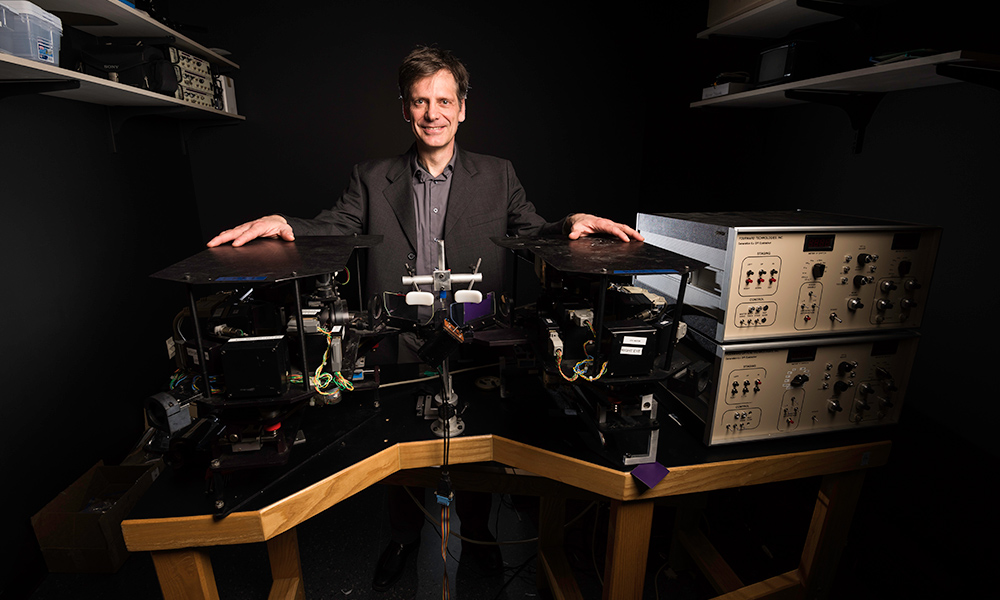 It is often difficult for a driver to see a person walking on the side of the road at night—especially if the person is wearing dark colors. One of the factors causing this difficulty is a decrease in contrast, making it hard to segment an object, such as a person, from its background.
---
December 13, 2018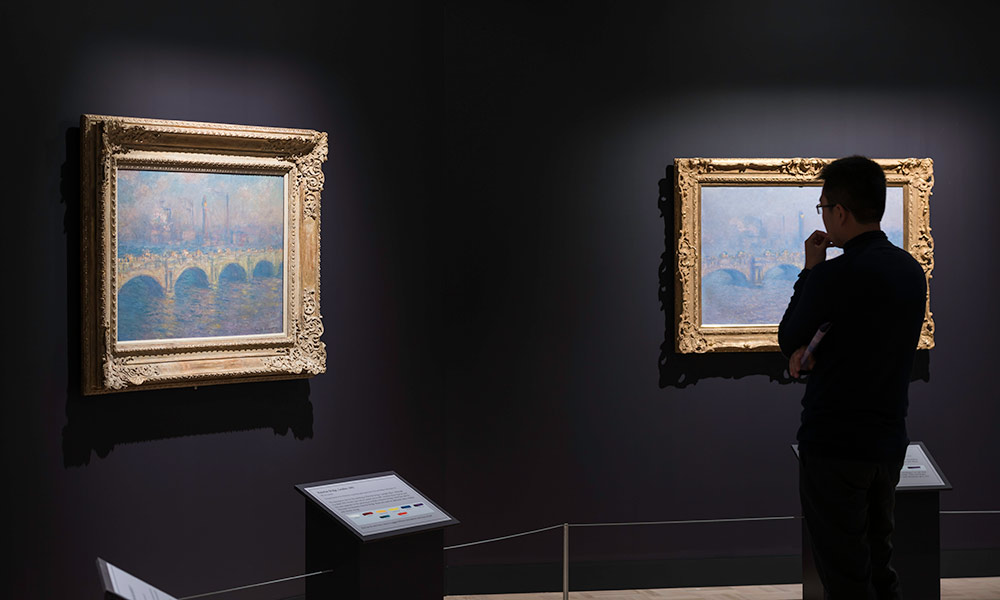 During three trips to London at the turn of the 20th century, Claude Monet painted more than 40 versions of a single scene: the Waterloo Bridge over the Thames River. Monet's main subject was not the bridge itself, however; he was most captivated by the landscape and atmosphere of the scene, with its transitory light, fog, and mist.
---
October 29, 2018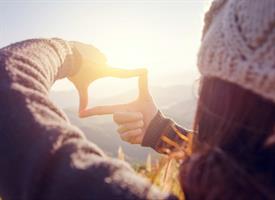 The ability to focus attention is a fundamental challenge that the brain must solve and one that is essential to navigating our daily lives. In developmental disorders such as Autism this ability is impaired. New research published in the journal Nature Communications shows that nerve cells maintain a state of balance when preparing to interpret what we see and this may explain why the healthy brain can block out distractions.
---
September 4, 2018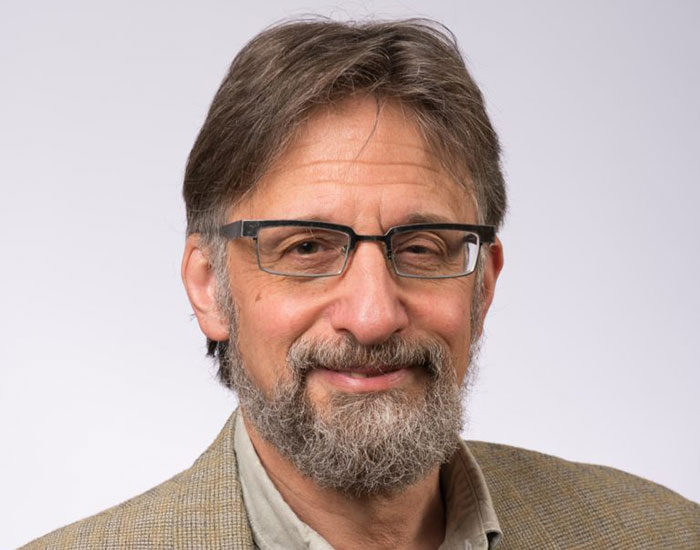 Michael K. Tanenhaus, a longtime professor of brain and cognitive sciences, is being recognized for work that has "transformed our understanding of human language and its relation to perception, action, and communication" by the premier academic society in his field.
---
May 3, 2018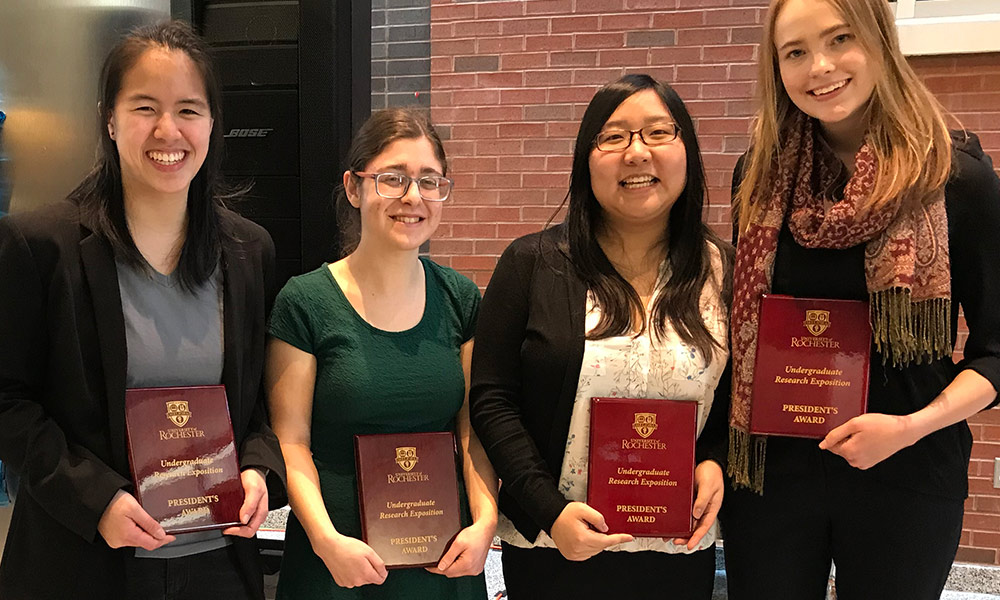 A diversity of subject matter was on display this year at the University of Rochester's annual Undergraduate Research Exposition. Students presented projects in topics ranging from fluid dynamics, deforestation in Bolivia, and nomad cultures in Morocco to prenatal depression, meteorites, and software that affects education.
---
March 12, 2018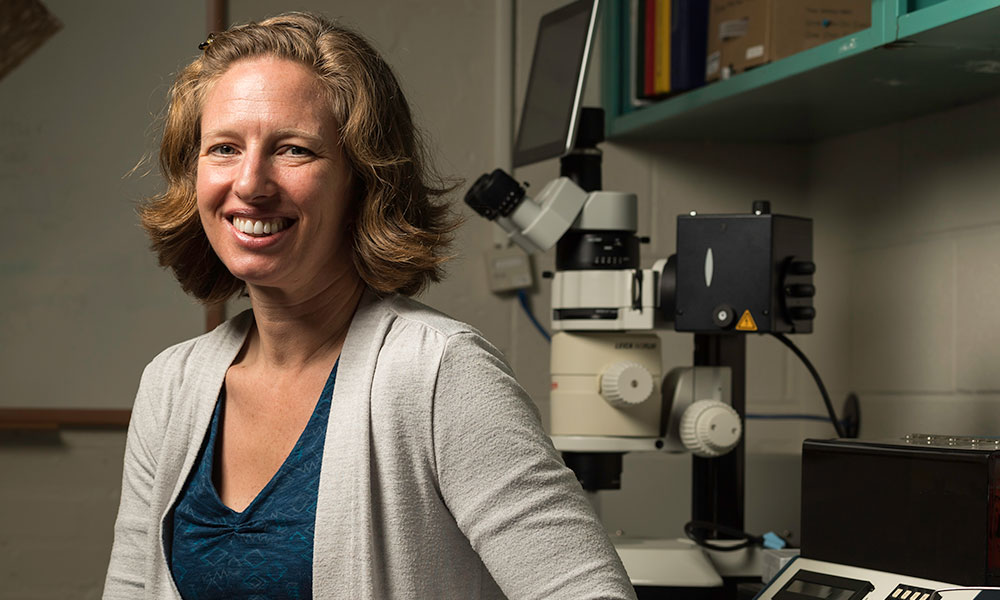 Our brains are made up of an intricate network of neurons. Understanding the complex neuronal circuits—the connections of these neurons—is important in understanding how our brains process visual information.
---
February 21, 2018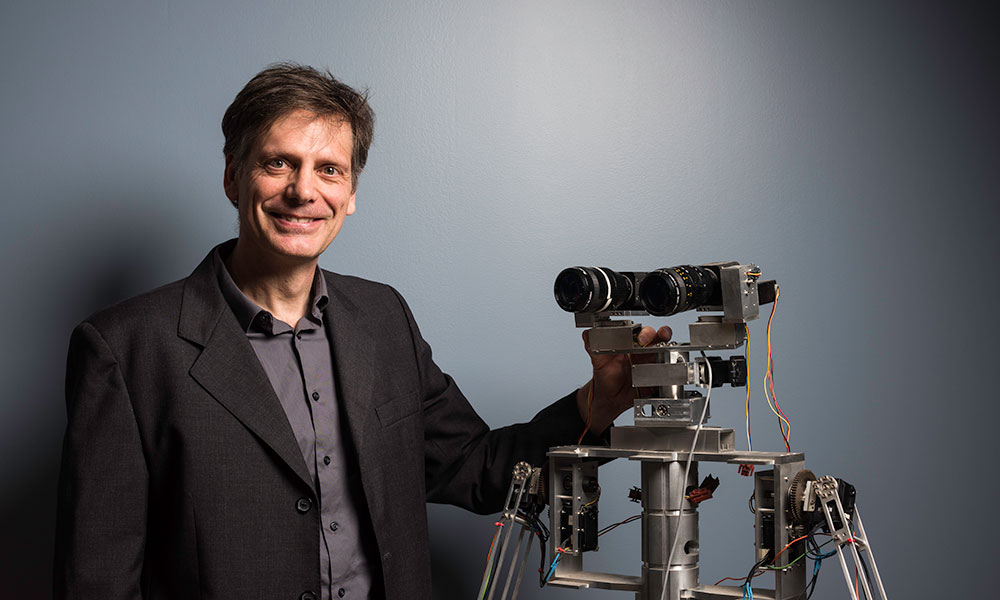 Vision and art have always played a large role in Michele Rucci's life.
---
February 13, 2018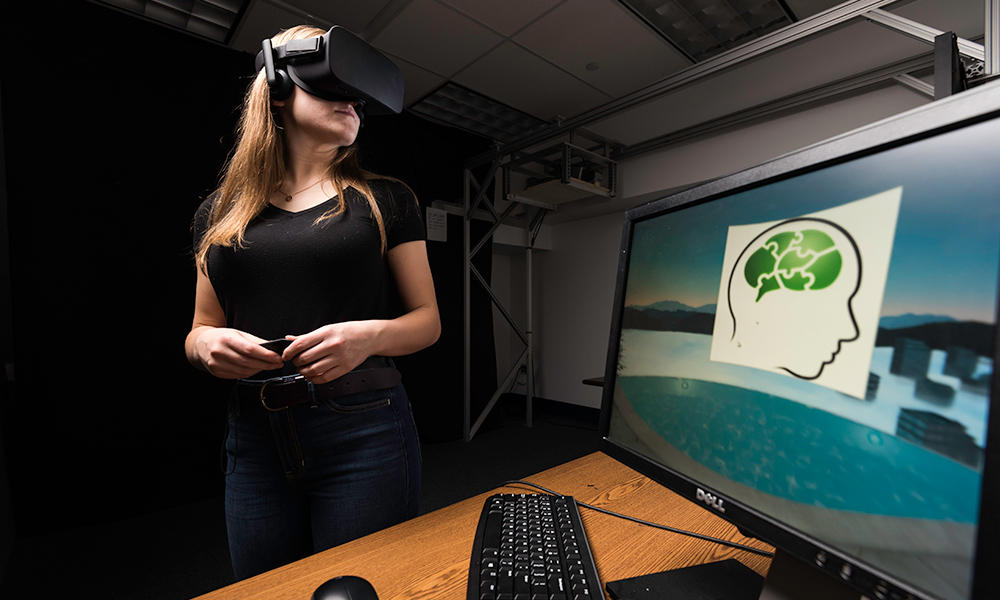 An accidental discovery by Rochester researchers in 2003 touched off a wave of research into the area of neuroplasticity in adults, or how the brain's neural connections change throughout a person's lifespan.