Session Abstracts and Presenter Bios
---
A Case Study of One's Own Creative Metacognition on Art Expression: Based on Kaufman's Theory of Creative Metacognition (CMC)
What is the secret of an individual's creative artistic expression? How does an individual engage in creative artistic expression? What are the inner workings of this creative artistic expression? Is this creative artistic expression controllable? Can this creative artistic expression be interdisciplinary? Does this creative artistic expression apply to every ordinary person? This case study aims to explore how an individual use the identity, creativity, and creative thinking to successfully express artistically in creative art design activities and projects. The theoretical framework of this research is based on Kaufman's creative metacognitive theory-CMC (Kaufman & Beghetto, 2013) and uses this theory to meta cognize and qualitatively analyze the case in this study. Through this case study, it is confirmed that an individual's creative metacognition model on successful creative artistic expression and potential development through applying one's own identity, potential, and creativity to carry out artistic conception, creation, and practice. The significance of this study lies in several aspects. First, this research can reveal the secrets of an individual creative artistic expression to individuals who want to know more about their creative thinking and artistic expression and encourage individuals to develop their own potential to make creation and artist expressions in their own lives. Moreover, through this case study, the meta-cognitive model of individual creativity and artistic creation is shown to researchers, scholars, leaders, instructors, students, and other relevant people in the field of creativity and art, to promote relevant people's comprehension, study, development, and practice of personal creativity and artistic creation.
Meina Liu
I am the current candidate of Doctor of Education in Educational Leadership. My research interest is the intersection of creativity with other elements (e.g., art, aesthetics, cognition, entrepreneurship, etc.). As an international female student, I was originally enlightened and nurtured with the art education by my parents in the process of my growth. I learned painting from my father and how to play electronic piano from my mom when I was a child. I am fond of all kinds of things with art, creativity, and design elements, including hand-made art crafts, creative painting, etc. I love to combine creativity with the art always. Even though I am learning Education instead of Art, creativity and Art is in my blood and mind. I am always full of passion to be creative in an art expression. Therefore, I try my best to combine creativity, art, and education together in my academic path.
---
A Guided Discussion on Promoting Translated Literature in Elementary Schools
In my 75-minute presentation, I will lead a guided discussion on the topic of promoting translated literature in elementary schools. The first part of the discussion will serve as a space where the participants and I can share our pre-existing knowledge of translation theory and translated children's literature—and how incorporating translated literature into elementary schools would prompt a loving environment enriched by multiculturalism and multilingualism. I will provide additional resources so that participants have the opportunity to do more research on this topic in their own time. In the second part of the discussion, I will outline a two-step proposal that I devised for a final project in my Warner course, "EDU 442: Race, Class, Gender, and Disability in American Education." The first step in this proposal, intended for educational administrators, is to source translated children's literature in elementary school libraries and classrooms. I will share a list of publishers who produce children's literature in translation, as well as exemplary books that I have read and reviewed myself. The second step in the proposal is to form a partnership between elementary schools and local colleges and universities, in which undergraduate and graduate students run Translation Outreach Workshops in elementary school classrooms. I will share exemplary workshop lesson plans, such as those run by students at Queen's College in Oxford, England. Using the breakout room function, I will have participants brainstorm potential lesson plan ideas for workshops in US schools, which we will then all share together as a large group.
Katie Hurwitz (she/her)
Catherine (Katie) Hurwitz, class of 2023 at the University of Rochester, is an aspiring educator for elementary-aged students. She is currently in the Guaranteed Rochester Accelerated Degree in Education program through the Warner School of Education. Passionate about globalizing her knowledge of the arts to later integrate into her pedagogy, she is studying world music, creative writing, and comparative literature as an undergraduate student. Outside of the classroom, Katie has developed an interest in equitable music education through her work with the Newport String Project, ROCmusic Collaborative, and the Little Orchestra Society, and she has been advocating for the exposure of translated literature through her work with Open Letter Books and Outside in World. This summer, Katie is working with FableVision Learning and The Reynolds Center for Teaching, Learning & Creativity for more experience in creating and teaching curriculum.
---
Actuating Relationships through Convivencia to Promote Learning Gains in Dance Education
Five New York-based Latinx dance educators come together to address gaps in the field by presenting the multiple ways their work in dance education intersects and overlaps through identified "best practices" developed over decades of lived experience teaching in various geopolitical spaces. Through the lens of convivencia, a practice that strengthens community with its inherent ability to bridge experiences rooted in the resilience of underrepresented peoples, participants will explore learning gains that center Chicanx/a/o and Latinx/e identities and theories in educational scholarship. Buttressing our presentation on a foundation of convivencia allows us to enter the conversation with a culturally responsive focus promoting an understanding of how community, and different parts of communities, play a pivotal role in learning gains. Presenters will share personal perspectives and pedagogical methodologies including the different modalities, genres, and techniques they utilize in their individual practices while honing in on how these practices support anti-racist pedagogies. This session is intended for all educators across sectors and cultural identities.
Latinx Dance Educators Alliance
As NYC-based dance educators and social justice arts advocates, Kiri Avelar and Michelle Manzanales hold personal, lived experiences of 20 plus years teaching in the field, both in the U.S./Mexican borderlands and the greater NYC area. Their work centers around an intersection of teaching practices stemming from a place of multiple identities. With an autoethnographic approach in discussing personal identities, how these identities are visibilized in their teaching artistry, and how identity is emanated in their classrooms, their work promotes a culturally responsive learning space through a Latinx lens, employing Chicana/Latina Feminist methodologies and pedagogies of testimonio and plática. They are the co-founders of the Latinx Dance Educators Alliance, a resource site for dance educators. www.latinxdanceeducatorsalliance.com
---
Add Just: Embodied Liberatory Practices
Add Just is an experiential offering to cultivate a felt sense of justice in the body - balanced, respected presence in the body. Somatic practices of breath, visualization, and movement will be offered, to increase the frequency of peace and well-being in our ecosystems, sourced in self observation, improvisation, gesture and whole body movement meditations. All are welcome. No experience necessary. Live music and tender, playful forms will be offered by multidisciplinary artists and longtime friends, Leah Okamoto Mann (Co- Director, Lelavision https://www.lelavision.com ) and Soyinka Rahim (Founder, Director BIBOLove https://www.bibolove.us ). Both are certified InterPlay Leaders. The workshop melts Soyinka's BIBOLove signature elements of collective breath, affirmation and movement meditation with Leah's play-full kinesthetic practices. Buoyed by Soyinka's drumming, flute and original compositions, participants will explore liberatory practices to cultivate a healthy eco system, micro to macro / self regulation for co-regulation. These somatic practices will be sourced in self observation, improvisation, gesture and whole body movement. We will explore being in flow with our "body weather" in order to bring more empathy, reciprocity and generosity into the world, in return for the privilege of each breath . This workshop is inspired by somatics practices of Resmaa Menakem, and Nkem Ndefo, as well as, writings of indigenous botanist, Robin Wall Kimmerer and ecologist, Suzanne Simard. All are welcome. No experience necessary.
Leah Okamoto Mann
Soyinka and Leah have collaborated on numerous art and social justice actions over their 15 year friendship, including: Hello/Goodbye Viaduct 2019 (dxʷdəwʔabš / Seattle) and The Human Murmuration at Duwamish/ dxʷdəwʔabš Waterway Park 2017(dxʷdəwʔabš / Seattle). Soyinka has presented with the Sacred Dance Guild, the Parliament of World Religions, Abby of the Arts, as well as, Facing Race. Leah's current projects include: DreamathonATL with Morehouse College & the Andrew Young Center for Leadership and The Indicator Species Project, a BIPOC Centered Art, Science, Eco Festival (Seattle).
---
Beyond Representation: Evolving the Narratives of Identities on Screen
Our lives are full of narratives and those lifestyles are approximated on screen (Gergen, 2015). Regardless of what we are viewing, we are subconsciously seeking to understand or vicariously living through the narratives displayed. There's something to be said when someone walks into a room and witnesses individuals gazing at a television program. Jaws dropped, eyes barely blinking and little to no movement, viewers absorb everything while unpacking the trajectory of characters' storylines. "Television is a centralized system of storytelling. It is part and parcel of our daily life…. [it] cultivates from infancy the very predispositions and preferences…. [that have] become the primary common source of socialization and everyday information" (Gerber, Gross, Signorielli, and Morgan, 1986, pp. 2-3). This session examines complex narratives of socio-cultural identities portrayed on screen and its relationship to socio-historical perspectives as it relates to cultural rootedness; envisioning alternative narratives on screen; and the possibility of progress in America. Given the history of how historically underrepresented lives have been constructed for television, and contemporary narratives of modern life, this session relies upon the Philosophical Aspects of Cultural Difference (Nichols, 2013) framework to underscore the importance of operating from a non-mainstream cultural lens. Finally, this session will create opportunities for us to collectively reform our minds of the images portrayed on screen to transform our lived experiences.
Ashley Campbell
Dr. Ashley N. Campbell is a culture and social impact strategist with more than ten years of progressive diversity, equity, and inclusion (DEI) higher education, not-for-profit, and entrepreneurial experience. Her diverse experiences in multicultural programming, organizational development, and data analysis have positioned her to create transformative change. She's often sought for her presentations on unpacking social identity, creating professional environments with an equity-based mindset, and deconstructing the nuances of higher education systems. Currently, Dr. Campbell serves as Director of EDI Integration, Education, and Programming with the Institutional Office of Equity and Inclusion at the University of Rochester. She teaches within the Integral and Transpersonal Psychology Department at the California Institute of Integral Studies (CIIS). Dr. Campbell holds a PhD in Transformative Studies from CIIS. Her arts-based research dissertation focuses on the areas of ethnic psychology, speculative fiction, and television media, just to name a few.
---
Change: Welcome, Denied, Inevitable
If there is one thing, we as humans can count on, it's that things change. Whether on a cellular, environmental, political, ideological, or physical level, change is a constant in our lives and in our world. I'm proposing to share a new course I developed called, Change: Welcomed, Denied, Inevitable; an Investigation through Movement, Dialogue, and Writing. This course was created with funding from a Humanities for Life grant from my university and incorporates multiple disciplines to permit a look at change from varied perspectives and greater scope. A through-line of the course examined how artists from dance, music, and fine arts have creatively explored the topic of Change. Prior to making the course, I spent a little more than a year examining the topic of change (pre-Covid!) as I created a dance piece with a composer, Mathew Curlee, from the Eastman School of Music, called, Nanosecond. Hence, this course was developed as a means to further this inquiry of Change. With students, a host of guest-faculty from Economics, Political Science, Linguistics, and Sustainability, and members of the Rochester community, DANC 235 was created and taught for the first time in Spring 2022. The course's central question was, "What is my personal relationship with change?" Through a myriad of exercises, outings, embodied practices, reflections, and discussion, the topic of change was explored. In the presentation, I will share aspects of the course's development, course content, and future plans. Time will be reserved for sharing ideas and dialogue with participants.
Anne Harris Wilcox
Anne Harris Wilcox (MFA) is an Associate Professor for the Program of Dance and Movement at the University of Rochester, where she is also the Community Engagement Liaison and a Posse Foundation Mentor. She is the founder of Active Learning Games, for which she designs kinesthetic educational products for K-university learners, and a Rochester choreographer, dancer, and educator who whose work has been featured at Geva Nextstage and numerous Rochester Fringe Festivals. She has choreographed over forty works for her company, Present Tense Dance, which she directed from 1991 – 2016. She is a former President of New York State Dance Education Association and presents nationally and internationally on topics such as kinesthetic education, creativity and assessment, linguistics and dance, and intergenerational dance.
---
Crafting Rituals for Covid Healing and Beyond
Although often overlooked, rituals play a vital role in mediating the social sphere and creating personal and collective meaning. Given a deeper understanding of rituals, we receive both a new lens of cultural analysis and a new tool to build community relationships. The unit on rituals that I include in several undergraduate courses – which culminates in students crafting and facilitating their own rituals to address issues facing their communities – has taken on new meaning during the Covid pandemic, allowing for some healing to happen in the classroom. In this workshop, I will provide background information on rituals and insights for facilitating students' ritual design. We will also create and participate in a brief Covid healing ritual. Participants will leave with a greater understanding of facilitating rituals for individual and community healing.
Mariah Steele
Mariah Steele (MFA, MA) is a Lecturer at the University of Rochester, and has also taught at Endicott College, MIT and Santa Clara University. Quicksilver Dance, the company she founded in 2010, has performed across the Northeast, the Bay Area and internationally to wide acclaim. She has performed professionally in New York City with James Martin and Beth Soll, and in Boston with Peter DiMuro, Rebecca Rice and Sokolow Now! the Anna Sokolow Archival Company. She holds a BA in Anthropology from Princeton University, an MFA from Hollins University and an MA from Tufts University's Fletcher School of Law and Diplomacy, where she concentrated in Conflict Resolution, and researched using dance in peacebuilding. In 2013, The Boston Globe Magazine named Steele a "rising talent" in the arts.
---
Creating Consent Culture in Performing Arts Training
This workshop is an introduction to consent-based practices in the creative process, specifically for those in teaching, directorial, or choreographic roles. Intimacy for the Stage is a hot topic in the professional performance, but consent needs to be considered in performance training as well. After the Creating Consent Culture in Performing Arts Training Workshop, the performing arts educator and/or maker will be able to create a plan of creative practice for consent-based rehearsal rooms and classrooms that center the work, while upholding student safety and agency. The material is applicable to teachers and creators in any setting.
Nicole Perry
Nicole Perry is a Certified Intimacy Director, as well as Intimacy Coordinator and dance choreographer in South Florida. Recent credits include a Broward County Artist Investment Grant for a new dance work, and choreography and intimacy choreography for the US premiere of The Glass Piano at Theatre Lab. She also did the intimacy coordination for Arena, an award-winning short film and an episode of First Wives Club. Nicole is a Certified Laban/Bartenieff Movement Analyst and teaches dance at the University of Miami. She is a regular contributor to DanceGeist Magazine. Nicole is the founder of Momentum Stage, a non-profit that provides professional development to dance and theatre artists and educators. Nicole is a member of Stage Directors and Choreographers Society and the Association of Theatre Movement Educators. She apprenticed with Intimacy Directors International. Instagram: @initmacychoreofl
---
Creating In Their Wake
I am a media artist who "paints" with code. My most difficult art work is memorial - "wake work" to use Dr. Christina Sharpe's words. These interactive video installations were created to remember and celebrate the Black folks who came before. In the aftermath of Eric Garner's death, I created the "Can't/Breathe Mirror" (2015), an interactive video installation where the world of the breathing is constantly mirrored in a projection composed of a moving mosaic of faces of Black people killed by police in the US. Collecting the "data" that animated the mosaic mirror involved combing through databases of police killings, finding sometimes mugshots, and preferably a picture from family mourners that captured them in happier times. Almost every time the work was shown in public, I repeated the sad ritual to add portraits of the newly-taken to the collection. https://people.rit.edu/wmhics/art/wmhCantBreatheMirror.html My most recent installation work, "In Their Wake" (2019) remembers names of local Black people prior to the Civil War (via old directories, county records, and local history books). This memorial in a window - this street-side wake - reveals names, but only in the wake of present-day movement outside the window (via motion-capture code). Tracks of movement outside the window is reflected in revealed in swirls of video of an incoming tide, and names of our predecessors. https://people.rit.edu/wmhics/art/wmhInTheirWake.html
W. Michelle Harris
W. Michelle Harris is a digital media artist who uses code as a medium for engaging discussions as a Black woman in American culture. Harris creates interactive installations and produces live-mixed visuals for collaborative performances. Her artwork has been shown at such diverse venues as the ACM SIGGRAPH, World Maker Faire, and INST-INT, as well as regional venues such as Visual Studies Workshop, Gallery 74, the Baobab Cultural Center, Community Folk Art Center, Schwienfurth Memorial, and Squeaky Wheel. She has done live-mixed visuals for performances in collaboration with Juanita Suarez, fivebyfive, Dave Rivello, Reenah Golden, and for almost every Rochester Fringe, BIODANCE. She is an associate professor in the New Media Interactive Development program and MAGIC affiliate at Rochester Institute of Technology. Harris has a computer engineering degree from Carnegie Mellon University and a master's degree from the Interactive Telecommunications Program of NYU Tisch School of the Arts.
---
Dance and Interdependent Community: Agency for Women in Recovery
Through dance, we can find commonalities and ways of communicating that transcend differences in life experiences. Through the course Dance and Interdependent Community at University of Rochester with two distinct community partners in the city's Beechwood neighborhood, we were able to form a community of learning and a community of trust where all participants grew, shared, struggled, and succeeded, sometimes all in a single session. In this workshop, we will share some of our stories as well as guide participants through some of the ways in which we collectively established an environment of mutual respect. Working together with a community of older adults of color, and with a community of women in recovery, each participant including university students and a faculty member moved back-and-forth between the roles of expert and novice, and all of us experienced shifts of perspective and a connection through dance.
Katherine Serna
Katherine Serna is a 2022 graduate of the University of Rochester, majoring in dance and creative writing. Her choreography and performance has been shared in various formal concerts at the University, and she has performed in faculty and student work in regional conferences and on campus. She is a published writer, having won numerous awards for her written work, her dance filmmaking and her interdisciplinary work.
Missy Pfohl Smith
Missy Pfohl Smith is a choreographer, performer and collaborative artist who directs the Program of Dance and Movement and the Institute for the Performing Arts at University of Rochester and is artistic director for the collaborative company, BIODANCE, based in Rochester, NY. She enjoys creating site specific work such as three acclaimed full-evening length shows Anomaly, Labyrinth and The Fragile Corridor crafted for a 4 story planetarium in collaboration with media artist W. Michelle Harris, dancers, composers and musicians. Her choreography, performance and teaching has spanned across the US and internationally, most recently in Greece, Finland, Scotland and Germany.
---
Dancing Pluralism: Opportunities for Equity in Dance Education
Over the past years, the pandemic has reminded dance educators of the power of arts and creativity for reflection and for processing one's own thoughts and voicesbot h individually and collectively. Within a dance class setting, these can deepen students' learning and growth while using movement and creativity to explore and address the ongoing injustices at every level of U.S. society, which have been revealed by the pandemic. Intentionally providing opportunities to ground these themes and creative processes in equity and inclusion frameworks in class and/or in a choreographic process deliberately guides students in exploring some important issues surrounding equity and justice that emanate from individual experiences and can aid in developing new approaches to learning and creating. The proposed session highlights ways to link social justice and inclusion with choreographic and creative curriculums. Its aim is to demonstrate a way to empower and uplift participants' voices on the topic of inclusivity through movement and creative processes. The session will present some basic background research on critical pedagogy in connection with dance, and include visuals, quotes from different people's lived experiences, movement and creativity explorations, and reflections on equity, justice, and performance. Best practices for implementing inclusive pedagogy within a dance and creative process context will be discussed, including topics such as setting communal agreements, facilitator sensitivity, handling "uncomfortable" moments, accommodating students' risk and comfort with somatic explorations, and effective debriefing procedures to promote reflexivity.
Hannah Park
Hannah Park is an associate professor and director of dance program at Iona College, NY, where she also serves as the artistic director of the residential dance ensemble. Her current research interests encompass dance and creative processes—the application of somatics in dance and social justice education, community engagement, and arts entrepreneurship education. She holds a PhD in dance education from Temple University, an MFA in dance performance and choreography from Tisch NYU, and a BFA in dance performance and choreography from the SUNY Purchase, and is a somatic practitioner certified in Laban Movement Analysis/Bartinieff Movement Fundamentals and Body Mind Dancing.
---
Enhancing the Social Justice Outcomes of El Sistema-inspired Programs by Integrating Kingian Nonviolence Philosophy
Venezuela's network of youth orchestras and community music centers, commonly known as "El Sistema," has become renowned around the world in the last couple of decades for its mission of social change through the pursuit of musical excellence. Its successes have sparked the creation of hundreds of El Sistema-inspired programs (ESIPs) around the world all focused on enabling social change for youths, their families, and their communities through music. While the musical successes of El Sistema are unequivocal, doubts have been raised over how successful the social aims of these programs have been. Kingian Nonviolence, the nonviolent philosophy of the American civil rights leader Dr. Martin Luther King Jr., is a promising method for creating positive social change. Because of the compatibility of their goals and fundamental principles, aspects of Kingian Nonviolence can be integrated into ESIPs as an effective way of instilling positive and humane values in students in order to enhance the social justice outcomes of these programs. After demonstrating how the principles of these two frameworks are compatible, I offer suggestions for how existing ESIPs can take steps to incorporate Kingian Nonviolence as well as what an ESIP based on Kingian Nonviolence as a core value might look like.
Keane Southard
Described as "a hugely prolific musician with a wide variety of skill sets" (newmusicbuff.com), Keane Southard (b. 1987) is a composer and pianist who believes deeply in the power of music to inspire positive change in the world. His music has been described as "a terrific discovery" (Bandworld Magazine) and "highly-professional and well-orchestrated" (Portland Press Herald) and features a wide range of approaches from traditional to experimental, systematic to free, and sacred to secular. He has been a recipient of many awards, most recently a residency at the Copland House and winner of the Gregg Smith Choral Competition at Syracuse University. He spent 2013 in Brazil as a Fulbright scholar researching music education and has also taught at Bennington College and Nazareth College. Keane earned his Ph.D. in composition from the Eastman School of Music.
---
Female power in music
As we all know, the classical music industry was dominated on a perspective of European and male for centuries. In order to be more representative and inclusive nowadays, we need to invite a diverse of representations to take the music realm. This presentation will introduce two Asian composers: Chen Yi and Satoko Fujii, who were influenced by various culture backgrounds in different countries. By suffering through culture revolutions and political pressures, Chen Yi and Satoko Fujii represent their music with unique philosophical concepts and ideas. As Asian female composers, they challenge the classical music industry with distinctive works and develop different perspectives for the future generations.
RongLu Tang
RongLu Tang is a Chinese pianist, who has performed solo and chamber music across Asia and United States. Recently, she was awarded the first prize of Memphis international piano festival and competition, the first prize of Fuchs chamber Competition in Manhattan School of music; the first prize in the music competition held by Russian embassy and the fifth prize of national piano competition in China…She received 2 years of full scholarship from Chautauqua piano program, master class experiences with Jerome Lowenthal, Alexander Gavrylyuk, Jon Nakamatsu and Lisa Moore. RongLu Tang finished her BM in Manhatan School of Music with Dr. Marc Silverman from year of 2013-2017 and Master of Music with Professor Natalya Antonova in Eastman School of Music. Currently, RongLu Tang is working with Professor Awadagin Pratt for her Doctoral of Musical Arts program in Cincinnati Conservatory of Music and cognate in Business Foundation program in University of Cincinnati.
---
Individual, Collective, Responsibility: Teaching Dance History through the Dunham Model
Katherine Dunham led a polyrhythmic life, one that refused single categorization. She understood that all dance is cultural dance, and all movement exists within cultural context. Her Africanist approach to choreography, pedagogy, technique, and research, challenged and continues to challenge, divisional assumptions about race, gender, body, class, artistic and cultural aesthetics, by providing opportunities for intersectional identities to coexist within the dancing, creating, scholarly body. The Dunham Model based on Dunham's philosophies, provides an anti-racist anthropological approach to teaching dance history. It provides a framework through which to examine the biases we carry in our bodies individually and collectively, and how these affect our cultural preferences and artistic aesthetics. As students and performers, what are our cultural responsibilities as we learn and embody dance techniques, and choreography? As teachers and choreographers, what are our cultural responsibilities to the dance lineages we are drawing from and inspired by, while allowing creative innovation? As artist/scholars, what are our cultural responsibilities as we research, articulate, and apply our knowledge? Teaching through the Dunham Model supports the decolonizing work of shifting and expanding how our field of dance is embodied, taught, expressed, and valued, through measures of justice, equity, diversity, and inclusivity. Through this interactive workshop, we will explore the Dunham Model as a framework for designing a dance history class that supports our students in their growth towards becoming anti-racist artists, while building a community of both individual and collective responsibility.
Molly Christie Gonzalez
Assistant Professor of Dance/Dance Education and Teaching for Inclusivity, Diversity and Equity Faculty Fellow at UMass Amherst and Five College Dance. Her teaching philosophy, choreography, and research is grounded in thirty-plus years of experience in Katherine Dunham Technique and Philosophies. She was certified by Ms. Dunham in 2003 as a teacher of her technique, and is Chair of the Academic Exam Committee, Co-Chair of Pedagogy, and faculty for the Institute for Dunham Technique Certification, an international teacher certification program. She has presented research at Dance Studies Association, African Studies Association, Collegium for African Diasporic Dance, World Dance Alliance, and National Dance Educators Organization conferences, among others. She holds an MFA in Dance, MA in Dance Education with PK-12 Teacher Certification, and a BFA in Modern Dance.
---
Mindfulness: An Embodied Pathway to Social Justice
Mindfulness offers a unique embodied pathway to social justice by deepening our awareness and increasing our capacity to notice our inner world of thoughts. From this centered and grounded place, we can learn how to "sit with" emotions, and bodily sensations (embodiment) that may arise as we explore matters of diversity, equity, and inclusion (DEI). Mindfulness-based embodied practices help participants to bear witness to the presence of bias by seeing and accepting things as they are, non-judgmentally. This awareness promotes understanding about how implicit and explicit biases keeps us from the fullest sense of who we are and prevents us from embracing the Other and the wholeness of humanity we all share. The selected mindfulness practices offer a practical experiential and safe method to begin to broaden awareness, to illuminate blind spots, and explore with compassion our own experiences and the experiences of others as it relates to DEI. By doing our collective inner work in community with others, we heal ourselves and heal our community. Based on the work by Rhonda Magee, this program will invite participants to join in several mindfulness practices (i.e. grounding & centering; self-compassion; compassion for others) to create a safe and inclusive setting for all participants. Followed by facilitated discussion and reflection. The session will end with a loving kindness meditation and a call to action to deepen awareness about DEI.
Lisa Critchley
Dr. Lisa Critchley provides mindfulness-based organizational and leadership strategy and coaching for public, private, and academic institutions to drive leadership and human capital excellence. Practice areas include mindfulness-based organization culture, presence-based leadership development and coaching, diversity, equity, and inclusion (DEI), and human resources strategy. Lisa's dissertation entitled, The Leader's Mind Matters: The Effect of Mindful Leadership Development Programs on Leadership Effectiveness, Mindfulness, and Well-Being Among Global Manufacturing Leaders, earned the Exemplary Performance in Scholarship Award from St. John Fisher College. Her research focuses on the impact of mindfulness on leadership, employee, and organizational effectiveness and the relationship between leader mindfulness and student well-being and academic flourishing, and mindfulness as a pathway to social justice. Lisa's career spans over 30 years leading the human resources profession across diverse business sectors. Her infectious enthusiasm and positive energy ignites minds, engages hearts, and transforms people and organizations. Inspiring mindfulness one breath at a time!
---
Museum Born of Massacre: Art and the Hidden History of the Elaine Massacre
The Elaine Massacre of 1919 was among the worst acts of violence against Black communities in U.S. history. An untold number of Black men, women, and children were indiscriminately killed by white mobs and National Guard troops, while the generational wealth of the prosperous mostly Black Arkansas town was stolen, its history erased. The Elaine Museum and Richard Wright Civil Rights Center is now being built in the same downtown where those white mobs gathered, a museum that will house the oral narratives of the massacre, along with the rich history of area—from the Chinese presence in Elaine to delta agriculture to Indigenous burial mounds of the area to the rich history of Black farming. As the first artist-in-residence at the Elaine Museum I am working with the community in finding ways to curate the experience of Elaine without the forensic historical elements present in most museums. As a visual artist, I am attempting to curate the oral histories of the town, particularly of the massacre through images of landscape and portraits of descendants of the massacre. I am currently interviewing and collaborating with various kinds of creatives to explore ways to portray and elevate previously buried stories of communities traumatized by violence. I am looking at form, method, and presentation strategies to inform my work at the Elaine Museum before its dedication in September of 2022 and would like this conference to be a part of that process.
Andrea Gluckman
Andrea Gluckman is an international award-winning photographer who uses platforms of academics, activism, and art to witness and leverage the stories of communities devastated by mass violence. Schooled as an expert on policy, culture, education, and religions of the Middle East, she has worked as a diplomatic advisor, professor, and writer. Her research specialties include the project of justice after mass violence, using the tools of photography and the documenting of oral histories for education and evidential purposes. Using her research from post-genocide Rwanda and South Africa, she sought venues for establishing transitional justice structures in the Middle East and reparations strategies in the South. She is currently the Artist-in-Residence at the Elaine Museum and Richard Wright Civil Rights Center in Elaine, Arkansas and is based out of Rochester, New York, where she teaches and works collaboratively with artistic communities on issues of social justice, indigenous truth-telling, and anti-racism work.
---
Practicing somatic social justice together: Slowtime and spaciousness
How do we relate to one another in and across our arts and equity practices? As concepts of relationship have been colonized, and an "imperialist white supremacist capitalist patriarchy" (hooks, 2000) has been internalized, modes of repatterning are essential in order to re-imagine our points and modalities of connection.​​ In our work, Slowtime and Spaciousness are two conceptual frames that have allowed us to reculture as dance educators (Menakem, 2017). In order to practice these more fully, it is essential to identify the historical, cultural, and political systems that impede rest and recuperation. Tema Okun (2021) has identified characteristics of White Supremacy Culture that operate within and across society and cultures. One of these characteristics is Urgency, which compels us to "move forward." Spaciousness, rather, invites us to "rest into, sit with." Slowing down allows work towards social justice in art making, arts learning, and arts teaching, to take root for the long haul. Somatic social justice (SSJ) is a framework of practice and activism to aid in this practice of dissenting oppression. SSJ espouses collective embodied healing for justly transforming society (Thom, 2020). Its practices center our ability to (co)regulate and resource ourselves when we are bothered and in the necessary discomfort liberatory education work requires (Burke in Hemphill, 2021a). In our workshop, we will facilitate activities based in SSJ to invite an awareness of one's embodied habits of Urgency, building a capacity to sense Urgency as it unfolds in order to interrupt it and repattern.
Alexia Buono
Alexia Buono, PhD, is a US born, white-bodied, Mixed race, cis, queer, abled Latina educational scholar. Her arts-based educational research focuses on liberatory and anti-oppressive pedagogies and curriculum design in dance/somatic-, teacher-, and early childhood- education. Her website is https://www.alexiabuono.com/.
Rebekah Chapell
Rebekah Chappell is a white, cis-gender female, who grew up on the unceeded land of the Chickahominy, Patawomeck, and Rappahannock tribes. She is 35 years old, and benefits from thin, able-bodied privilege. Rebekah is a teaching artist, performer, dance maker, and scholar whose research explores the efficacy of somatic and improvisational practices to affect change. Her website is rebekahchappell.com.
---
Recognizing the importance of ALL through intentional programming of music for ALL
Too often in concert programming for performing ensembles, we feature themed concerts as a method of introducing diverse or different types of composers and music. But after the theme is put back on the shelf, the quick return to canonic music leaves much to be desired in the transformation of the education of performers and audiences alike. By zooming out to have a wider view of an ensemble's performance schedule over a larger time period, rather than individual themes, we can reimagine the future of, even the evolution of a new method of programing to include music of ALL. In this session, we will explore:
Intentional programming for performing ensembles
Collaborating with community groups to showcase ongoing programming in your region
Connecting with change-makers in your region to help bring together multiple groups to provide visibility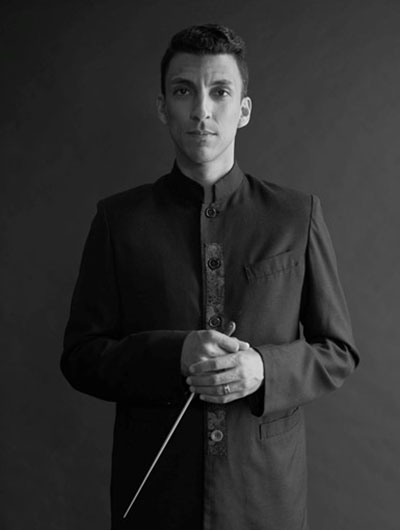 Trae Blanco
Dr. Trae Blanco serves as Director of Bands at Butler University where he conducts the Wind Ensemble, teaches undergraduate and graduate conducting, and administers the band area. After completing his BME at New Mexico State University (NMSU), Dr. Blanco served as Director of Bands at Las Cruces High School. Dr. Blanco holds a DMA in wind conducting from the Herberger Institute at Arizona State University, and a MM in Wind Conducting from the Jacobs School of Music at Indiana University. Prior to coming to Butler University, Dr. Blanco was the Director of Bands at the University of Southern Maine, and Murray State University. In July 2015, Dr. Blanco was a guest conductor with the United States Army "Pershing's Own" Concert Band in Washington, D.C. and in both 2015 and 2016 Dr. Blanco was a finalist in the American Prize in Wind Conducting. Dr. Blanco has published articles with the NBA and WASBE journals, and has been an invited presenter at the state conventions of West Virginia, Maine, The Midwest International Band and Orchestra Clinic, and the 2019 WASBE International Convention in Bunol, Spain.
---
Remnants—unearthing histories
The root of social justice in the body is connection — to ourselves, to others, and to the earth. Our bodies are composed of the earth and reconnecting with the earth encourages empathy and deep understanding. Presenters will share the somatic process of Remnants, an immersive performance that combined dance, photography, music, and storytelling. The workshop will begin with unpacking how Remnants addressed depictions of alienation, dispossession and reconnection. We will discuss the creative process — a somatic journey through multiple mediums. Next, participants will move to engage in a shortened practice of somatic sourcing and creative work to briefly unpacking the histories of the land they are situated on. www.remnantsart.org
Rose Pasquarello Beauchamp
Rose Pasquarello Beauchamp (she/her) is a dancer, educator, and activist.  She is an Associate Professor in Dance at the University of Rochester. For 20 years, her creative work has been selected for multiple residencies and performance projects across the country. She is committed to a community engaged art practice receiving multiple grants from the Center for Community Leadership in Rochester NY. Her work has toured festivals including: Assemble Festival in Detroit, MI; Southern Vermont Dance Festival; Richmond Contemporary Dance Festival; Rochester Fringe Festival; MAD Festival; Vision of Sound; and Dances at MuCCC. From 2016-2020, she co-organized Artists Coalition for Change Together (ACCT), an organization committed to arts and change. She was the recipient of the 2020 Western NY Choreographers' Initiative Award. Currently Rose is exploring the relationship between the body, environment and the role the body plays in environmental justice, climate change and beyond.
Stella Wang
A multilingual writer and translator, Stella (she/her) teaches a range of first-year writing courses at the University of Rochester. For the Writing Studies minor, she offers an interdisciplinary translation course where students experiment with different types of translation from academic translation to audiovisual translation (AVT), zero in on the distinct challenges in interpreting across languages and cultures, and apply their learning to a culminating para-professional community-engaged transcreation project. See course-related websites: Code-Meshing Pedagogy: Encouraging the Expression of Identity in Writing, Speaking, and Arguing and Authentically Urban, Virtually Global: Southwest Rochester.
Andrea Gluckman (she/her)
Andrea is an international award-winning photographer and writer who uses her platforms of academics, activism, and art to witness and leverage the stories of communities devastated by mass violence to assist in rebuilding efforts. Originally from the deep South of the United States, Andrea has turned her attention back to her natal landscape to reckon with the deeply violent histories of racism using the skills and tools developed for international conflict. She is currently based out of Rochester, New York, where she teaches and works collaboratively with artistic communities on issues of social justice, indigenous truth-telling, and anti-racism work.
---
Safe Places/Safe Spaces
In this practical presentation I intend to use art therapy and sociopsychodrama tools and methods to explore with the participants their individual notions of safe spaces and places and how these can be created for themselves and others. Together we'll delve into how we can make a safe zone, room for open conversation and free exchange, for recuperation and rest - something much needed today. This will not be a lecture that you will leave with a template and list of rules. The takeaway should rather be, I hope, a new way of looking at the 'same old,' the 'unchangeable,' the 'that's just the way things are.' Sociopsychodrama is a group action method used in psychotherapy. It allows you to get into someone else's shoes, to understand them, feel for them, changing yourself along the way. All of this is accomplished by a few simple techniques: role-reversal, mirroring, and doubling, which are preceded by a warm-up and followed by a closing called sharing (which is not the same as feedback!). Another gift of sociopsychodrama is the room it gives you for trying out new, and examine your old roles, consequently, very probably, turning you from a "role taker" – a passive recipient of the proverbial lemons – to a "role maker" – someone who does something with the very citruses life has dealt them. Note: all the participants should be aware that they are expected to participate in the workshop, and to have their cameras, microphones and headphones working and ready, and to ensure they are in a quiet and comfortable place for the duration of the workshop.
Malena Selic
Malena is a 33 year old artist, project manager, sociopsychodrama counselor in training (hoping to be finally done with her schooling by the end of this summer), translator, yoga instructor, world traveler, and proud University of Rochester alumni who wonders just how many more roles she can assume in her lifetime. She lives in Belgrade, Serbia, where she reads a lot, works a bit, and quite often, ponders the mysteries of life.
---
Say Her Name
Drawing on the historic use of portraiture as an expression of the status and importance of the individual portrayed, the Say Her Name portrait series aims to value, study, commemorate, and portray the faces of Black women and girls who have suffered and died because of the prevalent discrimination against people of color in our country, specifically by police. This set of portraits brings awareness and recognition to the faces and stories of 5 women and one 7 year old girl, and it places the events of each person's life and death into the broader context of the systems that enable this violence to become so tragically commonplace. Each original portrait done in water color and ink, is an act of recognizing and honoring the individual and mourning for the unjust loss of their life. This series is a call for justice and action, while also an expression of heartache, outrage, and solidarity with people of color who continually face discrimination and violence in our society.
Hannah Bell
Hannah L. Bell received her BFA in Studio Art from Houghton College, with focuses in painting and ceramics. Originally from Canada, she spent her childhood living in the South Pacific, giving her a love for travel and deep appreciation for other cultures. Her current artistic practice focuses on commissioned portraits of pets and people; which gives her the opportunity to explore the beauty, variety, and value of individuals in her community. Hannah lives in Webster, NY with her husband and their two cats.
---
Self and World: Writing the Poems that Matter
In this reading/workshop we will focus on strategies to connect our internal and external landscapes. Through guided writing, close reading and vigorous discussion we will wrestle with the challenges of taking on "big issues" while being both mindful and authentic.
Lauren K. Alleyne
Lauren K. Alleyne is the author of two collections of poetry, Difficult Fruit (2014) and Honeyfish (2019), as well as co-editor of Furious Flower: Seeding the Future of African American Poetry (2020). Her work has appeared in numerous publications including the New York Times, The Atlantic, Ms. Muse, Tin House, and The Caribbean Writer, among others. Her most recent honors include nominations for a 2020 NAACP Image Award for Outstanding Poetry, the 2020 Bocas Prize for Caribbean Literature, and the Library of Virginia Literary Awards. Born and raised in Trinidad and Tobago, Alleyne currently resides in Harrisonburg, VA, where she is a professor of English at James Madison University, and the assistant director of the Furious Flower Poetry Center. Get more information about Lauren at www.laurenkalleyne.com and follow her at @poetLKA on social media.
---
Socially Engaged Art as Pedagogical Praxis
In 2018, Goddard College launched the first low-residency BFA program in Socially Engaged Art. The college's history of radical politics and its current model of Freirian Critical Pedagogy and project-based learning make Goddard a unique incubator for an interdisciplinary arts program focused on the relationship between creative practice and social change. Instead of offering courses that present "Socially Engaged Art" as a technique or delimited field, we have created spaces of dialogue and collaborative inquiry where students redefine art itself in terms and practices that are relevant to their own communities. This presentation seeks to share out the lessons that we have learned in the design and implementation of this program, and through three years of student work, and to open a space of collaborative brainstorming around pedagogical practice through the following stages: 1. A summary of Goddard's BFA in Socially Engaged Art including: a. Discussions of Socially Engaged Art, drawing upon the work of Pablo Helguera, Claire Bishop, and others b. An overview of Critical Pedagogy as presented in the work of Paulo Freire, Antonia Darder, and bell hooks. c. A description of the structure, criteria, and modalities of the program, and their implementation. 2. Key discoveries from our first three years, including: a. Observations of themes and trends in student work; b. Discussions of pedagogical ramifications regarding decoloniality, anti-racism, and institutional structure 3. A group discussion and brainstorming session on the ways that Socially Engaged Art can be conceived as a generative disruption in pedagogical praxis.
Otto Muller
Otto Muller is a composer, educator, and sound artist, whose work explores the complicity, grief, and geography through installation, participatory performance, hybrid poetics, and sound. Muller's music and interdisciplinary collaborations in dance, devised theater, and new media have been performed and presented throughout Europe, Asia, and North America and have been supported by the New York State Music Fund, Vermont Arts Council, and National Endowment for the Arts. Muller received his PhD at the University at Buffalo, and has studied with David Felder, Amnon Wolman, Chaya Czernowin, and Steve Takasugi. He teaches at Goddard College in Vermont, where he co-founded the BFA program in Socially Engaged Art. His research includes publications on noise aesthetics, rural sound practices, and critical arts pedagogy.
---
STONO: An audio-ritual
I will share excerpts from and discuss my original audio-ritual, STONO. This piece explores the Stono slave rebellion, which unfolded outside of Charleston, South Carolina in 1739. While typically depicted as a suppressed insurrection, STONO asks: Is there another story? To find answers, STONO calls on the beyond-human participants–ancestors, water, mushrooms, guns, and the Kongolese Virgin Mary–who offer alternative takes on the incident. Listeners are introduced to these actors, guided to listen more closely to their voices, and, in moments, experiment with speaking back. Combining African diasporic folkloric forms (ring shout, bomba, rumba, batá), electronic and synthesized instruments, spoken text, and field recordings from the historic rebellion sites, STONO offers a space to imagine a more expansive and surprising story about that fateful event – a space in which race, gender, and humanity are cosmically destabilized. This presentation will lay out the creative process behind STONO, introduce foundational concepts informing the work, and breakdown key examples from the piece. In particular, we will explore the political possibilities of listening to beyond-human voices, as subject matter and creative practice. What liberation strategies might we learn from the natural world? How might human events be reframed when viewed alongside non-human ones? What might spiritual entities or practices offer to our art and activism? By broadening the discussion of slavery to include more-than-human histories, we are offered alternative ways to conceive of liberation that extend beyond racial politics, human temporality, and material space.
T. Carlis Roberts
T. Carlis Roberts is an artist and scholar who engages sound as a tool for transformation and liberation. T's work straddles theater, film, television, and music — each project driven by the desire to disrupt boundaries of race, nation, and gender and develop new vocabularies for expression. As a composer and sound designer, T has worked around the U.S. at theaters including Steppenwolf Theatre Company, Woolly Mammoth Theatre Company, California Shakespeare Theatre, and Oregon Shakespeare Festival. As a songwriter and performer, T appeared on the Grammy-nominated album THE LOVE by Alphabet Rockers, wrote music for the Starz series VIDA, and toured the country in A QUEER STORY OF THE BOY BAND, a theatrical concert he co-created with The Singing Bois. T is co-founder of the Spiritual Technologies Project, a research and performance consortium exploring the metaphysical dimensions of black music, and a former Associate Professor of Music at UC Berkeley.
---
The Art of Wellness
The Art of Wellness Is an interactive workshop that identifies art as a tool to maintain wellness by adopting art as a pathway to recovery from substance abuse disorder and or mental health challenges that can be applied to everyday living, advocacy, education and awareness. This workshop integrates the principles of recovery with the power of creativity to increase wellbeing, enhance coping skills, to communicate deep rooted trauma, create safe spaces for inner healing and share powerful stories of resiliency.

Alexia Jones
Alexia Jones celebrates 26 years in long term recovery the founder and Executive Director of R2ISE Inc. a nonprofit RCO (Recovery Community Organization) in Atlanta Georgia, holds a BFA in Dance from Florida State University, and an MBA from Phoenix University. She is a certified addiction empowerment specialist (CARES) and certified peer specialist (CPS) trainer of trainers for trauma informed care and currently studying to become a certified drum circle facilitator. She is passionate about her work with those in recovery from mental health challenges and/or drug addiction, by utilizing the arts and providing a safe place through R2ISE so that wellness can be maintained. She has performed nationally and internationally and choreographed at the university and professional level. Alexia is a movement engineer committed to helping others walk in recovery, restoration, inspiration, support, and empowerment. Alexia is committed to sharing the message that Art+Recovery=Freedom and bringing healing and hope to many through her artistic approach called the Beracha Method; a self-directed process that empowers peers to focus on their needs, stimulates recovery focused dialogue, builds collaborative relationships, and encourages connection with others to build a supportive recovery network. Alexia has worked with individuals, families, and children in recovery for 26 years. During her recovery journey she has written several plays that illustrate the process of recovery, utilizing the unique stories and artistic gifts of the individuals she passionately serves. Her artistic work includes "Chronicles of Hope" featuring recovering artists in a collaborative effort to share stories of hope throughout the state of Georgia. Alexia helps others connect, the mind, body, soul and spirit as well as advocate, educate and raise, awareness around the power of recovery. R2ISE Inc instills hope, transforms lives and highlights the strengths of participants so that wellness can be maintained. Art+Recovery=Freedom!
---
The Inherent Healing of Dance when East Meets West
Despite the pandemic, Savitribai Phule Pune University in affiliation with Sancheti Hospital, opened the first Master's Degree program in Dance/Movement Therapy (DMT) in India during the fall of 2021. The program aimed to develop an approach to DMT that integrated vital concepts such as kinesthetic empathy, the cornerstone of western DMT, and India's lengthy and rich heritage in the arts of dance and music. To start, the students focused on LivingDance~LivingMusic, an approach that centers on fundamental elements of dance, elements that cut across most, if not, all cultures (e.g., pulse, breath, muscle connectivity). They then applied these fundamental concepts to identify elements of Indian rituals and both classical and folk dance that could lay the groundwork for a clinical platform unique to dance/movement therapy in India. Dr. Nikita Mittal, co-founder of the master's program and students in the program will describe the process of integrating essential elements of Indian dance and western views of DMT — from honoring, performing, and analyzing Indian dance forms to discovering how they do and do not interface with western views of dance/movement theory and practice. An American, Danielle Fraenkel, Ph.D., co-founder of the program. will describe what it is like to encourage students to think in new ways, dance from the heart, and discuss topics that one might ordinarily avoid— topics such as the effects of hierarchy, patriarchy, and the caste system on women, both, personally and professionally. Students were not concerned about cultural appropriation and asked her to stop checking in to see if she had trespassed on any boundaries or if her views sounded like the views of a colonial intruder.
Dr. Dani Fraenkel
Danielle L. Fraenkel, Ph.D., BC-DMT, LCAT, LMHC, NCC, CGP, Director of Kinections℠ and co-creator of LivingDance~LivingMusic, represents Kinections in the ongoing collaboration among Kinections, Life and Dance, and Sancheti Health Care Academy, that gave rise to SHA's nine-month certificate program in dance/movement therapy, and India's first Master's Degree in Expressive Movement Therapy, (MA-MET). Recipient of the American Dance Therapy Association's 2014 Excellence in Education Award, "Dr. Dance" currently teaches and develops curricula for Dance/Movement Therapy programs at Kinections, the University of Rochester, Sancheti Health Care Academy, and the Apollo Beijing Consulting Institute. Dr. Dance, as many call her, created LivingDance while working with people struggling with eating disorders. To meet their needs, she returned to her training in dance with Jack Wiener, and developed an approach that views dance/movement therapy, not as an adjunctive modality of psychology, but as a discipline, grounded in the healing inherent in dance.
---
The Jazz Ensemble: A Training Model for Building Social Creativity in the Workplace
The twenty-first century presents unique challenges for business organizations that seek to groom leaders within their respective fields. Numerous institutions recognize the need for developing a highly adaptable workforce that can creatively navigate through the challenges facing today's workplace. Jazz Improvisation, by design, is highly equipped to address the uncertainly of an ever-changing playing field. The core nature of the ensemble embodies collective knowledge, resourcefulness, and the interdependence of its multiple contributors. The Jazz ensemble enhances creativity through improvised activities that encourages interaction with its participants. These creative activities can provide valuable insights and new perspectives for employees within many business and professional working environments. The improvisational strategies of the Jazz Ensemble can be a vibrant model for inspiring creativity in the workplace.
Erroyl D. Rolle
Professor Erroyl Rolle (MBA) has 20 years of experience as a tenured faculty at S.U.N.Y. Sullivan college as well as adjunct faculty for several higher education institutions, 13 years of experience managing academic programs at remote locations for higher education institutions, and 10 years of experience as an online educator/course developer via the State University of NY Learning Network (Open S.U.N.Y.). He is a BA Graduate of Music with a host of numerous recording sessions and side work performances in popul0ar music and jazz genres throughout the greater New York and Metropolitan Area. Professor Rolle has gracefully served and assisted many community projects and worked for higher education institutions designing, serving, and teaching both business curriculum and music curriculum.
---
Trauma-Informed Creative Practices
Trauma-Informed Creative Practices (TICP) is for artists & educators who are interested in folding this methodology into their personal, artistic, and/or educational practices. Trauma-Informed Creative Practices is a human-centered approach to devising that takes into consideration the how and why behind the delivery of a creative process in addition to the content of it. TICP was created by Molly W. Schenck whose work has been centered on facilitating collaboratively devised performances around topics such as sexual violence and mental health for over a decade. TICP is a method of embracing curiosity while embedding compassion to cultivate brave and supportive spaces where learning and creativity can flourish. A key regular practice to this work is taking time to self-reflect on the responses or reactions that come up in spaces of creativity and learning. This practice will be embodied in this presentation. This presentation introduces the development and theoretical underpinnings of TICP, contextualizes it in our present moment, and discusses how to apply it in our future. In general, everything is an invitation. Participants can engage as much as they feel comfortable, in the ways that feel comfortable throughout the workshop. There will be time to reflect and ask questions built into the session, as well as moments to ground, center, and be present with ourselves. The workshop will be a combination of reflection, discussion, and lecture. Participants are encouraged to take hand-written notes and be prepared for some movement based practices.
Molly Schenck
Molly W. Schenck (MFA, MEd.) is a multi hyphenated arts and somatic practitioner who is fascinated with human movement - whether that a social justice movement, individuals persisting through systems, or how a body moves through space and time. She is also interested in what interrupts the full expression of movement. This has guided the evolution of her studies and career path. She worked in higher education as an adjunct professor and administrator for ten years. She taught mind body and group fitness classes for twelve years. She specializes in the intersection of creativity and trauma and is the creator of Trauma-Informed Creative Practices. She is the founder of Grey Box Collective (an interdisciplinary, experimental, post-dramatic, trauma-informed arts organization that devises original performances around topics of social and emotional wellbeing i.e. makes weird art about tough stuff. For more information visit mollywschenck.com
---
Uniting Poetics and Humor in (Post)Pandemic Art
Poetry has a negative stereotype of being something for pretentious people. Humor and comedy are seen as something for the masses and often derided in academic contexts. But these ideas do not have to be true. Poetry can offer many avenues for individual and collective expression that can be down-to-earth and accessible to diverse groups of people. Humor can be smart, developed, progressive, and geared toward social change. I will share my experiences of combining poetry and humor in three recent endeavors: 1. humor in a choreopoem production for Theater Alliance at Anacostia Playhouse in Washington, D.C., 2. a funny poetry series at the Broadway Comedy Club in New York City, and 3. independent publications in magazines and books. Participants will learn what I have taken away from these experiences and what suggestions I have for them developing similar projects during the pandemic and moving forward.
Christine Stoddard
​Christine Stoddard is a Salvadoran-American writer, director, performer, and multi-hyphenated artist creating books, films, plays, murals, etc. She founded Quail Bell Magazine and Quail Bell Press & Productions. She recently premiered her first feature film, Sirena's Gallery, after directing several shorts, such as Bottled, Virtual Caress, Butterflies, Drunken History, and Brooklyn Burial. Her books include Heaven is a Photograph, Hello, New York: The Living And Dead, Naomi & The Reckoning, Desert Fox by the Sea, Belladonna Magic, and Water for the Cactus Woman, among others. She will be directing her nationally award-winning play, "Mi Abuela, Queen of Nightmares" at the Gene Frankel Theatre in NYC in 2022. Previously, she was the first-ever artist-in-residence at Lenox Hill Neighborhood House in Manhattan and served as an inaugural AnkhLave Arts Alliance artist fellow at the Queens Botanical Garden. Her work has appeared in Ms. Magazine, The Huffington Post, Portland Review, Bustle, and beyond.