Call for Proposals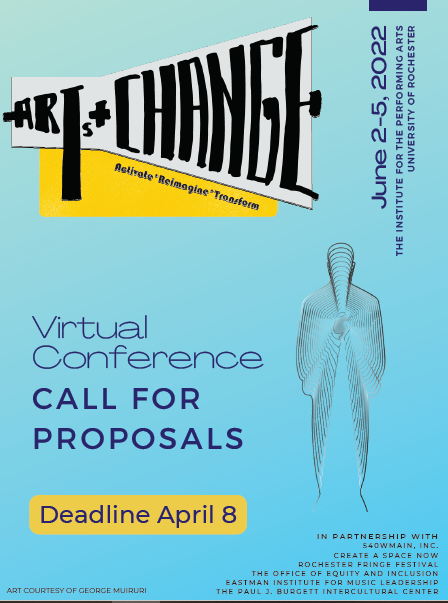 Activate, Reimagine, Transform
June 2-5, 2022
This gathering provides opportunities for artists of all disciplines, educators, members and community organizations to come together to create, to share work and ideas, to present research, to propose collaborations. Through the sharing of work, participatory workshops, panel discussions, research presentations, curriculum design, guided discussions and more, participants will come together to listen, to consider, to share and to act.
How are artists of all disciplines creating an impact on diversity, inclusion and accessibility?
How are artists reimagining the world we occupy?
How does equity, justice and performance intersect?
How does creative placemaking impact our communities?
How are you crafting open, welcoming and diverse curriculums?
How are you engaging in art, action and/or changemaking?
How are you challenging systems of oppression through your work, your teaching, your practices?
What other questions have come up for you?
2022 Presenter Deadlines
April 8: Deadline for proposal submissions (free to apply)
April 30: Accepted presenters notified
May 5: Presenter confirmation of participation/registration deadline
We are open to intersectional ideas that invite participation by people with diverse identities. When applying, please consider how your presentation will engage participants with different backgrounds. Designating affinity groups is welcome if deemed appropriate by the presenter. Specifically consider your presentation's potential impact on marginalized communities (BIPOC, LGBTQIA, Persons with Disabilities, etc.)
---

To ensure accessibility, the conference is free of charge.
A suggested $10 donation to register for those who are able.