2016-2017 Season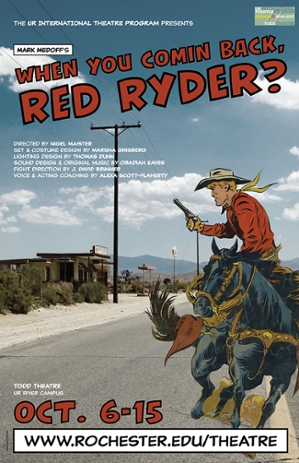 When You Comin Back, Red Ryder?
By Mark Medoff
Director, Nigel Maister
Set & Costume Design, Marsha Ginsberg
Lighting Design, Thomas Dunn
Sound Design & Composer, Obadiah Eaves
Fight Director, J David Brimmer
Acting & Voice Coach, Alexa Scott-Flaherty
October 6–15, 2016
The UR International Theatre Program opens its 2016-2017 season with Mark Medoff's, Obie Award-winning drama, When You Comin Back, Red Ryder?  When a small, sleepy New Mexico diner is visited by a fugitive couple on the run, locals and visitors have their lives upended and their dreams and inner desires confronted.  Tense and gripping, Red Ryder explores the myths of American manhood and heroism with brutality, humor, and nail-biting suspense.  Recommended for adult audiences only.
Show Times
October 6 at 7:00 p.m. (Opening Night)
October 7 at 7:00 p.m.
October 8 at 2:00 p.m. (Meliora Matinee)
October 8 at 7:00 p.m.
October 9 at 2:00 p.m. (Matinee)
October 12 at 7:00 p.m. (English Night; post-show reception)
October 13 at 7:00 p.m.
October 14 at 7:00 p.m.
October 15 at 7:00 p.m. (Closing Night)
Get Tickets Video Promo Press Release Dramaturgical Resources
Gallery