People
Orchestra Staff
Dr. Rachell Waddell, Music Director
Dr. David Harman, Music Director (retired 2017)
Jimmy Warlick , Manager of Music Performance Programs
Dr. Rachell Waddell, Musical Director and Conductor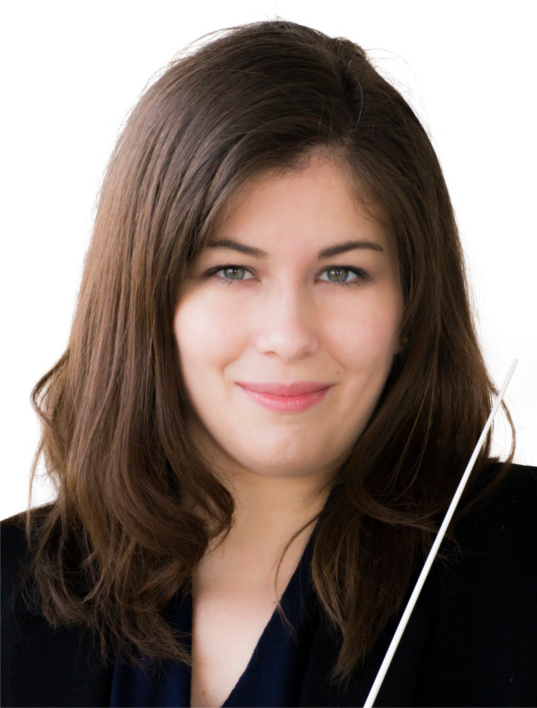 Dr. Rachel L. Waddell is the newly-appointed Director of Orchestral Activities at the University of Rochester, where she directs the symphony and chamber orchestras and chamber ensemble program. Prior to her move to the University of Rochester, she served as the Associate Conductor of the Canton Symphony Orchestra, a professional regional orchestra in northeastern Ohio, and Music Director of the award-winning Canton Youth Symphonies. During her time with Canton, Waddell conducted over eighty performances and served as the Cover Conductor for additional masterworks programming under the direction of the CSO's Music Director, Gerhardt Zimmermann. In her roles as Associate and Cover Conductor, Waddell worked closely with internationally renowned guest artists such as Project Trio, Lindsay Deutsch, Béla Fleck, André Watts, and many others. In 2016 she conducted the Ohio premier of Christopher Theofanidis' Dreamtime Ancestors with the CSO.
Waddell's innovative programming and passion for community engagement has made her a popular conductor with audiences of all ages. Her well-loved POPS performances have included an array of diverse concerts from the Music of Queen to a swingin' holiday spectacular. Her educational programs explored such topics as music and revolution, geometric shape and musical form, and bilingual performances. Under Waddell's leadership, the Canton Youth Symphony grew from a small, single orchestra to a three-tier progressive orchestral training program reaching over 120 students throughout northeastern Ohio. The Canton Youth Symphonies were named the 2015 Youth Orchestra of the Year by the Classics Alive Foundation in Los Angeles. In addition, in 2016 Waddell co-founded the grant-winning New Horizons Chamber Orchestra to provide an outlet for amateur adult musicians in her community to perform chamber music. In recognition of her service to the greater Canton community, Waddell was named one of YStark and The Canton Repository's 2015 "20 Under 40!" recipients.
In addition to her work with the CSO and CYS, Waddell was the first women to guest conduct Cleveland's Suburban Symphony Orchestra. She has appeared as a guest conductor with the Las Vegas Philharmonic, Flagstaff Light Opera Company, and Greater Hartford Women Composers' Festival, among others. She has also held previous positions as Conductor of Oberlin Conservatory's Northern Ohio Youth Orchestra, Assistant Conductor of the Miami Music Festival in Florida, Music Director of the Las Vegas Korean Youth Orchestra, and Apprentice Conductor of the Las Vegas Philharmonic. Her conducting has been described by Cleveland Classical as "distinctly animated" with "charismatic fervor….a sensibility eagerly reciprocated by the orchestra as it responded with marvelous tonal depth and palpable exuberance."
Waddell has previously served on faculty at Kent State University-Stark, Malone University, Walsh University, and the University of Nevada, Las Vegas. She holds a Doctor of Musical Arts in Orchestra Conducting from the University of Nevada, Las Vegas, a Masters in Orchestra Conducting from Northern Arizona University, and a Bachelor of Music in Composition from the Hartt School of Music in Connecticut. Waddell continues her commitment to music education through her research on the psychology and sociology of orchestral conducting and performance.
Dr. David Harman, Musical Director and Conductor (retiring June 30, 2017)
A native of northern California, David Harman began his serious musical studies as a clarinetist. He was the assistant conductor of the University Orchestra while earning a B.A. and M.A. in Woodwind Performance from California State University at Sacramento. In 1971 he was awarded a scholarship as a Boursier de l'Etat français by the Fulbright Foundation for advanced study in France at the Paris Conservatory. He also attended master classes given by Erich Leinsdorf, Daniel Lewis and Jorge Mester at the Aspen Music Festival as an orchestral conducting scholarship student. Harman earned a Doctor of Musical Arts degree from The Eastman School of Music of the University of Rochester in 1974 at age 25.
Following graduation from Eastman, he assumed the position of coordinator of woodwind instruction, and conductor of the chamber orchestra and opera program at Colorado State University in Ft. Collins. He left that position for a similar post at The University of Connecticut in Storrs in 1981. During that time, Dr. Harman also enjoyed an active solo career as a clarinetist with three solo recordings, recital appearances at Carnegie Recital Hall, and London's Wigmore Hall and Purcell Room. Other performances included national concert tours and recorded broadcasts for the B.B.C. Radio Three, France's O.R.T.F., WGBH in Boston, WQXR in New York City, and National Public Radio. The New York Times review of his 1981 Carnegie Hall debut recital mentioned that "Everything he touched turned to music."
In 1986, Harman assumed the post of Director of Orchestras at the University of Louisville in Kentucky, a professorship that he held until returning to Rochester in 1993. At U of L he was conductor of the University's Symphony Orchestra, and Opera Theater. As Executive Director of The Grawemeyer Award for Music Composition, he collaborated closely with composers Harrison Birtwistle, John Corigliano, György Ligeti, Witold Lutoslawski, Krzysztof Penderecki, Joan Tower and Chinary Ung. He also served as Music Director of The Louisville Civic Orchestra and as assistant conductor of the Louisville Orchestra.
He continues to appear both as a guest conductor of professional orchestras and as a music educator at university and high school levels. Professional appearances include return engagements with The Louisville Orchestra, The Cincinnati Symphony, The Tucson Symphony, The Rochester Philharmonic Orchestra, The Lake Placid Sinfonietta, and Opera Theater of Rochester. Harman was also conductor of the Orchestra of the Spring Festival of Contemporary Music in Ljubljana, Slovenia under the sponsorship of Arts America. He also served as guest conductor of The Shanghai Conservatory Symphony (China), The Jamaica Orchestra for Youth (JOY) in Kingston, Jamaica, The Grand Cayman International Music Camp, the New York All-State String Orchestra and, recently, as guest conductor at The University of Wisconsin, Madison.
In 2005, he was named by the Monroe Country School Music Association as recipient of the Richard H. Snook Award for his contributions to music education in the greater Rochester area, and was named Musician of the Year for 2008 by the Rochester Chapter of Mu Phi Epsilon.
From 1993 through Spring of 2017, Dr. Harman held the posts of Professor of Music and Director of Orchestral Activities at the University of Rochester River Campus, conducts the Symphony and Chamber Orchestras. He has also served as Conductor and Music Director of the Rochester Philharmonic Youth Orchestra, and has conducted the RPYO in concerts in England, France, Germany, Hungary, Italy, Poland, Québec, and Slovakia. In addition, for more than ten seasons, Dr. Harman has served as the Music Director of the Penfield Symphony Orchestra. He also conducts the Doctor's Orchestra at the UR Medical Center and Sinfonietta CordAncia.