Hopeman Memorial Carillon
Concerts & Events —Spring 2018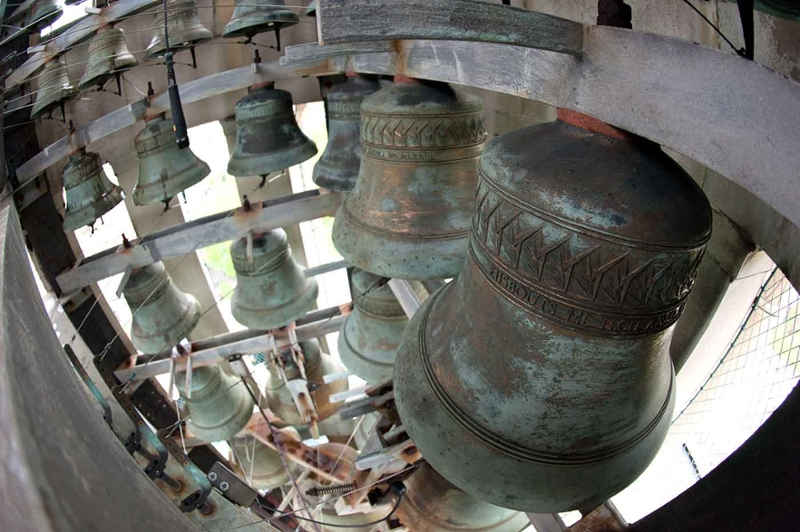 ---
Events are subject to change.
Hopeman Carillon Sunset Concerts: April in Paris / Ring, Sweet Bells

Friday April 20 and Saturday April 21 at 6:45 PM on the Eastman Quad.
Click here for the April in Paris program
Click here for the Ring, Sweet Bells program
Geert D'hollander in concert
A very special concert by Geert D'hollander, Director of Carillon Services for Bok Tower Gardens in Lake Wales, Florida, Thursday March 29 at 5PM on the Eastman Quad.
For the full program, click here.
Student Rings - Spring 2018
Monday 8-9pm Carillon Society ring
Tuesday 5-8pm class ring
Thursday 5-5:30pm, 7-9:00pm class ring
Friday 5-7pm class ring
Saturday 4-5:30pm class ring
Sunday 1-4pm class ring
Restoration -
Summer

Fall 2017 [

UPDATE

]

August - September, 2017 -

The initial phase of the restoration began August 24, and was completed on August 29 [see a photo essay here].  The 32 smaller bells were removed and loaded on a trailer to have their clappers rebuilt/refitted in Meeks & Watson's workshop (in Ohio).  The largest of these "small" bells was 12-14" in diameter and about 150 lbs. The 18 largest bells were too large to move.  The clappers, however, were removed and replaced with new clappers. 

In September, Meeks & Watson returned to replace the now-refurbished smaller bells.  After some adjustments and a return trip, the bells are ringing again. And they sound fantastic!

The next chapter in the restoration saga will be upgrades to the keyboard, a new "umbrella" (which prevents water that collects at the base of the tower leaking into the cabin - and on the keyboard - should the water rise above a certain level) AND a complete restoration and refurbishment of the practice carillon which resides in Spurrier.

If you wish help with the restoration funding, your charitable contribution is most welcome.  And a "Thank you" to all those already supporting the restoration via donations to Hopeman Carillon Fund. 

That being said . . . let the bells ring out!
---