Hopeman Memorial Carillon
Concerts & Events —FALL 2018!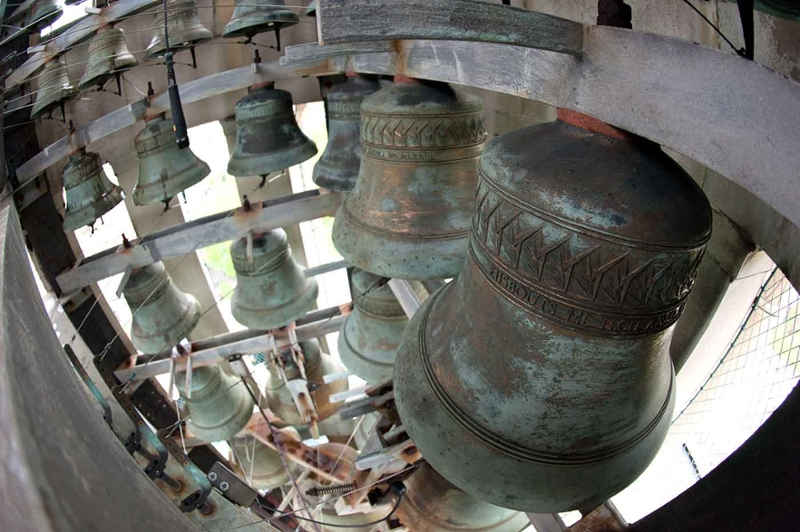 ---
Events are subject to change.
Zettek Carillon Composition Competition

Sunday, 11/11 
11 AM EST (Worldwide) - 100th Anniversary Armistice Peace Bell Ring

4 PM - Veterans Day/Armistice Centennial Carillon Concert   [click for program]

[click on images below for full poster]
Restoration -
Summer

Fall 2017 [

UPDATE

]

August - September, 2017 -

The initial phase of the restoration began August 24, and was completed on August 29 [see a photo essay here].  The 32 smaller bells were removed and loaded on a trailer to have their clappers rebuilt/refitted in Meeks & Watson's workshop (in Ohio).  The largest of these "small" bells was 12-14" in diameter and about 150 lbs. The 18 largest bells were too large to move.  The clappers, however, were removed and replaced with new clappers. 

In September, Meeks & Watson returned to replace the now-refurbished smaller bells.  After some adjustments and a return trip, the bells are ringing again. And they sound fantastic!

The next chapter in the restoration saga will be upgrades to the keyboard, a new "umbrella" (which prevents water that collects at the base of the tower leaking into the cabin - and on the keyboard - should the water rise above a certain level) AND a complete restoration and refurbishment of the practice carillon which resides in Spurrier.

If you wish help with the restoration funding, your charitable contribution is most welcome.  And a "Thank you" to all those already supporting the restoration via donations to Hopeman Carillon Fund. 

That being said . . . let the bells ring out!
---