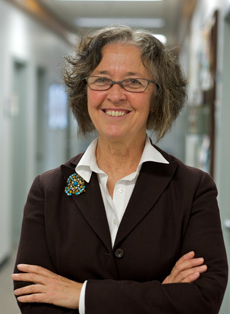 Joyce McDonough
Professor and Chair, Department of Linguistics
PhD, University of Massachusetts at Amherst, 1990
505 Lattimore Hall
(585) 275-2895
Fax: (585) 273-1088
joyce.mcdonough@rochester.edu
Office Hours: By appointment
---
Biography
Academic Service
Prof. Joyce M McDonough is the current Chair of the Department of Linguistics. She was also Department Chair from 2004-2013. Prof. McDonough has been a member of the Center for Language Sciences (CLS) since 1999. She served on the University's Faculty Senate (2007-2013); she was elected to the Faculty Senate Executive Committee (SEC) 2008-2013, serving as chair of the Faculty Senate in 2012-2013.  She was appointed to the University Committee on Tenure and Privileges (UCTP), 2014-2017. Prof. McDonough was elected to the executive committe of the Council of Chairs in 2013. She has been a member of the Music Cognition Symposium since 1999. She has been a Faculty Associate of the Susan B. Anthony Institute for Gender and Women's Studies, serving as its Curriculum Director in 2003-5. Prof. McDonough was Chaire Internationale EFL May 2017 at Paris Diderot 7, France. 
Current Projects
Morphology
This research broadly concerns the structure of the grammar and paradigmatic (versus syntagmatic) processes, in word formation, derivational and inflectional functions. Fundamental to this is the 'sound form' and the existence of good empirical data, especially solid documentation of phonetic structure. Without instrumental phonetic descriptions and analyses, often unavailable in under-studied languages, morphological descriptions are dependent entirely on written forms, and proposed without regard for the sound forms of the morphemes themselves, information which may help disambiguate redundancies and clarify structure. 
The broad goal is to provide a model of a native Athabaskan speaker's lexicon. Empirical data on Navajo verb is taken from two sources: recent instrumental phonetic data and documentation on Navajo and related northern Dene languages, and Young and Morgan's (1987) grammar The Navajo Language. The second topic is morphological typology, polysynthesis and the role of position classes in comparative and typological work, such as the studies of morphotactics and polyfunctionality and the role of position in determining function. This research is within the Word and Pattern framework of Ackerman, Blevins annd colleagues.The primary focus in the structure of the verbal complex in the Athabaskn (Dene) languages, held to be a classic example of 'polysynthesis'. 
Recent work: 
When segmentation helps: Implicative structure and morph boundaries in the Navajo verb. Olivier Bonami, Joyce McDonough and Sacha Beniamine, submitted to ISMo 2017. 
How to Use Young and Morgan's The Navajo Language: Part 1, the Dictionary. Tutorial
Coding of speech patterns in the brain 
This research is a collaboration with PI Laurel Carney (BME) and Carney's Auditory Neuroscience Lab. The study provides a hypothesis for the neural coding of vowel sounds, the Vowel Coding Hypothesis (vch), using recently developed computational models for auditory neurons for responses and critically in the typical range of sound-to-noise (snl) level in human speech (Carney Lab: Nelson & Carney, 2004, 2007; Zilany & Carney, 2010; Zilany et. al., 2009, 2014; Gai & Carney, 2008; Kim et. at., 2015). The long-term goal of this work is to understand and model the neural representation of speech in the auditory pathway to further understand the code input to cognitive linguistic behavior. 
Recent publications:
Speech Coding in the Brain: Representation of Vowel Formants by Midbrain Neurons Tuned to Sound Fluctuations. Laurel H. Carney, Tianhao Li, Joyce M. McDonough.  eNeuro. 2015; 10.1523/ENEURO.0004-15.2015  
Field Phonetics and the documentation of  speech patterns in under-resourced communities
Fundamental tolingusitic research in every cmponet of linguistics is the existence of good empirical data on the sound forms, especially the documentation of phonetic structure. Without instrumental phonetic descriptions and analyses, which is avaiable for all better studied langauges and often unavailable in under-resourced languages, linguistics descriptions and analyses are dependent on written forms, information which may help disambiguate redundancies and clarify structure. New methodologies in field linguistics are increasing the available data, including phonetic documentation, by building spoken language corpora and developing experimental and computational work.
Recent work
Taking the Laboratory into the Field.  D H Whalen & Joyce McDonough. Annual Review of Linguistics 2016.
A gestural account of the velar fricative in Navajo.Khalil Iskarous, Joyce McDonoughb & D H Whalen, Laboratory Phonology 3 (2012), 195 – 210. 
Dene Speech Atlas: Seeds for the Future. (NSF#0853929). Online atlas of the phonemes and sound patterns of the Dene languages of the Mackenzie River Basin and surrounding areas.
Field data collection techniques
Toy Game (McDonough & Lachler) and Toy Game Protocol (1 page). The Toy Game is a field technique for collecting natural conversation. It is based on the Map Task but adapted to field situations.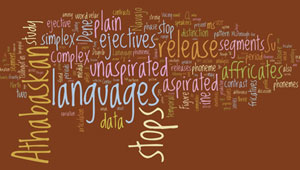 Courses Offered (subject to change)
LIN 210:  Language Sound Structures
LIN 227 / 427:  Topics in Phonetics and Phonology, Spring 2015
LIN 226:  Morphology
LIN 389:  Senior Seminar: Field Methods, Spring 2015
Selected Publications
Some Current Papers