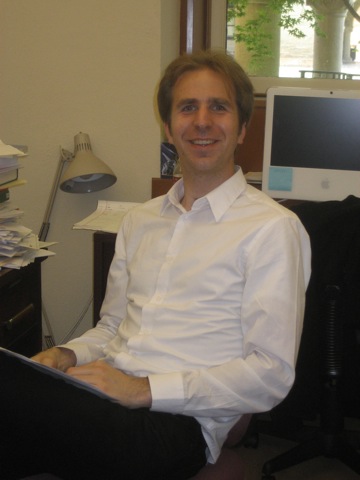 Scott Grimm
Assistant Professor, Department of Linguistics
Director, Quantitative Semantics Lab
PhD, Stanford University, 2012
512 Lattimore Hall
(585) 275-5136
Fax: (585) 273-1088
scott.grimm@rochester.edu
Office Hours: Wednesday 4 p.m. - 5 p.m.
---
Biography
Interests: Formal and lexical semantics, linguistic theory, typology, empirical methodology.
Dissertation : Number and Individuation. Advisors: Beth Levin (Chair), Chris Potts, Paul Kiparsky and Donka Farkas.
Postdoctoral Researcher. September, 2012–December, 2013. Project: Natural language ontology and the semantic representation of abstract objects. Universitat Pompeu Fabra, Departament de Traduccio i Ciencies del Llenguatge.
Master of Science in Logic, Cum Laud. 2005. Institute for Logic, Language and Computation, University of Amsterdam. Thesis: The Lattice of Case and Agentivity. Advisor: Henk Zeevat.
Maıtrise en Science du langage, Mention Bien [Cum Laude]. 2004. Mention Industries du langage [Computational Linguistics] Universite de Grenoble III: Stendhal. Thesis: La semantique lexicale des adjectifs d'emotion: Le cas du champ semantique de 'content'. Advisors: Francis Grossman and Agnes Tutin.
Prof. Scott Grimm joined the Department of Linguistics in January 2014.
Courses Offered (subject to change)
LIN 225 / 425  Introduction to Semantic Analysis, Fall 2017
LIN 228 / 428  Lexical Semantics, Spring 2017
LIN 250 / 450  Data Science for Linguistics, Spring 2017
LIN 266 / 466  Intro to Pragmatics, Spring 2016
LIN 268 / 468  Computational Semantics, Fall 2017
LIN 501  Methods in Linguistic Research, Fall 2016
Selected Publications
Refereed Publications since 2011
Scott Grimm. 2016. "Crime Investigations: The Countability Profile of a Delinquent Noun," Baltic International Yearbook of Cognition, Logic and Communication: Vol. 11.
Marie-Catherine de Marneffe, Scott Grimm, Inbal Arnon, Susannah Kirby and Joan Bres- nan. 2012. "A Statistical Model of the Grammatical Choices in Child Production of Dative Sentences." Language and Cognitive Processes 27: 25–61.
Scott Grimm. 2012. "Inverse Number Marking and Individuation in Dagaare." D. Mas- sam (ed.), Count and Mass Across Languages, 75–98. Oxford University Press. Oxford, England.
Scott Grimm. 2011. "Semantics of Case." Morphology 21: 515–544.
Refereed Conference Proceedings since 2011
Scott Grimm and Louise McNally. 2016. "The+VPing as anaphoric event-type refer- ence". In Kyeong-min Kim, Pocholo Umbal, Trevor Block, Queenie Chan, Tanie Cheng, Kelli Finney, Mara Katz, Sophie Nickel-Thompson, and Lisa Shorten (eds.), Proceedings of WCCFL 33, 67–76. Cascadilla Proceedings Project, Somerville, MA, USA. 
Scott Grimm. 2013. "Plurality is Distinct from Number-Neutrality." Proceedings of the North East Linguistic Society 41, 247–258. University of Massachusetts at Amherst. 
Scott Grimm. 2013. "Instrumental Subjects." Thera Crane, Oana David, Donna Fen- ton, Hannah J. Haynie, Shira Katseff, Russell Lee-Goldman, Ruth Rouvier, and Dominic Yu (eds.), Proceedings of the 33rd Meeting of the Berkeley Linguistic Society, 178–190. Berkeley Linguistic Society. Berkeley, CA. 
Scott Grimm. 2012. "Degrees of Countability: A Mereotopological Approach to the Mass/Count Distinction". Anca Cherches (ed.), Proceedings of Semantics and Linguistics Theory 22, 584-603,. Cornell University. Ithaca, NY. 
Scott Grimm. 2010. "Number and Markedness: A View from Dagaare." Martin Prinzhorn, Viola Schmitt and Sarah Zobel (eds.), Proceedings of Sinn und Bedeutung 14, 168–184. Vienna, Austria.