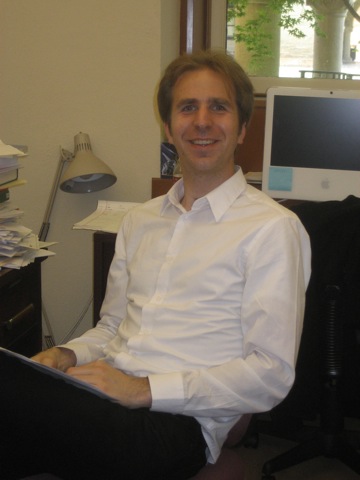 Scott Grimm
Assistant Professor, Department of Linguistics
Director of Graduate Studies, Director of Quantitative Semantics Lab
PhD, Stanford University, 2012
512 Lattimore Hall
(585) 275-5136
Fax: (585) 273-1088
scott.grimm@rochester.edu
Office Hours: TBA
---
Biography
Professor Scott Grimm joined the Department of Linguistics in January 2014. He graduated with his PhD from Stanford University in 2012. His dissertation, Number and Individuation, was advised by Beth Levin (Chair), Chris Potts, Paul Kiparsky and Donka Farkas. Prior to coming to Rochester, he was a postdoctoral researcher under Louise McNally at University Pompeu Fabra in Barcelona, Spain, working on the project Natural language ontology and the semantic representation of abstract objects. Scott also holds an MS in Logic (2005) from the Institute for Logic, Language and Computation at the University of Amsterdam.
Courses Offered (subject to change)
LIN 225 / 425:  Introduction to Semantic Analysis, Fall 2017
LIN 228 / 428:  Lexical Semantics, Spring 2017
LIN 250 / 450:  Data Science for Linguistics, Spring 2017
LIN 266 / 466 :  Intro to Pragmatics, Spring 2016
LIN 268 / 468:  Computational Semantics, Fall 2017
LIN 501:  Methods in Linguistic Research, Fall 2016
Selected Publications
Refereed Publications since 2011
Scott Grimm. 2016. "Crime Investigations: The Countability Profile of a Delinquent Noun," Baltic International Yearbook of Cognition, Logic and Communication: Vol. 11.
Marie-Catherine de Marneffe, Scott Grimm, Inbal Arnon, Susannah Kirby and Joan Bresnan. 2012. "A Statistical Model of the Grammatical Choices in Child Production of Dative Sentences." Language and Cognitive Processes 27: 25–61.
Scott Grimm. 2012. "Inverse Number Marking and Individuation in Dagaare." D. Massam (ed.), Count and Mass Across Languages, 75–98. Oxford University Press. Oxford, England.
Scott Grimm. 2011. "Semantics of Case." Morphology 21: 515–544.
Refereed Conference Proceedings since 2011
Scott Grimm and Louise McNally. 2016. "The+VPing as anaphoric event-type reference". In Kyeong-min Kim, Pocholo Umbal, Trevor Block, Queenie Chan, Tanie Cheng, Kelli Finney, Mara Katz, Sophie Nickel-Thompson, and Lisa Shorten (eds.), Proceedings of WCCFL 33, 67–76. Cascadilla Proceedings Project, Somerville, MA, USA. 
Scott Grimm. 2013. "Plurality is Distinct from Number-Neutrality." Proceedings of the North East Linguistic Society 41, 247–258. University of Massachusetts at Amherst. 
Scott Grimm. 2013. "Instrumental Subjects." Thera Crane, Oana David, Donna Fen- ton, Hannah J. Haynie, Shira Katseff, Russell Lee-Goldman, Ruth Rouvier, and Dominic Yu (eds.), Proceedings of the 33rd Meeting of the Berkeley Linguistic Society, 178–190. Berkeley Linguistic Society. Berkeley, CA. 
Scott Grimm. 2012. "Degrees of Countability: A Mereotopological Approach to the Mass/Count Distinction". Anca Cherches (ed.), Proceedings of Semantics and Linguistics Theory 22, 584-603,. Cornell University. Ithaca, NY. 
Scott Grimm. 2010. "Number and Markedness: A View from Dagaare." Martin Prinzhorn, Viola Schmitt and Sarah Zobel (eds.), Proceedings of Sinn und Bedeutung 14, 168–184. Vienna, Austria.