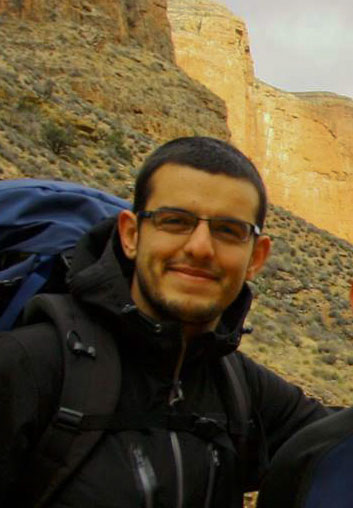 Mauricio Ibanez-Mejia
PhD, University of Arizona
B-13 Hutchison Hall
(585) 275-2108
ibanezm@rochester.edu
Office Hours: By appointment
---
Research Overview
My research is broad and comprises a combination of fieldwork and laboratory analyses applied to investigating a variety of solid Earth processes. Although my fundamental scientific motivation is in the application of geochemistry, particularly of radiogenic isotopes, to elucidate the timing and processes associated with the creation and modification of Earth's crust, I am also interested in using geochronological tools for the absolute time calibration of key events in the fossil record.
I am currently working and collaborating with other scientists on a variety of projects, some of them seeking to understand a) the growth and assembly history of major Precambrian cratons (e.g., Amazon and Indian shields), b) the application and limits of baddeleyite geochemistry for high-precision geochronology and isotopic fingerprinting of mafic magmatism throughout Earth's history, c) the differentiation of arc magmas in the Andean lower-crust and its relation with the formation of dense ultramafic cumulate keels in Cordilleran settings, d) the transfer of peri-Gondwanan crustal fragments to the Appalachian orogenic system, and f) the time calibration of biotic recovery and turnovers in the Americas during the Cenozoic.
I am currently a W.O. Crosby postdoctoral fellow at the Department of Earth, Atmospheric and Planetary Sciences at MIT and a research assistant professor at the University of Rochester. I will be joining the Department of EES full time in the summer of 2016, so stay tuned as we begin laboratory renovations for the radiogenic isotopes lab in the summer of 2015 and for future student opportunities!
Selected Publications
Ibanez-Mejia, M., Pullen, A., Arenstein, J. Gehrels, G., Valley, J., Ducea, M.N., Mora, A.R., Pecha, M., Ruiz, J. (accepted). Unraveling crustal growth and reworking processes in complex zircons from orogenic lower-crust: The Precambrian Putumayo Orogen of Amazonia. Precambrian Research.
Ibanez-Mejia, M., Gehrels, G.E., Ruiz, J., Vervoort, J., Eddy, M.P., Li, C. (2014). Small-volume baddeleyite (ZrO2) U-Pb geochronology and Lu-Hf isotope chemistry by LA-ICP-MS: Techniques and applications. Chemical Geology 384, pp. 149-167.
Pullen, A., Ibanez-Mejia, M., Gehrels, G., Ibanez-Mejia, J.C., Pecha, M., (2014). What happens when n=1000? Creating large-n geochronological datasets with LA-ICP-MS for geologic investigations. Journal of Analytic Atomic Spectrometry 29, pp. 971-980.
Clyde, W.C., Wilf, P., Iglesias, A., Barnum, T., Bijl, P.K., Bralower, T.J., Comer, E.E., Huber, B.T., Ibanez-Mejia, M., Jicha, B.R., Krause, J.M., Schueth, J.D., Singer, B.S., Slingerland, R.L., Raigemborn, M., Schmitz, M.D., Sluijs, A., Zamaloa, M. (2014). New age constraints for the Salamanca Formation and lower Río Chico Group in the western San Jorge Basin, Patagonia (Argentina); Implications for K/Pg extinction recovery and land mammal age correlations. Geological Society of America Bulletin 126 (3-4), pp. 289-306. 
Söderlund, U., Ibanez-Mejia, M., El Bahat, A., Ernst, R., Ikenne, M., Soulaimani, A., Youbi, N., Cousens, B., El Janatig, M., Hafid, A. (2013). Reply to Comment on "U-Pb baddeleyite ages and geochemistry of dolerite dykes in the Bas Draa Inlier of the Anti-Atlas of Morocco: newly identified 1380 Ma event in the West African Craton". Lithos 174, pp. 101-108.
Bayona, G., Cardona, G., Jaramillo, C., Mora, A., Montes, C., Valencia, V., Ayala, C., Montenegro, O., Ibanez-Mejia, M. (2012). Early Paleogene magmatism in the northern Andes: insights on the effects of Oceanic Plateau-continent convergence. Earth and Planetary Science Letters 331-332, pp.97-111.
Ibanez-Mejia, M., Ruiz, J., Valencia, V.A., Cardona, A., Gehrels, G., Mora, A. (2011). The Putumayo Orogen of Amazonia and its implications for Rodinia reconstructions: New U-Pb geochronological insights into the Proterozoic tectonic evolution of northwestern South America. Precambrian Research 191 (1-2), pp. 58-77.