Overview
Mission Statement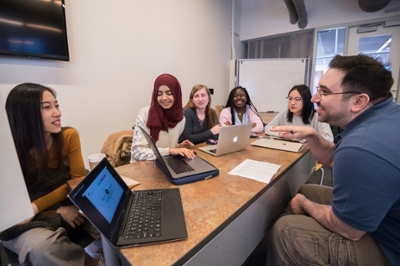 The Digital Media Studies major at the University of Rochester introduces students to thinking about and making digital media through iterative refinement as they develop and reflect on what they produce and consume.
The program introduces and challenges students to see the form, function and impact of networked technology in society and in their own lives through a blended approach to natural sciences and the humanities.
By producing thinking makers and making thinkers, the Digital Media Studies program trains creative problem-solvers work in a wide array of digital media industries, study at the graduate level, and use digital media to empower positive change and address compelling contemporary issues.
In Digital Media Studies, we strive to pioneer new ways of learning and teaching, using our individual research to model ways for students to recognize intersections of culture and technology.
Careers
A BA in digital media studies from Rochester allows graduates to address the growing role that digital media and technology play in our lives. We prepare our graduates for a variety of career paths including graphic artist, videographer, web designer, video game developer, sound designer and more.
Ninety-five percent of DMS graduates go on to graduate school (Johns Hopkins, Northeastern, University of Michigan) or professional work. Many with digitally-relevant firms such as Google, IBM, Spotify, Netflix, Disney, and Atlantic Media.
Advising
From media history and theory to technology and production, we help you get the most from your digital media studies major. Visit the contact us page to contact an adviser.