Dramaturgical Resources
2012
The Adding Machine
By Joshua Schmidt & Jason Loewith
Over the course of the season, our assistant directors and student dramaturgs will be compiling dramaturgical resources relating to each production as it develops. Below are some links to websites which relate to the history of the play, the biography of the playwright, and sites that contextualize and, we hope, shed light on the directorial approach to the dramatic material.
We hope you find these resources of interest.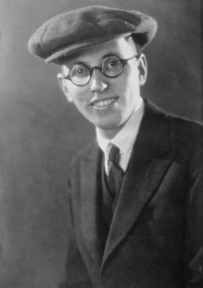 Elmer Rice (original playwright)
(28 September 1892 - 8 May 1967)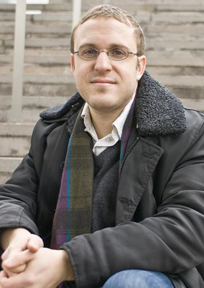 Joshua Scmidt (composer & co-librettist)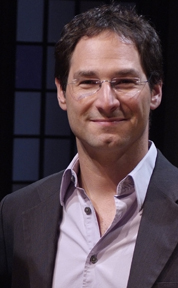 Jason Loewith (co-librettist)
Elmer Rice
Early life
Elmer Rice, writer of The Adding Machine, the play from which Adding Machine: A Musical is adapted was born Elmer Leopold Reizenstein on September 28, 1892 in New York City. Rice's father, Jacob Reizenstein, worked as a bookkeeper and traveling salesman, but his ability to work was severely limited by his epilepsy. The financial setbacks caused by his father's health led Rice to drop out of high school at the age of 14. He then took a job in the law office headed by his older cousin, and soon decided to pursue a career in law "not out of a passionate interest in the legal profession, but for want of a suitable means of earning a living." After passing the New York State Board of Regents Exams, Rice enrolled in New York Law School in 1910, and received his LL.B (Bachelor of Laws) with honors in 1912.
From childhood, Rice was a voracious reader and lover of literature. In his autobiography, Minority Report, Rice says, "Nothing in my life has been more helpful than the simple act of joining the library." He breathed literature into his studies: answers on his bar exams "were in blank verse, others included jokes, limericks, quotations from Shakespeare, the Bible, Omar Khayyam and Lewis Carroll." Rice became ethically opposed to the legal system after learning the lawyers in his office would work to acquit a client in a murder case despite definite guilt. He resigned from the office in 1914 to pursue a career as a playwright.
Notable Works
Rice began his playwriting career with On Trial in 1914, a successful courtroom drama regarded as the first American stage play to employ the device of flashback. The production opened on Broadway in 1945 and ran for 365 performances. A film adaptation of On Trial was released in 1939. The Iron Cross (1917), a play about WWI, was scheduled for Broadway, but was unable to be cast. Diadem of Snow (1918), a one act, depicts a deposed and exiled Russian Czar, who is content to shovel snow for a living, and declines an offer to return to the throne. Street Scene (1929), a naturalistic drama about life in squalid New York tenement, won the 1929 Pulitzer Prize for Drama. It was adapted in 1948 into a Broadway musical/opera with music by Kurt Weill and lyrics by Langston Hughes.
Elmer Rice's The Adding Machine (1923)
In a letter to a boyhood friend, Elmer Rice writes upon completing The Adding Machine:
"[It was]the most spontaneous, the most deeply-felt thing I've ever done. For the moment, then, I'm out of the bog in which I've been floundering. The sense of frustration which has been choking me for four years has abated. I actually feel a consciousness of liberation, a relief from a state of psychic congestion which I cannot help believing strongly akin to that physical congestion which the physiologists tell us finds relief in a sexual orgasm. This may strike you as far-fetched, but it comes nearer to conveying my present condition than anything else that occurs to me."
The Adding Machine premiered in March 1923 on Broadway at The Comedy Theatre on West 41st Street. The cast featured Irish born actor Dudley Digges as Mr. Zero, Margaret Wycherly as Daisy Devore and Edward G. Robinson as Shrdlu. It ran for nine weeks, 72 performances. It was revived in 1951 at the Henry Street Playhouse.
Adding Machine: A Musical—Composition and Performance
Joshua Schmidt (Composer/Co-librettist)
Joshua Schmidt is a Milwaukee-based composer/sound designer. Schmidt believes Adding Machine "to be a romantic comedy, a very, very dark romantic comedy the explores one simple question: What is a life worth living." His other works include A Minister's Wife, which received six Joseph Jefferson Award nominations and two awards; Best New Work - Musical, and Best Supporting Actress (Liz Baltes), Whida Peru, a one-act monologue in music that served as the second act of INNER VOICES: 2010 and The Gift of the Magi, which premiered in 2010 at The American Players Theatre. Schmidt's work has been featured in venues across the US. Schmidt created the sound design for the UR International Theatre Program production of Kaufman and Hart's You Can't Take It With You (2008; dir. Susanna Gellert).
Jason Loewith (Co-librettist)
Jason Loewith is Executive Director of the National New Play Network, an alliance of not-for-profit professional theatres that fosters the development and production of new plays. He is a Jeff and After Dark award-winning producer, director and writer. He served as Artistic Director of Chicago's Next Theatre Company from 2002-2009, during which time he directed area premieres of plays by John Patrick Shanley, Christopher Durang, Lynn Nottage and Paula Vogel.
Skylight Opera Theatre's Adding Machine: A Musical Audience Guide features interviews with both Schmidt and Loewith, as well as historical context of The Adding Machine and biographical information on Elmer Rice. Adding Machine: A Musicalpremiered in 2007 at the Next Theatre, directed by David Cromer. The show moved Off-Broadway to the Minetta Lane Theatre in 2008.
Political Involvement—The Federal Theatre Project
For a short time (1935-1936), Rice was director of the Federal Theatre Project, a branch of the Works Progress Administration whose aim was to provide work for unemployed professional actors and other theatre artists during the Great Depression. Rice proposed that theatres in a hundred communities across the country be remodeled and modernized with local talent. His plan provided for the employment of approximately 7,500 artists. By December 28, 1935, about four months after its establishment in August, 3,350 people were at work—60 percent were actors, 10-15 percent newspapermen and playwrights, 20 percent were ushers, cleaners, porters and seamstresses—in New York alone.
Rice was a firm believer in free speech and vocal advocate against censorship. When the State Department declared that foreign heads of state could not be depicted on stage, Rice asked if "Washington would ever permit anything other than pap for babies and octogenarians." Rice resigned from the FTP in protest in 1936.
The Library of Congress has a collection of more than 9,000 photos from the FTP.
Here's a brief description of Oklahoma's section of the FTP.
And here's footage from a 1936 FTP production of Macbeth, directed by Orson Welles and performed by an all African-American cast.
The Adding Machine and Expressionism
The Adding Machine is regarded as an "expressionist" play. Expressionist theatre, according to critic J.L. Styan, "was a dramatization of the subconscious, a kind of scripted dream." In Expressionist plays, characters [react] against a comfortable, unthinking, uncaring and increasingly mechanized society… Characters are trapped inside a distorted vision of the world that either reflects their own psychological conflicts or those of the society in which the original readers lived." In The Adding Machine, Mr. Zero is trapped in a mechanized society that subtracts human touch for speed and efficiency. In consequence and reflection of society's mechanization, Mr. Zero is mechanized, and emotionally and linguistically crippled: he cannot understand and perceive the world outside of the "language" of numbers. He "dreams in figures" "In words, [he] gets confused." Mechanization of Zero's mind and society are conveyed musically through rigid, calculated rhythms and dissonance.
Elmer Rice said about Expressionism: "The author attempts not so much to depict events faithfully as to convey to the spectator what seems to him to be their inner significance. To achieve this end the dramatist often finds it expedient to depart entirely from objective reality and to employ symbols, condensation and a dozen devices which, to the conservative, must seem arbitrarily fantastic… In the expressionistic play we subordinate and even discard objective reality and seek to express the character in terms of his own inner life."
Adding Machines
The adding machine was invented by Blaise Pascal in 1642. It was commercialized in 1892 by William Seward Burroughs.
Other Links
Elmer Rice's 1943 review of Citizen Tom Paine, published in The New York Times Book Review.