Spotlight on Courses
Discover Just Some of the Theatre Program's Exciting Classes!
The Theatre Program offers classes across theatrical disciplines and, indeed, multidisciplinary courses, too.  Below are just some of the courses we're spotlighting this upcoming semester.  (For a complete list of Theatre Program courses, go here.)  Looking for a class?  Look no further!  All these courses count towards a Humanities cluster in English!  Need further information?  Just ask!
ENGL 181: Spoken Word, Hip Hop, and Urban Theatre
4 credits | offered in the Fall only | more info
Living through possibly the most vocally assertive moment in our world's most recent history, we find ourselves poised for unprecedented change. How is our newly found articulation being employed for the greatest good? Explore the voices resonating through the current performance ecosystem that includes hip hop, spoken word, slam poetry and more while developing your own to lend to the spoken revolution. For all levels of theatre experience. Let's make some noise! (Especially complimentary to ENGL 182 Staging Revolution: Creating Theatre for Social Change. Not a prerequisite.)
ENGL 154: Intro to Design for the Stage
2 credits (1st half of each semester) | moreinfo
Space and how it is conceived and explored is fundamental to the telling of stories—onstage and elsewhere.  This introductory course aims at giving students skills to create, translate and communicate a visual design/environment for performance. The class will focus on design fundamentals, materials, research and visual storytelling through class discussion, script analysis and practical work. Students will read a play, devise a concept for that play, research possible environments, and begin to produce drawings and other visual ideas for their design.  Student's work will be presented and discussed in each class.
and
ENGL 178: Design for the Stage: Scenery
2 credits (2nd half of the semester; offered in the Fall only) | moreinfo
Design for the Stage: Scenery introduces students interested in set design an opportunity to explore how set designers interpret texts to create compelling spatial designs that help to house and tell theatrical stories. Students will acquire an understanding of how to evaluate texts for spatial and scenic clues; how to imagine scenic designs; and how to move design ideas from conception to realization. Students will be guided along the entire journey from research to realized design, coming to understand the steps and demands of the scenic designer's art.  Pre-requisites: ENGL 154 or 155


ENGL 184: Theatre and Cultural Context
4 credits | offered in the Fall only | more info
Theatre and Cultural Context is an introductory class allowing students to comprehensively and actively understand the entire theatrical production process from the page to the stage, while simultaneously exploring the cultural (and other contexts) in which artists, playwrights, directors and designers create the magic of theatre. Students discover theatre in an immersive way, studying and gaining insight into the actual texts of works being produced by the UR International Theatre Program.  In conjunction with professional artists who direct and design our productions, students explore the creative and artistic process and gain first-hand, practical knowledge working in one of many labs associated with the production (scenery, lighting, costume, sound, etc.). A unique course melding the theoretical and practical, with a deep dive into the (largely, though not exclusively) Western cultural literacy all rolled into one.  There is a required lab component that will be scheduled with the instructor.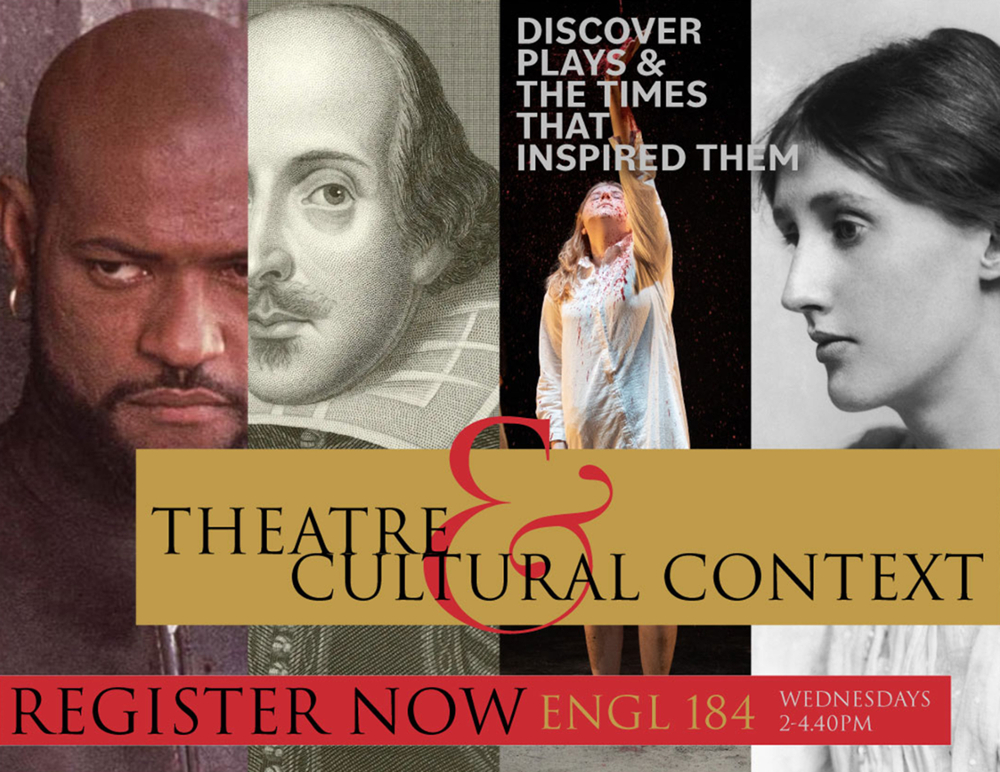 ENGL 164: Improvisation
4 credits | offered in the Fallonly | moreinfo
Think on your feet!  Create on the go!  This course allows students to move progressively toward a stronger understanding of long form improvisation acting theory and skills related to listening, supporting others, heightening, and taking risks. By the end of this course students will be able to work within a cast to create full length, fully improvised plays that incorporate spontaneous monologues and scenes with recurring characters and themes. Performers will develop skills that enable them to write, direct, edit, and act in pieces that are made up on the spot using a single audience suggestion. Particular focus will be paid to scene work and narrative improvisation.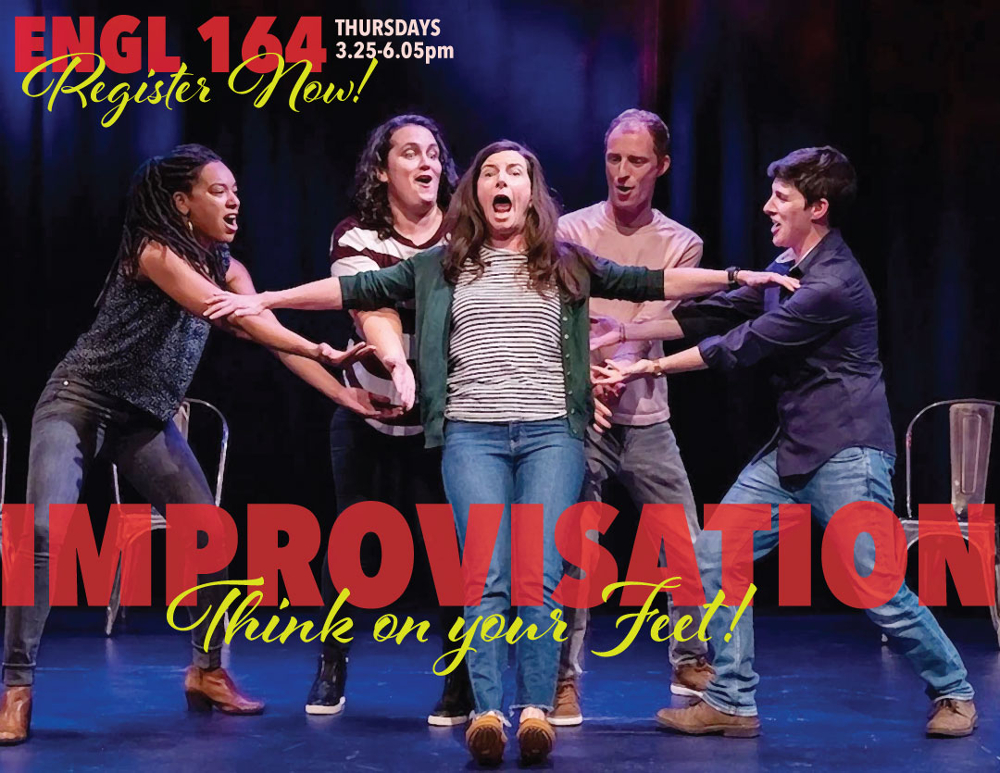 ENGL 290: Acting for Camera
4 credits | offered in the Fall only | moreinfo
This course encourages you to bring your unique talent and personality to the screen with confidence and freedom. We will cover technical terminology and physical adjustments required for working in front of the lens. The first half of the semester will focus on 'on camera' interviews, auditions and interview work. The second half will focus on 2-3 character 'on camera? scene work. Every taped session will be followed up by feedback and discussion.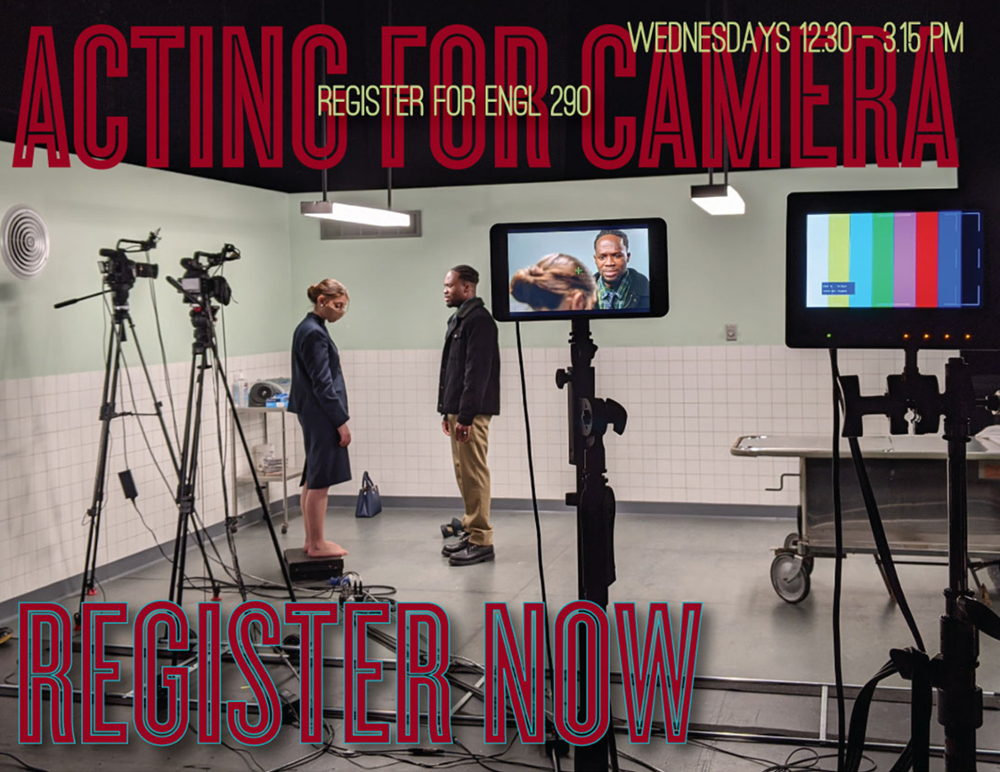 ENGL 151: Acting with Objects
4 credits | offered in the Fall only | moreinfo
In this semester-long course, students will explore traditional and contemporary puppetry traditions, including history, theory, design and performance. Class participants will learn Japanese Bunraku-style (3 puppeteers working together to move one puppet) puppetry and Kuruma Ningyo-style (one-person, cart puppetry), shadow puppetry, and object performance through hands-on manipulation and exploration of breath, eyeline, focus, and micromovement. Students will explore how to tell stories with these objects, incorporating design and non-verbal communication and gesture. This class is great training for actors, dancers, and performers to explore subtlety, nuance, and how to make your performance secondary, and in service to the puppet/object, which is the primary focus of storytelling. The course will culminate in a workshop performance of original puppet pieces made by students.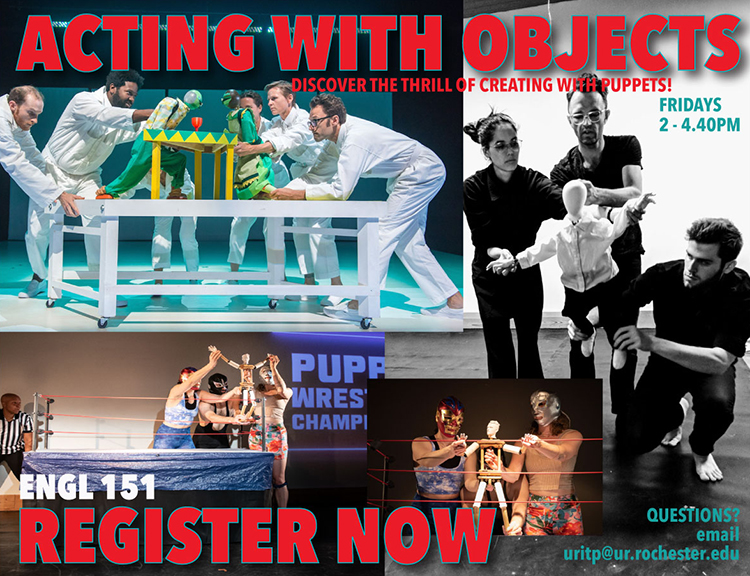 ENGL 273: Performing as Patients:

Using Acting Techniques to Help Train Behavioral Health Professions
4 credits | offered in the Fall only | moreinfo
Diagnosing and talking to patients effectively, safely, and with empathy is a key skill for doctors and all behavioral health care providers. "Standardized Patients" (SPs) are carefully trained actors who realistically and accurately present as a patient with psychiatric symptoms in devised, structured encounters. Using skills including improvisation, and character analysis and development, in conjunction with medical insights into psychiatric behaviors and conditions, students will not only develop unusual, sustainable, and highly valued skillsets, but actively work to give feedback to trainees while putting their own performance objectives and learning into real world practice. A collaboration with the Department of Psychiatry's Laboratory for Behavioral Health Skills, Performing as Patients is a rare and unique opportunity to build important, marketable, real-world skills with creative, targeted and valuable theatrical techniques. Auditions/interviews are required.
ENGL 170: Technical Theatre
4 credits | offered in the Fall only | moreinfo
The creation of a contemporary theatrical production uses skills and talents across a wide range of disciplines: from carpentry to rigging, from painting to computer drafting, from electrical to audiovisual engineering for the stage. This introductory course will explore the theories, methods, and safe practice of set construction (including using power tools), rigging, stage lighting, drafting, sound, and scene painting.  Students will work on actual productions staged by the Theatre Program during required labs.