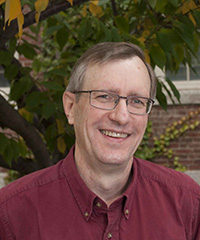 Richard Dees
he/him/his
Professor of Philosophy
Professor of Medical Humanities and Bioethics
Director, Program in Bioethics
PhD, University of Michigan, 1990
529 Lattimore Hall
(585) 275-4105
richard.dees@rochester.edu
Office Hours: Tuesdays 11:00-1:00 pm and by appointment
---
Research Overview
Research Interests
Medical Ethics
Public Health Ethics
Social and Political Philosophy
History of Moral and Political Philosophy
Book
Trust and Toleration, (Routledge, 2004)
Selected Articles
"Transparent Vessels?: What Organ Donors Should be Allowed to Know about Their Recipients," Journal of Law, Medicine, and Philosophy 41 (2013): 323-32.
 with Jennifer Kwon, "The Ethics of Krabbe Newborn Screening."  Public Health Ethics 6 (2013): 114-19, with commentaries by Lannie Friedman Ross, Fiona Alice Miller, and Niels Nijsingh, 119-28.
with Eric Singer, "KidneyMatch.com: The Ethics of Solicited Organ Donations,"

Journal of Clinical Ethics

19 (2008): 141-49.

 

"Better Brains, Better Selves?:  The Ethics of Neuroenhancements." 

Kennedy Institute of Ethics Journal

17 (2007): 375-99.  A related interview can be found in the Escapist magazine.  Here I discuss the issues with 1370 Connection with Bob Smith on WXXI radio.
"Of Socinians and Homosexuals: Trust and the Limits of Toleration," in

Toleration on Trial

,  ed. Ingrid Creppell, Russell Hardin, and Stephen Macedo (Lanham, MD: Rowman and Littlefield, 2008), 85-109
"'The Paradoxical Principle and Salutary Practice': Hume on Toleration,"

  Hume Studies

31 (2005): 145-64.

"

Moral Ambiguity in a Black-and-White Universe," in

Star Wars and Philosophy: More Powerful Than You Can Possibly Imagine

, ed. Kevin Decker and Jason Eberl (Indianapolis: Open Court Press, 2005), 39-53.
"Morality above Metaphysics: Friendship and Philo's Stance in Dialogue XII. 

Hume Studies

28 (2002): 131-47.
"Establishing Toleration." 

Political Theory

27 (1999): 667-93.
"Trust and Rationality of Toleration."

Noûs

32 (1998): 82-98.
"Hume on the Characters of Virtue." 

Journal of the History of Philosophy

35 (1997): 45-64.
"Moral Conversions."

Philosophy and Phenomenological Research

56 (1996): 531-50.
"Living with Contextualism."

Canadian Journal of Philosophy

24 (1994): 243-60.
"Liberalism in Context." 

Polity

25 (1993): 565-82
Hume and the Contexts of Politics."

Journal of the History of Philosophy

30 (1992): 219-42.