Overview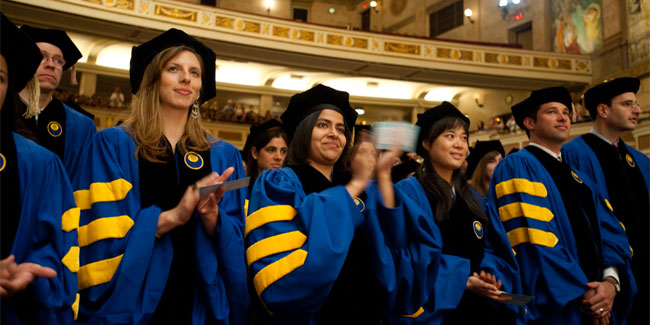 Master's Program
The Philosophy MA is designed to be an intensive training in philosophy and as preparation for making applications for further graduate work in law and public policy, philosophy, or other programs. It is also valuable preparation for any writing-intensive career.
MA requirements and program offerings provide students the flexibility to pursue advanced work across the breadth of philosophy or to concentrate in such areas as:
Pre-Law
Ethics and Policy
Logic and Metaphysics
Knowledge, Mind & Nature
View more information on the Master's Program.
PhD Program
The University of Rochester offers a graduate program leading to a PhD in philosophy. Our program offers opportunities for research in:
Epistemology
Ethics
History of Philosophy
Logic and Philosophy of Mathematics
Metaphysics
Philosophy of Language
Philosophy of Mind
Philosophy of Religion
Social and Political Philosophy
The PhD program is scheduled to take five years. It consists of three phases: foundations, advanced courses and focused research, and the dissertation.
Personalized, Collaborative Study
There are approximately 20 graduate students in residence. Graduate seminars are small. Individual tutorials are frequently arranged. The size and nature of the program facilitate close interaction among faculty and students.
The philosophy department maintains an active colloquium series with frequent visiting lecturers and presentations by Rochester faculty and students.  The Graduate Students organize a biennial Epistemology Conference.
Faculty and graduate students organize several reading groups throughout the year including the Analysis Reading Group.  Recent topics of reading groups have included: post-Kantian German idealism, history of modern political philosophy, and philosophy of language.
Philosophy students with interdisciplinary interests in computer science, decision theory, economics, education, linguistics, and psychology will find opportunity and encouragement to develop those interests during their graduate studies at the University.  Our program also closely collaborates with the Center for Language Sciences.  
Cognitive Science
Coursework toward the PhD in cognitive science is offered in the departments of philosophy, psychology, computer science and linguistics. A typical student admitted to the philosophy PhD program who also receives a cognitive science degree does approximately a third of the work toward the PhD outside of the philosophy department.
Questions?
Contact Zeynep Soysal, graduate admissions director, at zeynep.soysal@rochester.edu.
Paul Audi, graduate program director, at paul.audi@rochester.edu.
Students can also contact Alison Peterman, the department's graduate placement officer, at  alison.peterman@rochester.edu.