People
URSO Advisory Committee
The Symphony Orchestra Advisory Committee is comprised of several elected orchestra members (usually three to four students and three community members) and the concertmaster as an ex officio member. Re-elections are held each year. Committee members assist and advise the music director in the ongoing operation of the ensemble in areas such as concerts and run-outs, touring, advertising and publicity, repertoire selection, conflict resolution, and attendance.
Orchestra Staff
Dr. Rachel L. Waddell, Music Director
Jimmy Warlick , Manager of Music Performance Programs
Dr. Rachel L. Waddell, Musical Director and Conductor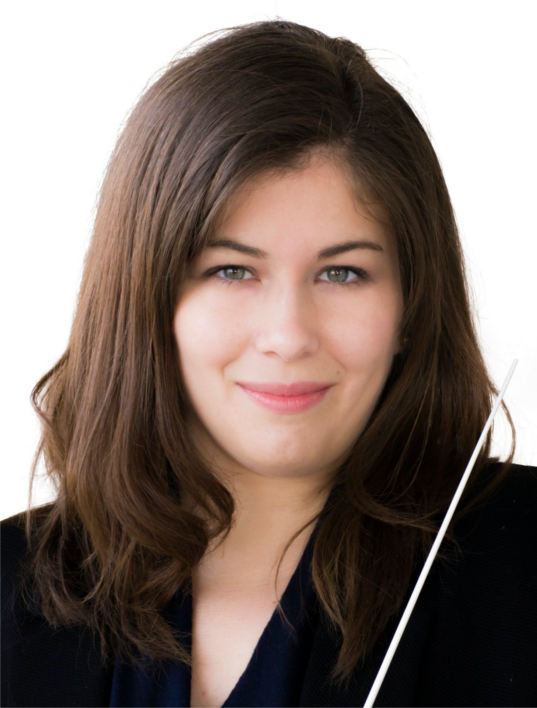 Dr. Rachel L. Waddell is the newly-appointed Director of Orchestral Activities at the University of Rochester, where she directs the symphony and chamber orchestras and chamber ensemble program. Prior to her move to the University of Rochester, she served as the Associate Conductor of the Canton Symphony Orchestra, a professional regional orchestra in northeastern Ohio, and Music Director of the award-winning Canton Youth Symphonies. During her time with Canton, Waddell conducted over eighty performances and served as the Cover Conductor for additional masterworks programming under the direction of the CSO's Music Director, Gerhardt Zimmermann. In her roles as Associate and Cover Conductor, Waddell worked closely with internationally renowned guest artists such as Project Trio, Lindsay Deutsch, Béla Fleck, André Watts, and many others. In 2016 she conducted the Ohio premier of Christopher Theofanidis' Dreamtime Ancestors with the CSO.
Waddell's innovative programming and passion for community engagement has made her a popular conductor with audiences of all ages. Her well-loved POPS performances have included an array of diverse concerts from the Music of Queen to a swingin' holiday spectacular. Her educational programs explored such topics as music and revolution, geometric shape and musical form, and bilingual performances. Under Waddell's leadership, the Canton Youth Symphony grew from a small, single orchestra to a three-tier progressive orchestral training program reaching over 120 students throughout northeastern Ohio. The Canton Youth Symphonies were named the 2015 Youth Orchestra of the Year by the Classics Alive Foundation in Los Angeles. In addition, in 2016 Waddell co-founded the grant-winning New Horizons Chamber Orchestra to provide an outlet for amateur adult musicians in her community to perform chamber music. In recognition of her service to the greater Canton community, Waddell was named one of YStark and The Canton Repository's 2015 "20 Under 40!" recipients.
In addition to her work with the CSO and CYS, Waddell was the first women to guest conduct Cleveland's Suburban Symphony Orchestra. She has appeared as a guest conductor with the Las Vegas Philharmonic, Flagstaff Light Opera Company, and Greater Hartford Women Composers' Festival, among others. She has also held previous positions as Conductor of Oberlin Conservatory's Northern Ohio Youth Orchestra, Assistant Conductor of the Miami Music Festival in Florida, Music Director of the Las Vegas Korean Youth Orchestra, and Apprentice Conductor of the Las Vegas Philharmonic. Her conducting has been described by Cleveland Classical as "distinctly animated" with "charismatic fervor….a sensibility eagerly reciprocated by the orchestra as it responded with marvelous tonal depth and palpable exuberance."
Waddell has previously served on faculty at Kent State University-Stark, Malone University, Walsh University, and the University of Nevada, Las Vegas. She holds a Doctor of Musical Arts in Orchestra Conducting from the University of Nevada, Las Vegas, a Masters in Orchestra Conducting from Northern Arizona University, and a Bachelor of Music in Composition from the Hartt School of Music in Connecticut. Waddell continues her commitment to music education through her research on the psychology and sociology of orchestral conducting and performance.