Relating universal quantifiers and information structure in Besemah
Bradley McDonnell
University of Hawai'i at Manoa
Friday, February 5, 2021
2 p.m.
Zoom (email linguistics@rochester.edu for link)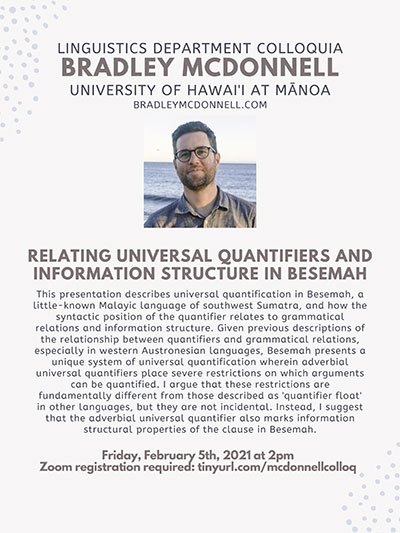 This presentation describes universal quantification in Besemah, a little-known Malayic language of southwest Sumatra, and how the syntactic position of the quantifier relates to grammatical relations and information structure. Given previous descriptions of the relationship between quantifiers and grammatical relations, especially in western Austronesian languages, Besemah presents a unique system of universal quantification wherein adverbial universal quantifiers place severe restrictions on which arguments can be quantified. I argue that these restrictions are fundamentally different from those described as 'quantifier float' in other languages, but they are not incidental. Instead, I suggest that the adverbial universal quantifier also marks information structural properties of the clause in Besemah.