Development and Maintenance of Black ASL at the Intersection of Race, Language, and Disability
Joseph Hill, assistant professor
National Technical Institute for the Deaf (NTID), Rochester Institute of Technology
Friday, February 28, 2020
3 p.m.
Dewey 2-110E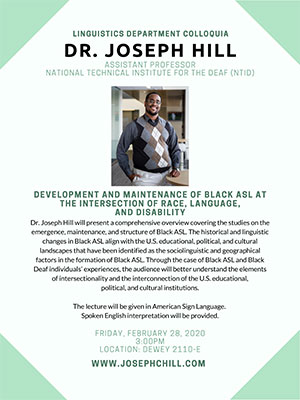 Dr. Joseph Hill will present a comprehensive overview covering the studies on the emergence, maintenance, and structure of Black. The historical and linguistic changes in Black ASL align with the U.S. educational, political, and cultural landscapes that have been identified as the sociolinguistic and geographical factors in the formation of Black ASL. Through the case of Black ASL and Black Deaf individuals' experiences, the audience will better understand the elements of intersectionality and the interconnection of the U.S. educational, political, and cultural institutions.
The lecture will be given in American Sign Language. Spoken English interpretation will be provided.
---
Dr. Hill's Bio
Dr. Joseph C. Hill is Assistant Professor in the Department of American Sign Language and Interpreting Education at the National Technical Institute for the Deaf (NTID). NTID is part of Rochester Institute of Technology in Rochester, New York. Dr. Hill's main research interests are socio-linguistic and historical aspects of the African-American variety of American Sign Language (ASL), henceforth Black ASL, and language attitudes and ideologies in the American Deaf community. Dr. Hill, a 2004 recipient of the National Science Foundation Graduate Student Fellowship and a 2008 recipient of the Fulbright scholarship, is co-author of a Gallaudet University Press's 2011 volume, The Hidden Treasure of Black ASL: Its History and Structure, which explores the history and language of the African-American Deaf community in the southern United States and describes the linguistic structure of Black ASL. His 2012 volume, Language Attitudes in the American Deaf Community, analyzes linguistic and social factors that inform language judgments and ideologies of signing variation in the American Deaf community.