Overview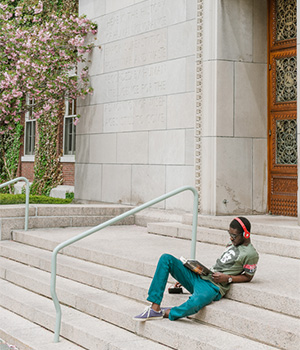 Financial Economics and Political Science major 
Ngosa Mupela '16, relaxes on the steps of the
Eastman Quad entrance to Rush Rhees Library.
The Department of Economics is known worldwide as one of the leading centers of economic research and training, and is ranked among the top economic departments in the nation.
The undergraduate program emphasizes the understanding of modern tools of economic analysis and their application to contemporary policy issues.
We offer a BA and a minor in economics or financial economics. Students seeking more rigorous training have the opportunity to pursue an honors degree in economics.
For more information about our programs, browse our other web pages or download the Economics Undergraduate Handbook.
Careers
Graduates of all three programs are prepared for:
Positions in business and government
Applying to graduate programs in fields like business, law and economics
Work in economics or public policy
Visit the after a BA in economics page to learn more about options after graduation.
---
We are here to help. If you have any questions, please drop into the department office, Harkness 238, or contact Pamela Young at pyoung8@ur.rochester.edu or (585) 275-8625.