What's it like to work for the Department of Defense as a data analyst?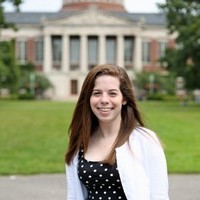 Name: Alyson Manning
Graduation date: May 2014
Major: Economics
What is your current position?
My current position is as a Data Analyst for the Department of Defense.
What have you done since leaving Rochester?
After leaving Rochester I briefly worked at an investment manager in Boston while my security clearance for my current job came through. Since 2015, I've been with the DoD in Washington, D.C., working first as a Budget Analyst and then now as Data Analyst.
What is the nature of your work?
My agency is both part of the Department of Defense and the Intelligence Community and works to support policymakers, warfighters, intelligence professionals and first responders with geospatial information. If you've ever used GPS, you've used our work!
My specific office supports data science projects from all around my agency – from human resources data management to predictive models on actual mission data. I'm usually supporting 3-5 projects at any given time, which can involve scripting to clean data in spreadsheets, using visualization software to create interactive dashboards, or consulting with customers on how best to implement a statistical model. 
What does a typical day consist of? What do you do? When do you start? How late do you work?
While I usually get into the office by 7am and leave around 4pm (the public sector does offer a healthy work-life balance), that's where the day-to-day similarities end. Since I'm always working several projects concurrently, my days vary depending on each project's stage of development. I typically have a few hours of meetings per day - interacting with my customer or discussing the work with my project team - and then spend the rest of my day at my desk putting our discussions into action. 
What's the best way of learning more about the work you do?
1) My agency's website
2) Data science work is a tricky one since it's a buzzy new field where data professionals work on a wide array of topics depending on their skills and workplace. I'm sure the Career Center and the new Goergen Institute for Data Science have resources though.
3) Reaching out – I always welcome questions or discussion from Rochester students!
Have you found that the training you received as an undergraduate has prepared you well for the demands of the workplace?
Definitely. Not only have the research, writing, and quantitative abilities gained through coursework prepared me intellectually, but also the time management and accountability skills demanded of an involved Rochester student have enabled me to l contribute quickly to every work role I've held. 
Looking back at your undergraduate days at Rochester, what courses or activities were particularly valuable for your current position?
My Public Finance course led to me deciding to apply to government jobs in the first place. Econometrics, along with other statistics and mathematics courses, has proved valuable both in my first role as a budget analyst as well as in creating statistical models and metrics as a data analyst.

Leadership skills gained through my role as Students' Association Treasurer and teamwork experience though dance groups such as BPG and Louvre developed my people skills and taught me how to effectively work on a team, which are crucial in my current position.
The Rochester Curriculum provided learning opportunities in fields other than your major.  Have you found this broader educational experience to be valuable?
Without the Rochester Curriculum, I never would have been able to double major in Economics and Mathematics, minor in Psychology, and take Irish history courses while studying abroad at Trinity College Dublin. Each of these educational facets provided experiences – quantitative skills, research experience, critical thinking, interactions with people from different backgrounds – valuable to my personal, academic, and professional growth.
In retrospect, were there things you wish you did more of?
Professionally, I wish I took better advantage of internships to explore different work opportunities.
Personally, I wish I took a few more courses in other subjects that interest me. My employer might pay for me to take a statistics or data science class…a Shakespeare course is a lot less likely.
What do you think is the next logical career step for you?
I'm hoping to go to graduate school for economics in the next year or two with the ultimate goal of using both my economics and data science skills to conduct economic policy analysis at a think tank or government institution.
Is there anything that you would like to advise our majors today about their future?
Be open-minded and take advantage of every opportunity. I had very little idea of what I was getting into with my random USAJobs application, but it's been great. I've been provided unique experiences (most recently holding the door for the Director of National Intelligence), a plethora of benefits (leadership training, free education options, travel), and, most importantly, the opportunity to help people and learn new things every day.