13th Annual inspireDANCE Festival
March 15-April 2, 2023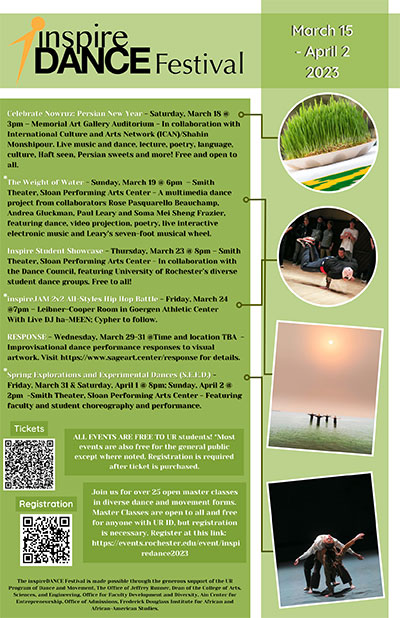 Celebrating its 13th year, the inspireDANCE Festival grew out of a simple idea to find a way to connect student dancers with each other, with the Program of Dance and Movement and with the larger dance community in the Rochester area.
With well over 1000 students involved in dance and movement groups and classes on the University of Rochester campus today, along with several other excellent local university dance programs and a cohesive community of professional dancers in the Rochester area, inspireDANCE has grown into an opportunity to unify, develop and strengthen the dance community at large. The festival is designed to encourage you to try out as many new dance and movement forms as you desire, and to experience dance as art, expression, performance, community building, and the celebration of diverse cultures.
All events free to UR students, most events free to the general public except where noted. Registration is required after ticket purchase.
Saturday, March 18—Celebrate Nowruz: Persian New Year
Sunday, March 19—The Weight of Water
Thursday, March 23—inspireDANCE Student Showcase
Friday, March 24—inspireJAM 2v2 All-Styles Hip Hop Battle
March 29-31—RESPONSE
March 30-April 2—Florencia en el Amazonas
March 31-April 2—Spring Explorations and Experimental Dances (S.E.E.D.)
See our events page for more information, times, and locations or view the festival schedule (pdf).
Join us for over 25 open master classes in diverse dance and movement forms. Master classes are open to all and free for anyone with a UR ID. Registration is required.
---
About inspireDANCE
The inspireDANCE festival was conceived in January 2010 as a project for the Experiential 5 Program (formerly Kauffman Entrepreneurial Year), a UR program that provides students with an additional fifth undergraduate year to work on an entrepreneurial business venture. KEY student Arielle Friedlander Tannenbaum '10 realized there was a wealth of dance on the UR campus in pods that were somewhat isolated, and saw the potential for and value of a united dance community. She, along with Missy Pfohl Smith, then the new Director of the UR Program of Dance and Movement, wanted to give students opportunities to grow as dancers, to broaden their perspectives in dance, to communicate with one other, to share the rich and diverse dance activities that exist at UR and in the Rochester region.
The inspireJAM was conceived in 2013 by student Smon Cheewapansri '13, sharing hip-hop culture and breaking with the UR community. Bboys and bgirls and all styles of dancers gather from across NYS and Toronto, to battle for a cash prize, and to defend the inspireJAM title.
The inspireDANCE Festival is made possible through the generous support of the Program of Dance and Movement, Dean of the College, Office for Faculty Development and Diversity, Ain Center for Entrepreneurship, Office of Admissions, and the Frederick Douglass Institute.