inspireDANCE Festival
8th Annual inspireDANCE Festival, January 20-26, 2018
Featuring over 30 master classes in dance and movement from all over the world.
inspireDANCE Student Kickoff Concert, January 20 at 7 p.m., Spurrier Dance Studio, Free
inspireJAM Bboy/Bgirl Battle, Sunday, January 21, 1:30 p.m. - 5 p.m., May Room, Wilson Commons
Salsa Dance in the Evening, Thursday, January 25, 9 p.m., May Room
"MBDance" featured dance company performance, Friday, January 26, 8 p.m.
2018 Schedule 
Ticket and registration information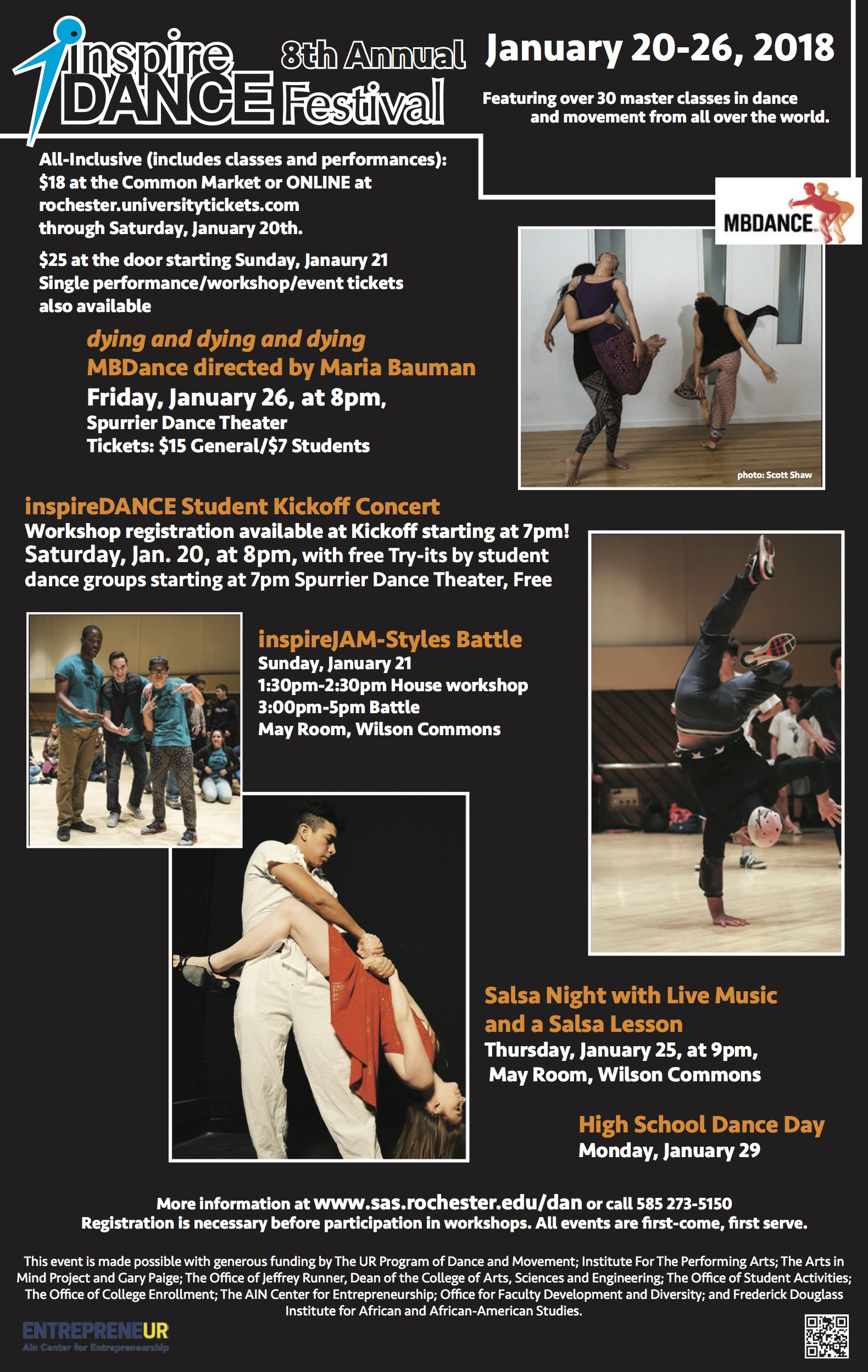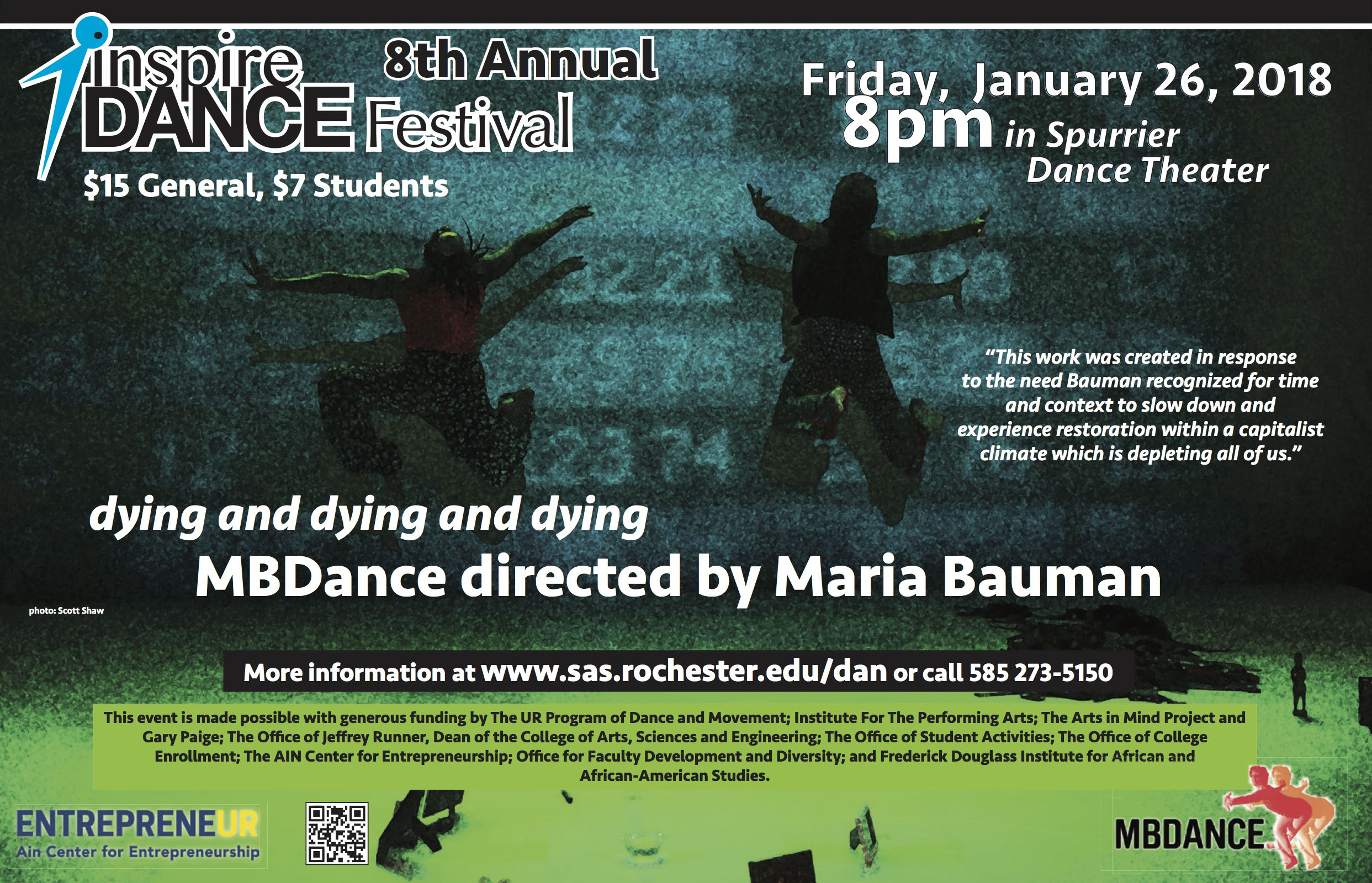 The seven-day festival, organized by the Program of Dance and Movement, will take place on the River Campus from January 20 to 26, 2018. The event is open to the general public—inviting both the University community and the Rochester-area community to experience dance in the Program of Dance and Movement at the University of Rochester.
This year the festival will feature award-winning dance artist Maria Bauman and her dance company MBDance. There will be a salsa night, the popular inspireJam all-style battle, and more!
Tickets go on sale December 8, 2017. You can purchase the advance $18 ticket in person at the Common Market in Wilson Commons through Saturday Jan 20th, or online at rochester.universitytickets.com until noon on Friday, Jan 19th (service fees apply).
The festival was launched in 2011 by Arielle Friedlander '11 (KEY) in collaboration with Program of Dance and Movement Director Missy Pfohl Smith.
---
About inspireDANCE
The inspireDANCE Festival grew out of a simple idea to find a way to connect student dancers with each other, with the Program of Dance and Movement and with the larger dance community in the Rochester area. With well over 600 students involved in dance and movement groups and classes on the University of Rochester campus, along with several other excellent local university dance programs and a cohesive community of professional dancers in the Rochester area, inspireDANCE is an opportunity to unify, develop and strengthen the dance community at large.
The inspireDANCE festival was conceived in January 2010 as a project for the KEY (Kauffman Entrepreneurial Year), a UR program that provides students with an additional fifth undergraduate year to work on an entrepreneurial business venture. KEY student Arielle Friedlander realized there was a wealth of dance on the UR campus in pods that were somewhat isolated, and saw the potential for and value of a united dance community. She, along with Missy Pfohl Smith, then the new Director of the UR Program of Dance and Movement, wanted to give students opportunities to grow as dancers, to broaden their perspectives in dance, to communicate with one other, to share the rich and diverse dance activities that exist at UR and in the Rochester region, and to take classes and interact with faculty and professional dancers and choreographers, right on campus.
inspireJAM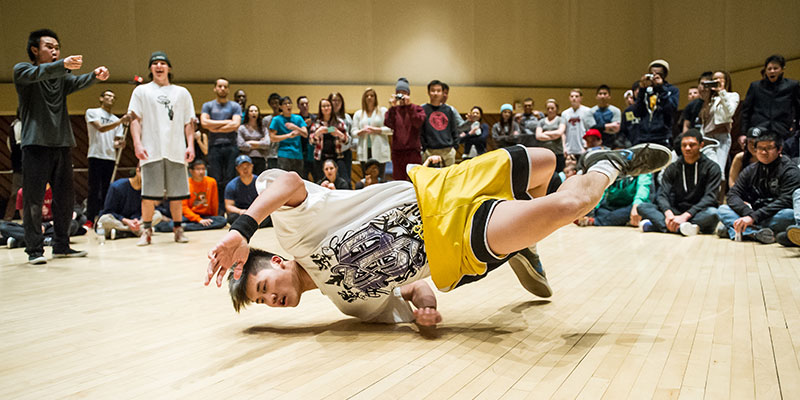 inspireJAM 2015, see more images >
The inspireJAM was conceived in 2013 by student Smon Cheewapansri in order to share hip hop culture and breaking with the UR community.  It has grown to become an international jam of bboys and bgirls who gather to learn from our high profile judges who also share workshops, and to battle in an extremely virtuosic display of breaking, flipping, balancing and head-spinning. Dancers gather from New York City, Philadelphia, Toronto, Ithaca, Buffalo, Rochester, Syracuse and more, to battle for a cash prize, and to defend the inspireJAM title.  We are proud to continue this annual tradition as part of the Annual inspireDANCE Festival.
Our extensive roster of classes over six days is taught by diverse guest artists and the excellent Program of Dance and Movement faculty and  truly offers something for everyone.  You can relax with a Moving Into Stillness meditation or Yoga or Tai Chi workshop, or get energized with a Capoeira Brazilian martial art dance or a vigorous Contemporary Floorwork class.  Join us to experience dance and movement in ways you never have before.