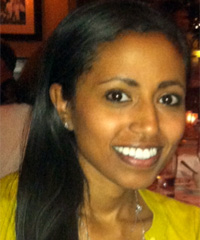 Yorda Yenenh
University of Rochester, BA in Religion and Political Science, 2009
Harvard Law School, JD Candidate, 2015
Current Occupation: Law Student
Current Residence: Cambridge, Massachusetts, USA
What memories do you have of your Keidaean year?
I remember the events like lunch at President Seligman's home and meet and greets during Meliora Weekend with alumni Keidaeans and some faculty members.  It was really interesting talking with the alumni members and hearing about their experiences while at UR and what they have done since.  They had all done impressive things, were all very friendly and especially fond of their time at UR.
What were a few of the organizations, activities or pursuits you were involved in at the University of Rochester? Tell us about your experience in your favorite activity.
I was involved in Student Government, serving as the Class President for my Sophomore through Senior year.  That was probably my most meaningful experience while on campus.  It was amazing getting to know so much about the school and the city of Rochester through planning events.  I also made some valuable and lasting connections with staff and faculty members through my work on different projects.  I also founded a group on campus called R' World R' Vote which planned events and programs aimed at encouraging the civic engagement of students on campus.  I was passionate about getting people interested about and engaged in the democratic process and faculty and staff were extremely enthusiastic about this idea and helped plan great events during Meliora Weekend and all through the year.  I was able to build really meaningful relationships with Professors in the Political Science Department and the Dean of Students Office staff. 
What advice do you have for the current class of Keidaeans?
I would suggest attending all the events that the Alumni Office plans for current and alumni members to come together, it is a great place to meet people, hear great stories about UR, and network.  But I would also encourage the current class to connect with each other.  The Keidaeans in my group are some of my closest friends and are all doing amazing things and you never know when your professional or personal paths will cross again in the future.
What did you do immediately after graduation? How did you decide to take that path?
I was a Peace Corps Volunteer in Morocco in the Youth Development sector immediately after graduation.  I chose to join the Peace Corps after talking with my supervisor in the UR Admissions Office, Joe Lanning, who had served as a Peace Corps Volunteer in Malawi after he graduated, and went to information sessions and researched the organization on my own.  I knew I wanted to go to law school but not immediately after graduation, and I had always been passionate about community service, I wanted to take the time that I had at this point in my life and dedicate it to helping others, I also wanted to immerse myself in a different culture and learn a new language. 
What do you do now and why did you choose this career?
I am currently a first year student in law school.  I choose to study law in order to someday become an attorney specializing in youth advocacy issues.  I plan to do either child protective services, working with kids in adoption, or abuse and neglect proceedings, or in juvenile delinquency.  I worked with youth while a student at UR, volunteering in tutoring programs in the city of Rochester, and my primary project in the Peace Corps was working with youth, teaching English classes, and planning programs geared towards empowering young girls.  Having been always interested in the issues facing youth, I hope to use my law degree and legal skills to work with youth in some way.
How do you continue embodying spirit of Meliora, ever better, in your daily life?
I think that I continue embodying the spirit of Meliora in my daily life by always striving for the best in all that I do.   It has reminded me to remember to step up my game.  At each stage of life things become different or more competitive and it's important to be able to rise to each new challenge with all that you have.  While in Morocco, everyday things became difficult like communicating in a different language or dealing with a completely different gender role system, but I was able to adjust and find ways to be respectful of a new culture while still continuing to show my community members parts of my own culture.
How do you remain connected with the rest of your Keidaeans class and other Keidaeans around the world? How do you remain connected with the University of Rochester?
I remain connected to both the rest of the Keidaeans in my class and the University of Rochester through making an effort.  I make sure to keep in contact with my fellow classmates and staff members I became close with through telephone, email, or Facebook.  I make it a point to reach out to people every so often and make sure that we are staying connected and a part of each others lives.
Anything you wish you had pursued in college but could not for one reason or another?
I didn't study abroad while at UR because I wanted to continue serving as Senior Class President, and focus on school and starting R' World R' Vote.  And while I certainly don't regret that choice because those became the things I'm most proud of during my time at UR, I do wish that I could have been able to study in a different country and learn about their culture while still taking classes and being a student.