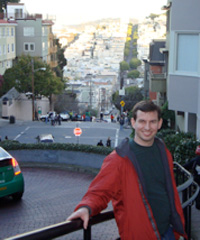 John Hafner
University of Rochester, BA in Physics and Astronomy and Religion, 2002
Old Dominion University, M.E.M., 2007
Current Occupation: Competitive Power Ventures
Current Residence: Boston, Massachusetts, USA
When and how did you choose your major?  
Essentially, I chose the two subjects that interested me the most.  I loved physics in high school and entered college planning to major in astrophysics.  While enjoying that major I took my first religion course, REL 105: The Asian Search for Self, my sophomore year.  The following semester I took REL 310: Seminar in the Mahabharata; after a few weeks in that class I knew I would be adding a second major. 
What activities were you involved in as a student and what did you gain from them?
NROTC and the Sigma Phi Epsilon (SigEp) Fraternity had the greatest impact on me.  From both I received a great deal of experience in leadership and in serving the community.  I made great friends in both organizations and the majority of my closest friends from UR to this day were involved in one or both of these groups. 
Who were your mentors while you were on campus? Have you continued those relationships?  
Professor Douglas Brooks (still at UR) and a few military officers who have moved on from UR.  While not close, I've kept in contact with the military officers through Facebook.  I have remained quite close with Douglas, he's co-officiating my wedding in June!
What did you do immediately after graduation? How did you decide to take that path?
After graduation I was commissioned as an Officer in the United States Navy.  I decided on this path in 1997 and 1998 while still in high school where I earned an NROTC scholarship.  NROTC gave me an opportunity to serve my country while providing tuition and a job after graduation.  While in the Navy I served as the Anti-Submarine Warfare Officer aboard USS COLE (DDG-67) and a Reactor Electrical Division Officer aboard USS RONALD REAGAN (CVN-76).
What do you do now and why did you choose this career?
I develop commercial scale (>50 MW) wind power projects all across the United States.  Effectively, I take a project from its inception (i.e. an idea such as 'let's build a wind project in North Dakota') through financial close (project funding), to the start of construction.  It's a process that typically takes anywhere from two to five years plus for a project.  Once construction starts, the project gets handed-off to construction and asset management personnel from my company and I start on a new project.  I pretty much stumbled into this career after deciding to leave the Navy in 2007.  My employer and I were both at the same military officer hiring conference.  I was interested in the job for the opportunity to be part of creating renewable energy projects and traveling all across the US. 
What skills, tools, or knowledge from your major have been most useful to you since graduation?
From astrophysics, analytical problem solving and attention to detail are essential every day when developing a commercial scale wind power project across thousands of acres of land or operating a nuclear reactor on a warship.  From religion, critical thinking and writing skills have been very valuable in making strategic decisions and communicating with supervisors, subordinates, and numerous power project stakeholders.