Projects and Events | 2015-2016
Learn more about the projects that were selected this year and the exciting line-up of speakers, films, symposia, courses, conferences, panels and exhibitions.
---
Fall 2015
---

Ngoma!
"Ngoma" brings alive the vibrant drumming, singing, and dance traditions of Zimbabwe through a series of workshop, performance, and lecture events.
---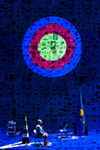 The Sundance Kid is Beautiful with Christopher Knowles
This project brings The Sundance Kid is Beautiful with Christopher Knowles to Rochester for a weeklong residency at the Todd Theatre to develop a solo performance by the multidisciplinary artist Christopher Knowles.
---
Italian Baroque Organ
---
Spring 2016
---
Bend: A live performance by Kimi Maeda
If memory forms our personal identity and shared memory forms our cultural and even racial identity, what does it mean when memories are lost? Bend explores this question by examining the lives of two men interned in a Japanese American Relocation Camp during World War II: the artist's father, an Asian art historian who is currently suffering from dementia, and the subject of his research, Isamu Noguchi, a half-Japanese-half-American sculptor.
---
Bending: UNESCO House and the Architecture of Mediocracy
Despite being collaboratively designed by eight of the most famous modern architects of the mid-20th Century, the UNESCO House complex in Paris became known as a "cliché" as soon as it was built in 1958