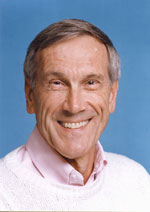 Richard F. Fenno, Jr.
Distinguished University Professor Emeritus

---
Profile:
PhD, Harvard, 1956. American politics, legislative behavior. Member of the National Academy of Sciences, Fellow of the American Academy of Arts and Sciences, and Member of the American Philosophical Society. Past President of the American Political Science Association. Current research focuses on representatives in U.S. politics. Publications include The Power of the Purse: Appropriations Politics in Congress (Little, Brown, 1966), Congressmen in Committees (Little, Brown, 1973), Home Style: House Members in Their Districts (Little, Brown, 1978), The Making of a Senator: Dan Quayle (CQ Press, 1988), Watching Politicians: Essays On Participant Observation (Institute of Governmental Studies, Berkeley, 1990), Senators on the Campaign Trail: The Politics of Representation (University of Oklahoma Press, 1996), Congress at the Grassroots: Representational Change in the South (University of North Carolina Press, 2000), and Going Home: Black Representatives and Their Constituencies (University of Chicago Press, 2003). Home Style won the Woodrow Wilson Foundation Award for best book in political science in 1978. Congress at the Grassroots won the 2001 V. O. Key Award for best book on southern politics.