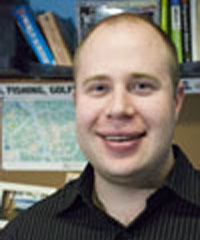 Josef Hanson
Adjunct Instructor, College Department of Music, University of Rochester
Director, UR Brass Choir
1-340 Dewey Hall
josef.hanson@rochester.edu
---
Biography
Since 2002, Josef Hanson has maintained a vital role in the College Music Department at the University of Rochester, where he has served as an instructor, administrator, advisor, and conductor. Currently, he teaches courses in music theory, conducting, and popular music, and leads the UR Brass Choir, which he founded in 2008. He is also a faculty associate in UR's Institute for Popular Music. High Voltage, Hanson's semester-long exploration of heavy metal music, has been recognized worldwide as one of the first collegiate courses of its kind. In 2015, he launched what is likely the world's first-ever collegiate course on concept albums. Hanson also designs and teaches a multitude of courses for retirees at The Highlands at Pittsford and Ferris Hills at West Lake senior living communities, as well as high school summer enrichment courses via UR's Rochester Scholars program. In May of 2015, he received the Donald J. Shetler Prize for Excellence in Music Education from the Eastman School of Music.
 A native of Maryland, Hanson graduated summa cum laude from Towson University with a Bachelor of Science degree in Music Education, and also received a Master of Arts degree in Music Education from the University of Rochester's Eastman School of Music. He is currently completing a Ph.D. in Music Education at Eastman. A born-and-bred percussionist, Hanson switched to trombone in high school and went on to concentrate in trombone performance and music history as an undergraduate music education major. He studied trombone with Wayne Wells of the Annapolis Brass Quintet and MU1 David Perkel, lead trombone with the U.S. Navy Commodores jazz ensemble. A former music educator in the Frederick County (MD) public schools, Hanson has taught music in a wide variety of settings, with students aged kindergarten through adult. He is also the former executive director and conductor of the Frederick Symphonic Band, a regional honor band in suburban Maryland.
 More recently, Hanson has been invited to share his love of music at speaking engagements sponsored by the Friends of Wood Library in Canandaigua, Finger Lakes Forum in Geneva, the Chatterbox Club in Rochester, and the UR Always Learning speaker series at The Highlands at Pittsford. These engaging presentations encompass a diverse array of topics, from Leonard Bernstein to the history of Christmas carols, and often draw capacity crowds. In 2010, Hanson served as the orchestra director for Everyone's Theater Company's production of The Wiz and received the Excellence in Orchestra Directing merit award from the Theatre Association of New York State (TANYS). Hanson led the Brass Choir on its first-ever tour to Washington, D.C. in 2011, which included performances for dignitaries such as Elizabeth Dole and John Glenn at the National Presbyterian Church and the John F. Kennedy Center for the Performing Arts, among other venues. In 2014, he performed with the Brass Choir at the Rock 'n' Roll Hall of Fame and Museum in Cleveland, OH, and the Pro Football Hall of Fame in Canton, OH. An avid musical collaborator, Hanson has facilitated musical partnerships between the UR Brass Choir and the UR Symphony Orchestra, Excelsior Cornet Band, Eastman School trumpet studios, 198th Army Reserve Band brass quintet, UR Carillon Society, Alphorn Society of Western New York, Smugtown Stompers Dixieland Jazz Band, Prime Time Brass, Rochester Scottish Pipes and Drums, and many other musical groups.
Hanson is an established writer in both scholarly and popular formats. He has contributed manuscripts to journals and magazines such as Music & Politics and Teaching Music, and wrote a chapter for the forthcoming Handbook of Adult and Community Music Education. Hanson has also presented his research at the New York State School Music Association Winter Conference, International Conference on Self-Determination Theory, National Association for Music Education (NAfME) Music Research and Teacher Education Conference, Suncoast Music Education Research Symposium, and Association for Popular Music Education Conference. He has led workshops for the student chapter of NAfME at Eastman and as a part of the UR Institute for Popular Music's teacher education efforts. Hanson is a member of the College Music Society, National Association for Music Education, New York State School Music Association, International Association for the Study of Popular Music, Association for Popular Music Education, and International Society for Music Education.