Director
About the Director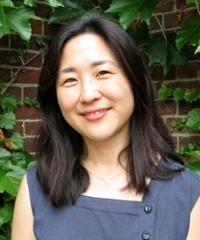 June Hwang is an Associate Professor of German and is the Director of the Susan B. Anthony Institute for Gender, Sexuality, and Women's Studies. She specializes in twentieth-century literature, film, and culture, with an emphasis on the topics of German Jewish identity, questions of modernity, film theory, and critical theory.
Her book Lost in Time: Locating the Stranger in German Modernity (Northwestern UP, 2014) explores discourses of timelessness in the works of central figures of German modernity, such as Walter Benjamin, Georg Simmel, Siegfried Kracauer, and Helmuth Plessner, as well as Alfred Döblin, Joseph Roth, and Hugo Bettauer. She argues that in the Weimar Republic the move toward a-historicization is itself a historical phenomenon, one that can be understood by examining the intersections of discourses about urban modernity, the stranger, and German Jewish identity. These intersections shed light on conceptions of German Jewish identity that rely on a negation of the specific and temporal as a way to legitimize a historical outsider position, creating a dynamic position that simultaneously challenges and acknowledges the limitations of an outsider's agency.
Her current work includes a collection of essays that look at the relationship between minority identities, power, privilege, and subjectivity in relation to Holocaust Studies.
Contact the Director
Phone: (585) 275-8318
Email:  june.hwang@rochester.edu

For undergraduate advising office hours, please visit our advising page.