Associate Academic Director
About the Associate Academic Director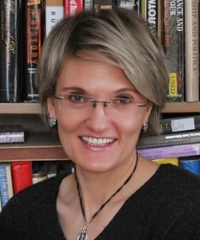 Tanya Bakhmetyeva is the Associate Academic Director of the Susan B. Anthony Institute for Gender, Sexuality, and Women's Studies (SBAI) at the University of Rochester. She is also SBAI's Associate Professor of Gender, Sexuality, and Women's Studies and Associate Professor of History.
Bakhmetyeva's book, Mother of the Church: Sofia Svechina, the Salon, and the Politics of Catholicism in Nineteenth-Century Russia and France (Northern Illinois University Press, 2016) was a winner of 2018 Harry Koenig Book Award, American Catholic Historical Association). She now writes on masculinity, ecofeminism, and gender environment and is currently working on a book project, How Khrushchev and Brezhnev Went Hunting with Fidel Castro: Political Masculinity and Nature Diplomacy in the Soviet Union.
Contact the Associate Academic Director
Phone: (585) 273-5187
Email: tatyana.bakhmetyeva@rochester.edu

For undergraduate advising office hours, please visit our advising page.