What to the Black Woman is the 100th Anniversary of the 19th Amendment?
Monday, October 5, 2020
7:30 p.m.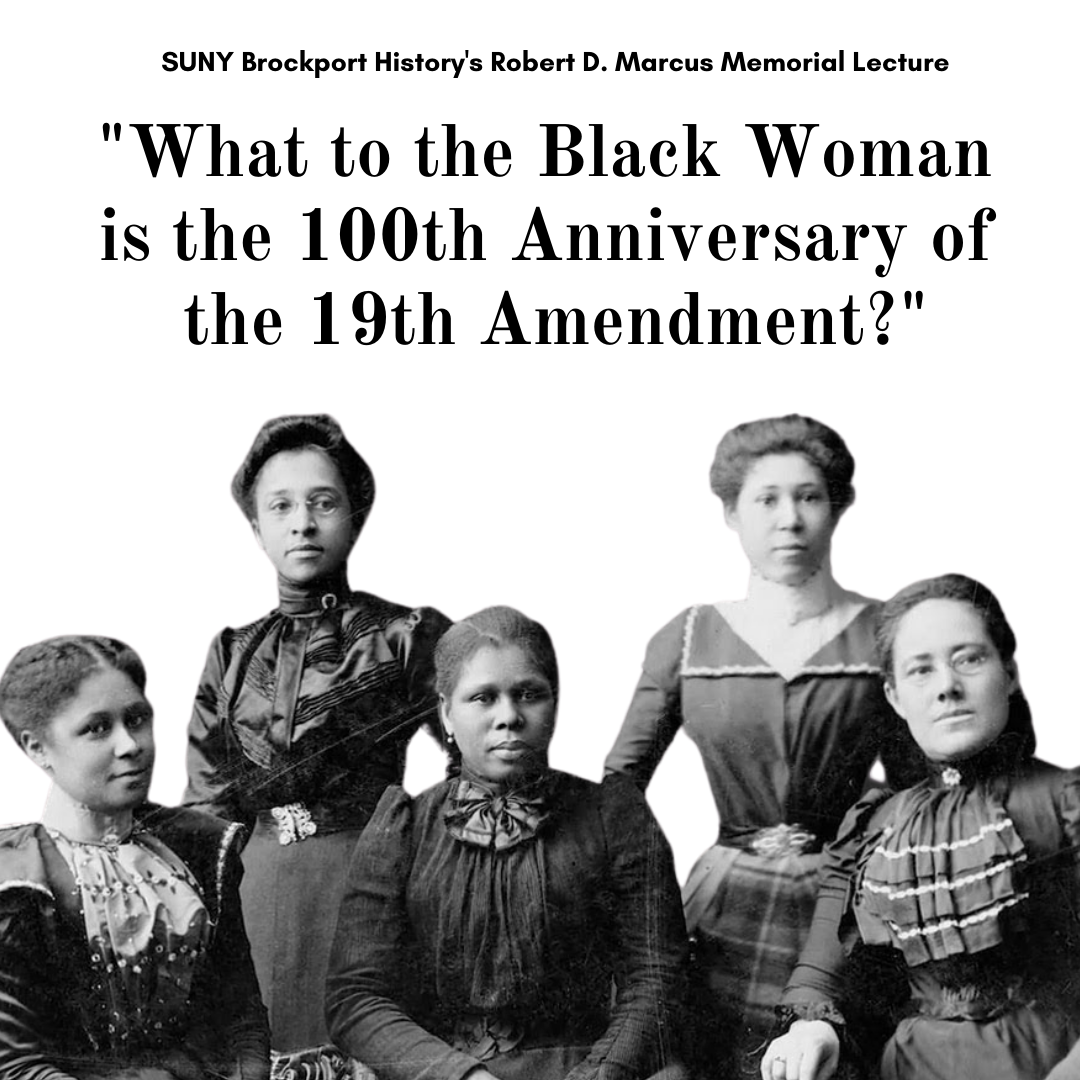 As 2020 marks the Centennial Anniversary of the 19th Amendment, we find ourselves asking, what does this mean for Black women and their role in women's suffrage throughout the United States?

On October 5, at 7:30pm, 540WMain along with SUNY Brockport and the Susan B. Anthony Institute at the University of Rochester, will examine this long overlooked, but significant history. "What to the Black Woman is the 100th Anniversary of the 19th Amendment?" will include a free virtual presentation and corresponding panel discussion that centers the experiences of the suffrage movement for women of color in New York State with an emphasis on why it is important to better acknowledge their involvement in the passage of the 19th Amendment.
---
This is a virtual panel and lecture hosted on Zoom

Registration is free but required. Register here.

Suggested donation of $15 to support 540WMain at 

rally.org/540wmain

---

Lecturer:
Dr. Susan Goodier, Assistant Professor of History at SUNY Oneonta, who studies women's activism.

She states, "Without a clear and comprehensive understanding of the social and political activism of Black women, we do not yet know the full story of women's suffrage. Black women operated in complicated networks that stretched from community to community, from city to city, and from state to state." 
Moderator:
Alysha Rios
SUNY Brockport alum (sociology) and current graduate student
Panelists:
Shanterra Randle-Mitchum
Program Coordinator for the Youth History Ambassador Project at Teen Empowerment


Efua Agyare-Kumi
University of Rochester senior majoring in English and Political Science


Luticha Andre Doucette
Owner at Catalyst Consulting
---

More about Dr. Susan Goodier
Dr. Susan Goodier is an Assistant Professor of History at SUNY Oneonta. She studies women's activism, particularly woman suffrage activism, from 1840 to 1920. She earned a master's degree in Gender History, a doctorate in Public Policy History, with subfields in International Gender and Culture and Black Women's Studies, and a Women's Studies master's degree, all from the University at Albany. At SUNY Oneonta she teaches courses in Women's History, New York State History, the Civil War and Reconstruction, and Progressivism. Dr. Goodier is the coordinator for the Upstate New York Women's History Organization (UNYWHO). The University of Illinois published her first book, No Votes for Women: The New York State Anti-Suffrage Movement, in 2013. Her second book, co-authored with Karen Pastorello is Women Will Vote: Winning Suffrage in New York State (Cornell University Press, 2017). In addition to working on a biography of Louisa M. Jacobs, the daughter of Harriet Jacobs, author of Incidents in the Life of a Slave Girl, she is writing a manuscript on black women in the New York State suffrage movement.


---


540WMain, Inc. is a 501(c)3 virtual non-profit organization and antiracist education brand that promotes justice for all. The organization encourages individuals to broaden their horizons and learn more about multidisciplinary issues and topics that impact the world.