Gender, Sex, and Power: Beyond White Suffrage
Gender, Sex, and Power: Beyond White Suffrage
Thursday, February 13, 2020
9:30 a.m. - 4 p.m.
Humanities Center, University of Rochester
Teach-In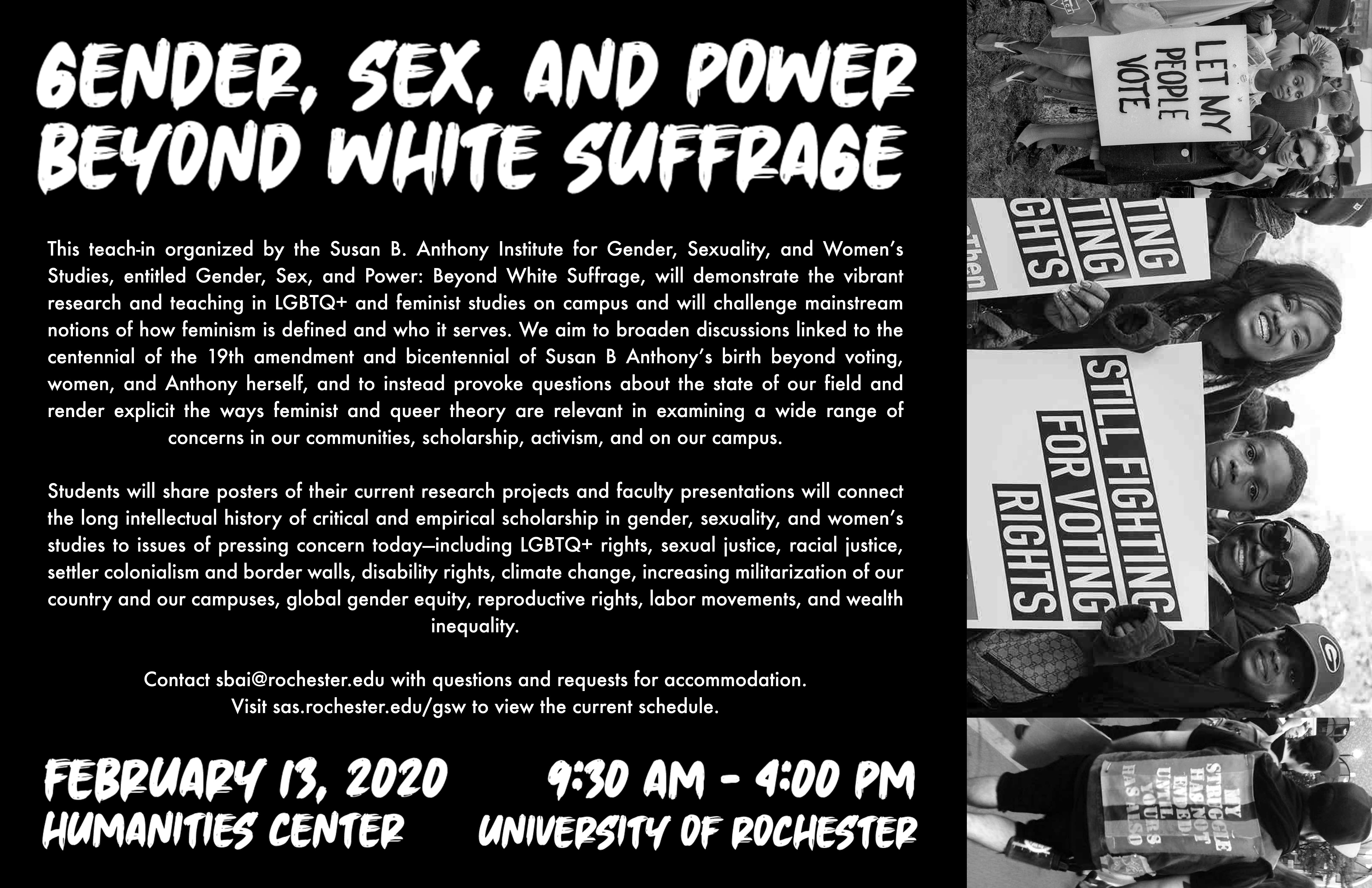 About
This teach-in demonstrated the vibrant research and teaching in LGBTQ+ and feminist studies on campus and challenged mainstream notions of how feminism is defined and who it serves. We aimed to broaden discussions linked to the centennial of the 19th amendment and bicentennial of Susan B. Anthony's birth beyond voting, women, and Anthony herself, and to instead provoke questions about the state of our field and render explicit the ways feminist and queer theory are relevant in examining a wide range of concerns in our communities, scholarship, activism, and on our campus.

Presentations connected the long intellectual history of critical and empirical scholarship in gender, sexuality, and women's studies to issues of pressing concern today—including LGBTQ+ rights, sexual justice, racial justice, settler colonialism and border walls, disability rights, climate change, increasing militarization of our country and our campuses, global gender equity, reproductive rights, labor movements, and wealth inequality.
This event had ASL interpretation and was free and open to the public.

Click here for an interactive map of campus. The Humanities Center is located on River Campus on the 2nd floor of Rush Rhees Library. Parking will be available for off-campus guests along Intercampus Drive. Please stop at the Kiosk near Elmwood avenue for parking directions on your way in.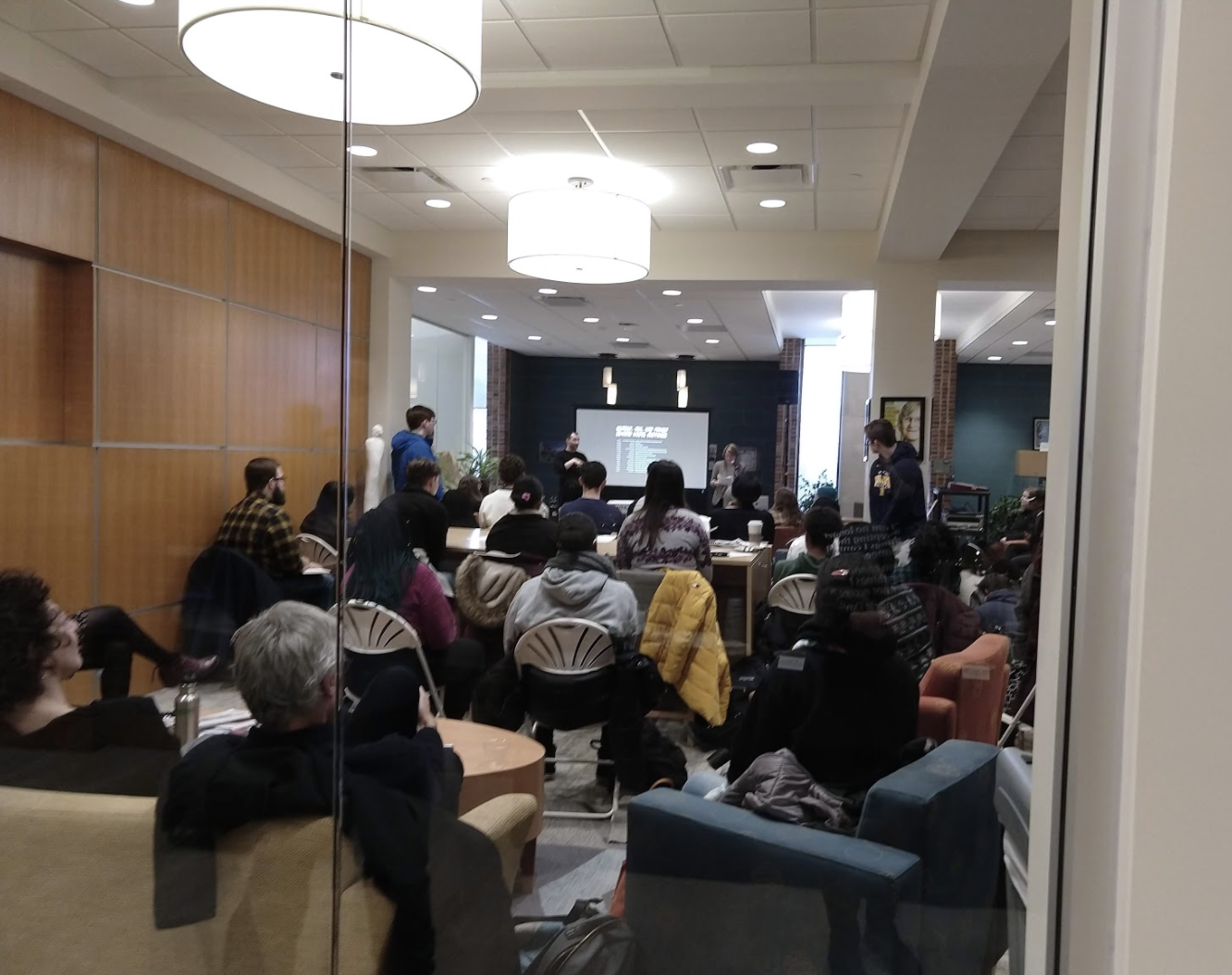 Schedule
 
Time
Presenter(s)
Topic
9:40 am

Kristin Doughty
Anthropology; Susan B. Anthony Institute, AS&E, UR 

and Precious Bedell
Rochester Decarceration Initiative

Carceral feminism, Decarceration, Transformative justice
10:00 am

Joan Saab
Art History
AS&E, UR 

The A word
10:20 am

Rachel Haidu
Art History
AS&E, UR 

Feminist Images
10:40 am

KaeLyn Rich
Bitch Magazine;

Susan B. Anthony Institute
AS&E, UR 

Feminist Praxis in Leadership
11:00 am

Luticha Andre Doucette
City of Rochester;

Susan B. Anthony Institute, AS&E, UR
Leadership Education in Neurodevelopmental Disabilities Fellow, UR 

Dissing the Disabled: How Disabled Persons Are Excluded in Feminism
11:20 am

Lisa Cerami
Modern Languages and Cultures - German
AS&E, UR 

The History of International Women's Day and the Future of Suffrage
11:40 am

Rosa Terlazzo
Philosophy
AS&E, UR 

Oppression and the ethics of alliance
12:00 pm

Conā Marshall
Frederick Douglass Institute; Religion
AS&E, UR 

Coalition Building with Black Communities 
12:20 pm

Tanya Bakhmetyeva
Susan B. Anthony Institute
AS&E, UR 

Gender, Race, and Nature
12:40 pm

Grace Gipson
Frederick Douglass Institute
AS&E, UR 

Reimagining Black Female Experiences through the Black Superheroine
1:00 pm

Colleen Raimond
Burgett Intercultural Center
UR

Queer UR Empowerment: Our Students Lives

1:20 pm

Brianna Theobald
History
AS&E, UR 

Native Reproductive Justice

1:40 pm

David Holloway
Modern Languages and Cultures - Japanese
AS&E, UR 

Gender, Body, Latex: HIV and AIDS Discourse in Contemporary Japan

2:00 pm

Rachel O'Donnell
Writing, Speaking, and Argument;
Susan B. Anthony Institute
AS&E, UR 

Globalization and militarism
2:20 pm

Magda Szcześniak
University of Warsaw
Duke University

Feminist Images of Dissent: The Polish Case

2:40 pm

Jean Pedersen
History
ESM Humanities and AS&E, UR 

Suffrage and Beyond: Women's Political Manifestoes Past and Present
3:00 pm
Reception