Annual Two Icons Lecture ft. Sikivu Hutchinson
Thursday, September 29, 2016
5 p.m. - 6 p.m.
Hawkins-Carlson Room, Rush Rhees Library
Lecture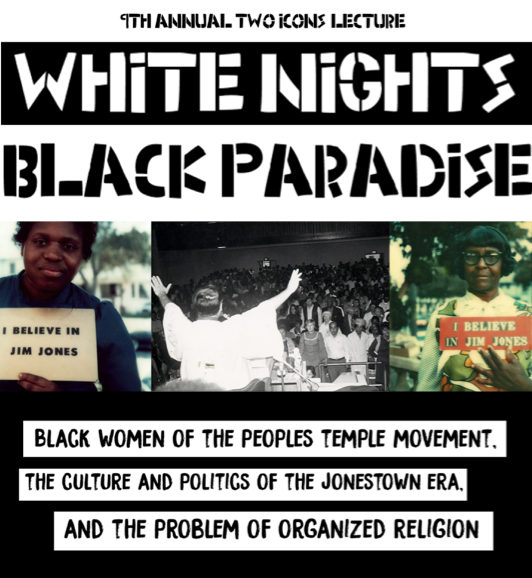 Join the Susan B. Anthony Institute and the Frederick Douglass Institute for our 9th annual Two Icons Lecture. This year we will be joined by Sikivu Hutchinson, an American feminist, atheist, scholar, and author.
About this year's lecture: In 1978, People's Temple, a predominantly black church once at the forefront of progressive San Francisco politics, self-destructed in a Guyana jungle settlement named after its white leader, the Reverend Jim Jones.  The Jonestown murder-suicide of over 900 church members was one of the largest, and most sensational, of its kind. Although Peoples Temple had a diverse membership, the majority of those who died in the tragedy were African American women.  Yet few works in the large body of literature on Peoples Temple and Jonestown are from a black feminist perspective. Reading excerpts from her new novel White Nights, Black Paradise, visiting scholar Sikivu Hutchinson will discuss black women's involvement in the Peoples Temple movement, the cultural and political context of the Jonestown era and the problem of organized religion.  
More about Sikivu Hutchinson: Sikivu Hutchinson is an American feminist, atheist, and author. She is the author of Godless Americana: Race and Religious Rebels (2013), Moral Combat: Black Atheists, Gender Politics, and the Values Wars (2011), and Imagining Transit: Race, Gender, and Transportation Politics in Los Angeles (Travel Writing Across the Disciplines) (2003). Moral Combat is the first book on atheism to be published by an African-American woman. In 2013 she was named Secular Woman of the year.