International Women's Day Field Trip
Friday, March 6, 2015
9 a.m.
Field Trip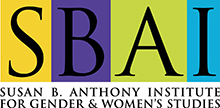 Field trip with SBAI to historic sites in Seneca Falls, NY as a celebration of International Women's Day (IWD). Each year in celebration of IWD, thousands of events are held throughout the world to celebrate the achievements of women and to inspire others.
We will be taking our annual International Women's Day Field Trip on Friday, March 6 to The National Women's Rights Historic Park in Seneca Falls, NY. See the site of the first US women'srights convention were Elizabeth Cady Stanton and Lucretia Mott spoke, tour the Park museum, or stop in and shop at Women Made Products.
This trip is free and includes transportation, admission, and lunch! Registration is open to the greater University community. RSVP is required by Monday, March 2. RSVP to sbai@rochester.edu. Please note if you RSVP you are required to attend the trip as all expenses are prepaid.
Schedule:
9am - Depart Rush Rhees Library
10am - Arrive Seneca Falls
10:15am - Welcome and Chapel Tour
12pm -  Lunch at Happy Family Restaurant
1:30pm - Tour Park Museum and Village on Your Own
3:30pm - Depart Seneca Falls
4:30pm - Arrive Rush Rhees Library