2013 Janet Heidinger Kafka Prize for Fiction Award Ceremony
Tuesday, October 15, 2013
5 p.m.
Welles-Brown Room
Award Presentation & Reading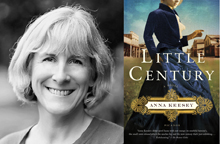 Please join us for the presentation of the 2013 Kafka Award to Anna Keesey for her book, Little Century. Ceremony includes a by a reading by Anna Keesey.
Each year the Susan B. Anthony Institute awards the Janet Heidinger Kafka Prize to the best work of fiction by an American woman published in the preceding year. The award calls attention to the work of a promising but less established woman writer.  Submissions come from publishing houses across the country, and past winners include Ann Patchett, Ursula Le Guin, and Toni Morrison, each before achieving fame.
This year's Kafka Prize Committee consisted of chair Kathy McGowan (Rush Rhees Library), Terry Platt (Biology), and Katie Mannheimer (Department of English).

Anna Keesey is a graduate of Stanford University and the Iowa Writer's Workshop.  Her work has appeared in a number of journals and anthologies, including Best American Short Stories.  She is the recipient of a National Endowment for the Arts Creative Writing Fellowship and has held residencies at MacDowell, Bread Loaf, Yaddo, and Provincetown. Keesey teaches English and creative writing at Linfield College in McMinnville, Oregon.

Kafka Prize Committee chair McGowan remarks: "Anna Keesey's debut novel impresses with its confident, restrained and elegant writing.  Recently orphaned Esther Chambers travels from Chicago to the frontier town of Century in 1900 to start a new life on her wealthy cousin's ranch, takes up homesteading and gradually becomes enmeshed in the escalating conflict between cattlemen and sheepherders. The novel's distinct sense of place--Oregon's high desert—plus its well-depicted characters, sensitive and sensible heroine, and intriguing story about a pivotal year in the lives of both a small town and a young woman make it an engrossing, unpredictable read."