Out in Reel Film Series Screening and Panel Discussion of 575 Castro Street
Wednesday, April 18, 2012
8 p.m. - 10 p.m.
Hoyt Auditorium
Film Screening and Discussion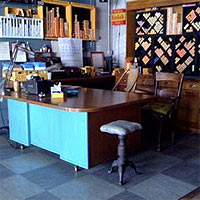 "575 Castro Street" is a short film by Jenni Olson that was commissioned by FilmInFocus.com to be showcased online in conjunction with the theatrical release of "Milk." The film reveals the play of light and shadow upon the walls of the Castro Camera Store set for Gus Van Sant's film. The audio track is an edited version of the 13-minute cassette that Harvey Milk recorded in his camera shop a few weeks after his election to the San Francisco Board of Supervisors, which made him one of the first openly gay elected officials in the United States. Labeled simply: "In-Case" the tape was to be played, "in the event of my death by assassination." Following the screening, a panel of community members, students, faculty, and staff will address the changing nature of the LGBTQ movement what the future holds for today's young activists. Presented by SBAI, Pride Network, Pride Alliance, Warner LGBTQ & Allies SIG, and the Film and Media Studies Program.