Out in Reel Film Series Screening of "Paragraph 175"
Tuesday, April 3, 2012
5:30 p.m. - 7:30 p.m.
Ryan Case Methods Room (1-9576) - URMC
Film Screening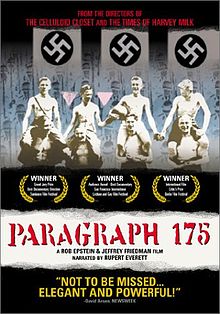 The first screening in our Out in Reel series for LGBTQI Awareness Month at the University will be "Paragraph 175". Via tellingpictures.com: The Nazi persecution of homosexuals may be the last untold story of the Third Reich. Paragraph 175 fills a crucial gap in the historical record, and reveals the lasting consequences of this hidden chapter of 20th century history, as told through personal stories of men and women who lived through it: the half Jewish gay resistance fighter who spent the war helping refugees in Berlin; the Jewish lesbian who escaped to England with the help of a woman she had a crush on; the German Christian photographer who was arrested and imprisoned for homosexuality, then joined the army on his release because he "wanted to be with men"; the French Alsatian teenager who watched as his lover was tortured and murdered in the camps. These are stories of survivors -- sometimes bitter, but just as often filled with irony and humor; tortured by their memories, yet infused with a powerful will to endure.