The 19th Annual International Graduate Student Research Conference
Saturday, March 24, 2012
10 a.m. - 5:30 p.m.
Rush Rhees Library
Conference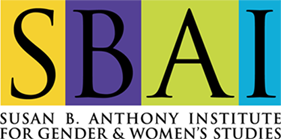 In honor of SBAI's 25th Anniversary and the legacy of Susan B. Anthony, the theme of this year's conference will be " 'Failure Is Impossible': Feminism's Past, Present, and Future." This years program will feature Keynote speaker Nancy Cott, director of the Schlesginer Library and professor at Harvard University. Check the graduate page for the call for papers! A conference schedule and details can be found by visiting the Graduate Students webpage on this site. Contact sbai@rochester.edu or 585-275-8318 with questions.