Jos Truitt of feministing.com
Tuesday, March 27, 2012
7 p.m.
Hawkins-Carlson Reading Room, Rush Rhees Library
Lecture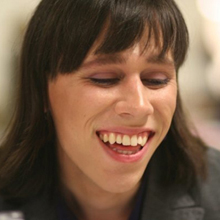 Jos Truitt, blogger on feministing.com and speaker on feminism, reproductive health, grassroots organizing, and transgender issues will give a lecture about using a gender analysis approach to feminism by taking a critical look at how gender is often missing from feminist thought and politics. Truitt will also discuss how transgender issues are central to feminism and how transgender frames can sharpen feminist analysis. She will explore ways in which gender intersects with other identity categories, as well as the challenges and complexities of navigating both a personal experience approach and broader identity-based critique in the work for gender justice. Tickets are $4 for undergraduates and $6 for everyone else and can be purchased at the door. The lecture is open to the public and cosponsored by SBAI and Women's Caucus. For more information email slewis25@u.rochester.edu.