Graduate Student Welcome Lunch
Thursday, September 15, 2011
Noon - 1:30 p.m.
Lattimore 540
Lunch Meeting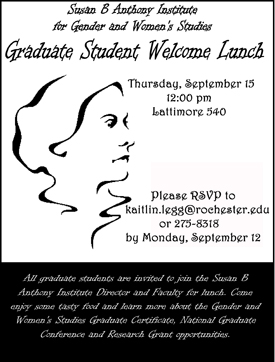 All graduate students interested in gender and women's studies are welcome! Come meet like-minded peers and have your questions answered.
Sponsored by the Susan B. Anthony Institute for Gender and Women's Studies
Lunch provided by SBAI; please RSVP by 9/12/11.
RSVP : (585) 275-8318 or submit form