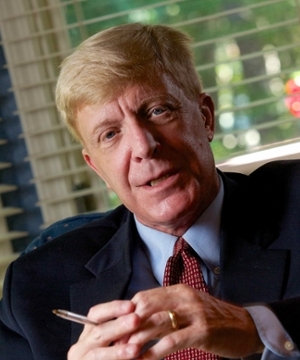 Curt Smith
Senior Lecturer of English
BA, State University of New York at Geneseo
404-A Morey Hall
(585) 426-7375
Fax: (585) 275-4092
curtsmith@netacc.net
---
Research Overview
Curt Smith wrote more speeches than anyone for President George H. W. Bush, including his address at Pearl Harbor on the fiftieth anniversary of December 7, 1941.  He is also recognized as one of America's authorities on baseball broadcasting. The former Gannett reporter and The Saturday Evening Post senior editor has written 18 books, including Voices of The Game: The History of Baseball Broadcasting, widely considered the seminal work on the subject, and The Presidents and the Pastime: The History of Baseball and the White House, which let Smith fuse his twin loves. His latest work, Memories from the Microphone: A Century of Baseball Broadcasting, was released to coincide with the 100th anniversary of the first baseball game broadcast in 1921.  He believes that baseball and politics are quite similar: at the end, an observer knows who won, who lost and, for the most part, why. Smith joined the University of Rochester faculty in 1998 and teaches Public Speaking, using video, text, and class lecture, and Presidential Rhetoric, etching how U.S. presidents communicate through language and delivery. He also oversees the department's internship program.
Research Interests
Presidential rhetoric
American presidents of the radio/television age
Public speaking
Sports broadcasting, with emphasis on baseball, football, basketball, and hockey
Selected Publication Covers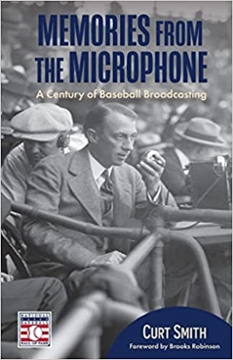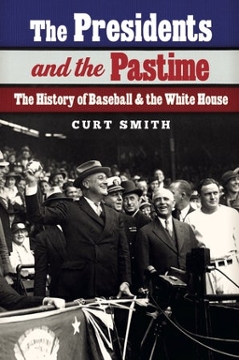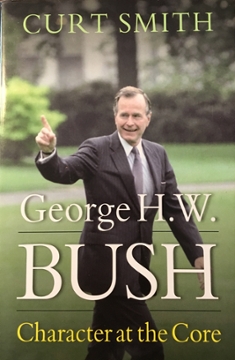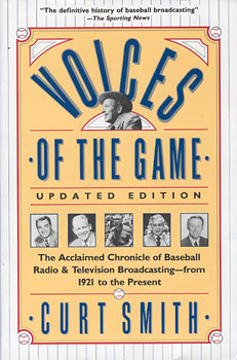 Memories from the Microphone: A Century of Baseball Broadcasting, Mango 2021.
The Presidents and the Pastime, Nebraska 2018.
George H.W. Bush: Character at the Core, Nebraska 2014.
Mercy! A Celebration of Fenway Park's Centennial Told through Red Sox Radio and TV

, Potomac 2012

A Talk in the Park: Nine Decades of Baseball Tales from the Broadcast Booth, Potomac 2011 (endorsed by the National Baseball and the National Radio Halls of Fame)
Pull Up a Chair: The Vin Scully Story, Potomac 2009
The Voice: Mel Allen's Untold Story, Lyons 2007
Voices of Summer: Ranking Baseball's 101 All-Time Best Announcers, Carroll and Graf 2005
What Baseball Means to Me: A Celebration of Our National Pastime, TIME Warner 2002
Storied Stadiums: Baseball's History through Its Ballparks, Carroll and Graf 2001
Our House: A Tribute to Fenway Park, Contemporary 1999
Of Mikes and Men: The Best Tales of Football's Best Announcers, Diamond Communications 1998
Windows on the White House: The Story of Presidential Libraries, Diamond Communications 1997
The Storytellers: The Best Tales of Baseball's Best Announcers, Macmillan 1995
A Fine Sense of the Ridiculous, Diamond Communications 1995
Voices of the Game: The History of Baseball Broadcasting, Simon and Schuster 1992
Long Time Gone: The Age of Turmoil Remembered, Icarus 1982
America's Dizzy Dean, Bethany 1978
Chapters & Other Publications
"Foreword" to Beisbol on the Air, McFarland 2022. Chapter "Mel Allen: The Voice," in Changing Dreams, National Museum of American Jewish History 2015. Chapter "Baseball and Mass Media: From Grantland Rice to ESPN," in The Cambridge Companion to Baseball, Cambridge 2011.
Chapters from Society of American Baseball Research (SABR) books, including: Baltimore Baseball 1954-2021;The Newark Eagles Take Flight; The Babe (Ruth); The Whiz Kids Take the Pennant (1950 Phillies); The 1986 Boston Red Sox; The Team That Time Won't Forget (1951 Giants); Bridging Two Dynasties: 1947 New York Yankees; Sweet '60 (1960 Pirates); and The Miracle Has Landed (1969 Mets) 2010-2022.
Chapters "Thirty-two Greatest American Presidential Speeches" and "Thirty-two Greatest Presidential TV/Film Portrayals" from The Final Four of Everything, Simon and Schuster 2010.
Essays in 2018-current Sports Broadcast Journal include: CBS and NBC TV Game of the Week, Fox TV coverage, Ford C. Frick Award, World Series ratings, and announcers from Mel Allen, Buck Canel, Harry Caray, and Dizzy Dean through Bob Costas, Phil Rizzuto, Vin Scully, and Bob Uecker.
Teaching
ENGL 286: Presidential Rhetoric, uses film, text, and discussion to study the public rhetoric and themes of the modern American presidency.
ENGL 134: Public Speaking, focuses on basic public speaking and evaluating oral presentations, helping students gain useful speaking skills they can apply in a variety of settings.
He also oversees the English department's Internship Program.
Honors
Authored essay to accompany the Library of Congress's National Recording Registry recording of Henry Aaron's career 715th home run in 1974 to pass Babe Ruth's long-time record, 2022.
One of two inaugural authors for the National Baseball Hall of Fame and Museum's publishing imprimatur, 2021.
"Voices of The Game: The History of Baseball Broadcasting" named "Among the 100 Best Baseball Books Ever Written" by "Esquire" magazine, 2021.
"The Presidents and the Pastime" honored by the White House Historical Association, 2018.
National Baseball Hall of Fame and Museum's Ford C. Frick Award broadcast committee, 2008- current.
Member (2002-2020) and Member Emeritus (2021-current) of the National Radio Hall of Fame steering committee.
Spoke at Presidential Libraries of George H.W. Bush, Richard M. Nixon, and Franklin D. Roosevelt.
Keynoted events at the Cooperstown Symposium on Baseball and American Culture, University of Rochester Phelps Colloquium, Society of American Baseball Research Convention, and Boston Red Sox "Great Fenway Writers Series."
Writers and Books Literary Award for his contribution to "Western New York audience," 2004.
Hall of Fame of the State University of New York at Geneseo, 2004.
Hall of Fame of Rochester, New York's Frontier Field, 2004.
Weekly series "Perspectives" (2002-2012) on National Public Radio affiliates WXXI Rochester and WNED Buffalo, New York. Commentary named "Best in New York State" by Associated Press and New York State Broadcasters Association, 2002.
Finalist, Seymour Award, Best Baseball Book of the Year ("Storied Stadiums"), 2002.
Created the National Radio Hall of Fame Franklin D. Roosevelt Award in Political Communication, 2006.
Elected to Judson Welliver Society of former presidential speechwriters, 1995.
Hosted Smithsonian Institution "Voices of The Game" series at the American History Museum, 1993.