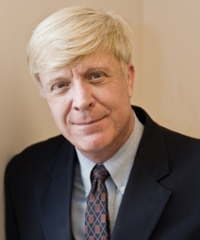 Curt Smith
Senior Lecturer in English
BA, State University of New York at Geneseo
320 Morey Hall
(585) 275-4260
Fax: (585) 275-4092
curtsmith@netacc.net
---
Research Overview
Curt Smith wrote more speeches than anyone for President George H. W. Bush. "His work," says The New York Times, "is the high point of Bush familial eloquence." Smith is also America's "leading voice of authority on baseball broadcasting," adds USA Today: author of 15 books, GateHouse Media columnist, and National Public Radio affiliate series host. The former Gannett reporter and Saturday Evening Post senior editor has hosted XM Satellite Radio, Smithsonian Institution, and National Baseball Hall of Fame and Museum series; been named New York State Associated Press best radio commentator; and written ESPN TV'sVoices of the Game and SportsCentury programming. He has contributed to many newspapers and magazines, including Newsweek, Reader's Digest, Sports Illustrated, and The New York Times. Smith joined the University of Rochester faculty in 1998. He teaches Public Speaking, using video, text, and class lecture, and Presidential Rhetoric, etching how U.S. presidents communicate through language and delivery. NBC broadcaster Bob Costas says: "Curt Smith stands up for the beauty of words."
Selected Publication Covers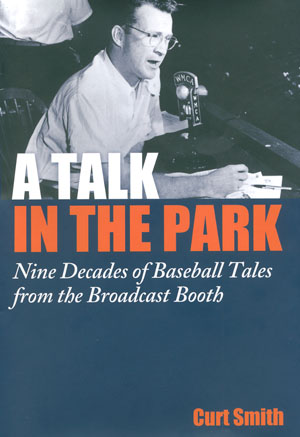 More info...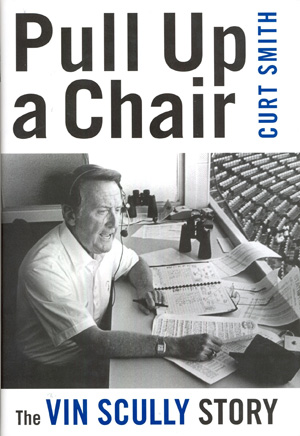 More info...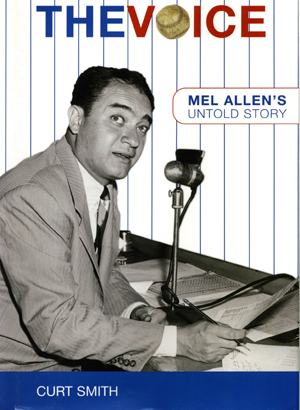 The definitive biography of sportscasting giant Mel Allen.
More info...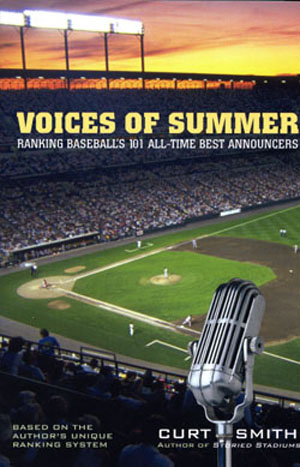 Though countless studies have weighed the merits of our great players, none has assessed the virtues of the men who turn diving catches and soaring home runs into the stuff of myth. In The Voices of Summer, Curt Smith has compiled a list of 101 classic announcers-from national celebrities to local favorites, overlooked giants to upcoming stars-in search of the greatest baseball broadcaster of all time.
More info...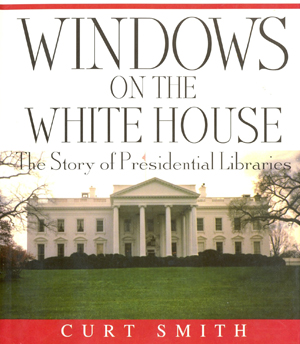 Selected Publications
Mercy! A Celebration of Fenway Park's Centennial Told through Red Sox Radio and TV

, Potomac 2012

A Talk in the Park: Nine Decades of Baseball Tales from the Broadcast Booth, Potomac 2011 (endorsed by the National Baseball and the National Radio Halls of Fame)
Pull Up a Chair: The Vin Scully Story, Potomac 2009
The Voice: Mel Allen's Untold Story, Lyons 2007
Voices of Summer: Ranking Baseball's 101 All-Time Best Announcers, Carroll and Graf 2005
What Baseball Means to Me: A Celebration of Our National Pastime, TIME Warner 2002
Storied Stadiums: Baseball's History through Its Ballparks, Carroll and Graf 2001
Our House: A Tribute to Fenway Park, Contemporary 1999
Of Mikes and Men: The Best Tales of Football's Best Announcers, Diamond Communications 1998
Windows on the White House: The Story of Presidential Libraries, Diamond Communications 1997
The Storytellers: The Best Tales of Baseball's Best Announcers, Macmillan 1995
A Fine Sense of the Ridiculous, Diamond Communications 1995
Voices of the Game: The History of Baseball Broadcasting, Simon and Schuster 1992
Long Time Gone: The Age of Turmoil Remembered, Icarus 1982
America's Dizzy Dean, Bethany 1978
Recent/Forthcoming
"Thirty-two Greatest American Presidential Speeches" and "Thirty-two Greatest Presidential TV/Film Portrayals," in 

The Final Four of Everything

, Simon and Schuster 2010

Chapters in Northsiders: Essays on the History and Culture of the Chicago Cubs, McFarland 2010; Go to Glory: The 1959 Chicago White Sox, Acta Sports 2010; and The Miracle Has Landed, about the 1969 New York Mets, Maple Street 2010

"Baseball and Mass Media: From Grantland Rice to ESPN," in 

The Cambridge Companion to Baseball

, Cambridge 2011

Chapters in 

The 1947 New York Yankees

, Maple Street 2012, and 

Beat 'Em Bucs

, about the 1960 Pittsburgh Pirates, Nebraska 2012
Teaching
Courses in presidential rhetoric and public speaking. Smith also helps to oversee the English department's internship program, linking English majors to local and national newspapers, magazines, publishing and non-profit firms, and radio and television stations.
Honors
Elected to Judson Welliver Society of former presidential speechwriters, having written, among other speeches, the "Just War" Persian Gulf address; Margaret Thatcher Medal of Freedom; and speech on the fiftieth anniversary of Pearl Harbor for President George H. W. Bush. Prior inductees include Clark Clifford, Theodore Sorenson, Patrick Buchanan, and William Safire.
Columnist, Gatehouse Media Newspapers, Major League Baseball official Web site MLBlogs, and Jewish World Review politicalmavens.com. TV analyst, Rochester, New York, CBS outlet WROC, having hosted its political series Perfectly Clear and Talking Point.
Host, 2002-present, Perspectives, weekly series on National Public Radio affiliates WXXI Rochester and WNED Buffalo, New York. Regular WXXI Radio commentary named "Best in New York State" by Associated Press and New York State Broadcasters Association.
Host, 2005-08, XM Satellite Radio Voices of the Game broadcast from National Baseball Hall of Fame and Museum. Guests included Dick Enberg, Ken Harrelson, Harry Kalas, and Dave Niehaus.
Wrote and co-produced ESPN TV's 1994-95 Voices of the Game documentary series, hosted by Jon Miller and Jack Whitaker. Researched and helped write ABC/ESPN TV's 2001-02 SportsCentury series.
Keynoted events including Cooperstown Symposium on Baseball and American Culture, University of Rochester Phelps Colloquium, and Boston Red Sox "Great Fenway Writers Series." Hosted series at Smithsonian Institution, Baseball Hall of Fame, and George H. W. Bush Presidential Library, among others.
Appeared on network radio/TV including ABC, Armed Forces Radio, BBC, CBC, CBS, CNN, CNBC, ESPN, Fox News Channel, and MSNBC. Has written for, among others, The Boston Globe, Newsweek, Reader's Digest, Sports Illustrated, The New York Times, and The Washington Post.
Finalist, 2002 Seymour Award, Best Baseball Book of the Year (Storied Stadiums). Recipient, 2004 Writers and Books Literary Award for contribution to "Western New York audience." Elected to State University of New York at Geneseo and Rochester, New York, Frontier Field halls of fame.
Member, Ford Frick Award broadcast committee, National Baseball Hall of Fame, and Museum of Broadcast Communications and National Radio Hall of Fame steering committee. Originated National Radio Hall's posthumous induction of Franklin D. Roosevelt.
Teamed with pollster John Zogby to raise funds for schools in now-deceased ex-NBA star Manute Bol's war-torn Sudan. Created Fenway Park's official moniker "America's Most Beloved Ballpark." Smith's book title Voices of the Game used to denote sportscasting by many teams, TV/radio stations, and the Hockey Hall of Fame.
Named among the "100 Outstanding Alumni" of the State University of New York's 2.6 million-graduate system.