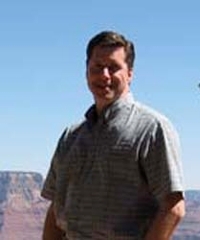 Gordon Rice
Senior Lecturer
Production Manager, the International Theatre Program
MFA, California Institute of the Arts
205 Todd Union
(585) 275-9006
g.rice@rochester.edu
---
Research Overview
Gordon Rice has more than 20 years of professional experience as a theatre technologist, from small community theatre on Long Island, NY, to network television in Hollywood, CA. Some of Gordon's New York credits include: production assistant for the Westbury Music Fair; technical director for the Off-Broadway productions of Last of the Knucklemen, Dangerous Corner, and Seven Stories; technical director (and every other tech job they could think of) for numerous productions at Theatre III in Port Jefferson; and technical director and lighting designer for Suffolk County Community College. In California, Gordon had the pleasure of creating scenery and props for a number of TV/film productions at NBC, HBO, and the Disney Channel. Rochester credits vary from technical director/lighting designer at Nazareth College and SUNY Geneseo, to providing scenery and lights for many of Rochester's community theatres, and now, with great pleasure, production manager for the University of Rochester's International Theatre Program.
Research Interests
Technical direction
production management
Teaching
Over the years, Gordon has had the pleasure of teaching a variety of theatre technology courses at Suffolk County Community College, California State University at Northridge, California Institute of the Arts, Nazareth College of Rochester, SUNY Geneseo, and Rochester's School of the Arts.
Honors
Regional Finalist for Musical Production, Kennedy Center American College Theatre Festival XXX, for Falsettos, Suffolk County Community College, technical director, 1998
Distinguished Alumnus Recognition, Suffolk County Community College, 1996
Committee Member, "Job Description for the Technical Director," United Institute of Theatre Technology, 1990
Outstanding Contribution to Technical Theatre, Suffolk County Community College, 1984
Outstanding Growth in Technical Theatre, Suffolk County Community College, 1982