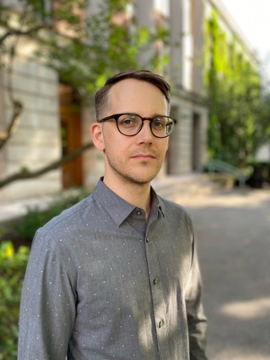 ---
Research Overview
Matthew Omelsky is an assistant professor in the Department of English, and a core faculty member at the Frederick Douglass Institute and Department of Black Studies. He also serves as faculty affiliate in Visual & Cultural Studies and Film & Media Studies. His research is concentrated in the field of global black cultural studies, with an emphasis on how 20th and 21st century black artists from across the world express a desire for unfathomable freedoms.
Professor Omelsky's forthcoming book, Fugitive Time: Global Aesthetics and the Black Beyond (Duke University Press, 2023), theorizes the embodied experience of time in an archive of black music, visual culture, and literature from Zimbabwe, Martinique, Britain, Senegal, and the United States. The book examines the intersection of black fugitivity, time-consciousness, and utopian desire in a range of artforms, from Aimé Césaire and Wifredo Lam's négritude aesthetics, to the Black Audio Film Collective's experimental essay films, to Sun Ra's avant-garde poetry and music, to NoViolet Bulawayo's contemporary fiction. Before coming to Rochester, he was the postdoctoral fellow for the Mellon Sawyer Seminar on "Racial Disposability and Cultures of Resistance" in Penn State's Department of African American Studies. He received his BA in Africana Studies and Politics from New York University, his MPS in Africana Studies from Cornell University, and his PhD in English from Duke University.
Research Interests
Global black cultural studies; African and Caribbean literatures; film and digital media; time and phenomenology; speculative fiction; critical theory.
Selected Publications
Journal Articles and Book Chapters
"Speculative African Slaveries." In The Cambridge Companion to Global Literature and Slavery, edited by Laura T. Murphy, 49-61. Cambridge University Press, 2023.
"Being and Becoming: The Grammar of Black Theory." InVisible Culture 31 (2020). 
"African Fugitivities." The Black Scholar 50, no. 1 (2020): 56-69.
"The Creaturely Modernism of Amos Tutuola." Cultural Critique 99 (2018): 66-96.
With Ian Baucom, "Knowledge in the Age of Climate Change." South Atlantic Quarterly 116, no. 1 (2017): 1-18.
"'After the End Times': Postcrisis African Science Fiction." Cambridge Journal of Postcolonial Literary Inquiry 1, no. 1 (2014): 33-49.
"Jean-Pierre Bekolo's African Cyborgian Thought." Nka: Journal of Contemporary African Art 31 (2012): 6-21.
"Chris Abani and the Politics of Ambivalence." Research in African Literatures 42, no. 4 (2011): 84-96.
Edited Collection
With Ian Baucom, "Climate Change and the Production of Knowledge," South Atlantic Quarterly 116, no. 1 (2017).
Teaching
Current
Black Film Collectives
African Digital Cultures
Black Fugitive Aesthetics
Caribbean Gothic
African Literatures of Migration
Contemporary African Film and Fiction
Reimagining the Human: Global Black Speculative Fiction
Bright Lights, African Cities
Internet Aesthetics: Viral Forms from the Global South
Honors
Mellon Foundation Postdoctoral Fellowship, African American Studies, Penn State University, 2018-19
Mellon/ACLS Dissertation Completion Fellowship, 2017-18
Graduate School Fellowship, English, Duke University, 2012-14
Graduate Student Best Essay Award, African Literature Association, 2011
Foreign Language and Area Studies Fellowship, African Studies, UC Berkeley, 2011
Sage Graduate Fellowship, Africana Studies, Cornell University, 2009-11