UR students help adults write their stories (D&C)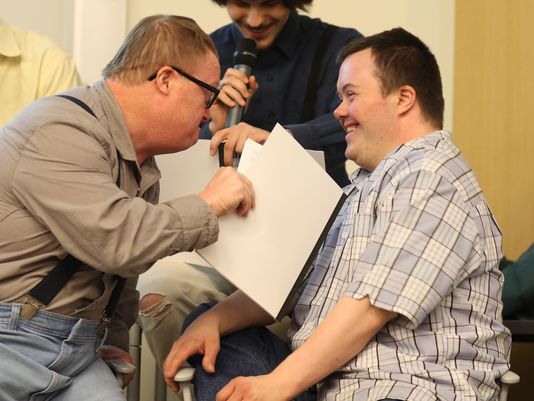 Excerpt from UR students help adults write their stories
by Jeff Spevak via the Democrat & Chronicle, May 21, 2016
"The auditorium roils with the familiar muted audience chatter and last-second scurrying — is this microphone working? — of any public event.
Most days, the University of Rochester's Goergen Hall is dedicated to the training of our future biomedical engineers. But on this evening late in April are 11 writers, half of them in wheelchairs, sitting at the front of the room. All are adults with varying degrees of developmental disabilities, some living in residential homes operated by CP Rochester, some merely benefiting from the nonprofit organization's services. Seated behind or alongside each of them are the writing students from the University of Rochester who had set aside one day a week this spring, helping these authors of The Inspiration Project find the right words.
'Six-thirty, quarter to seven, the wheelchairs start rolling in,' Joanna Scott — she has discovered the correct microphone — tells the audience of the meetings between writers and students. The acclaimed novelist and professor of English at the UR launched this idea six years ago. Some of The Inspiration Project's writers have participated in all of them. A few new faces join each year.