One Act Play Festival Runs March 19-21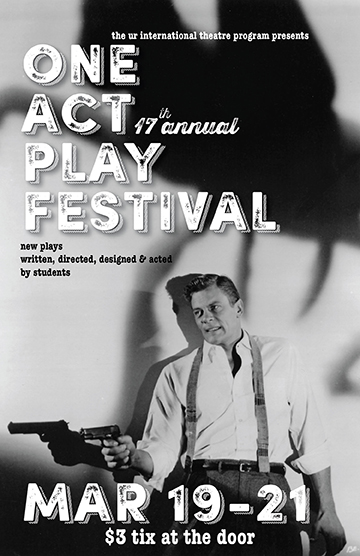 One of the most exciting events of the Spring Theatre Program calendar is the annual One Act Play Festival. New plays are written, directed, acted and designed by students. This year we feature plays by Jahnavi Iyer, Emily Scarpulla, Karl Smith, and Saad Usmani.
Tickets are $3 and available at the Todd Theatre Box Office one hour before performances.
Performance Schedule
Opens: Thursday, March 19 at 8:00 p.m.
Runs: Thursday - Saturday, March 19 - 21 at 8:00 p.m.
Matinée: Saturday, March 21 at 3:00 p.m.

For more information, visit the UR International Theatre Program website.