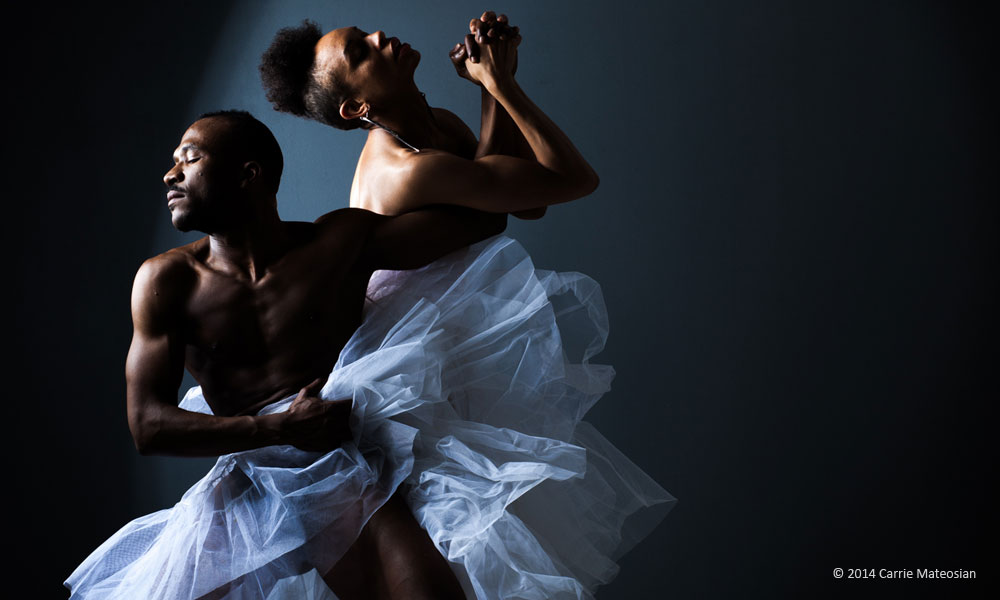 The Department of English at the University of Rochester named N'jelle Gage and Guy Thorne of FuturPointe Dance the recipients of the 2014 Lillian Fairchild Memorial Award, during a ceremony on Thursday, Jan. 29.
The award is given annually to a local visual artist, writer, choreographer, or composer for his or her commitment to the arts in the Rochester area. Rosemary Kegl, chair of the English department and member of the Fairchild Award committee, said the selection committee chose Gage and Thorne for their recent portfolio of innovative and collaborative projects, including Psychopomp & Pageantry – Dance. Ritual. Magic, which premiered at the First Niagara Rochester Fringe Festival, Riot- A Performance/Installation, a piece that commemorated the 50thanniversary of the Rochester race riots, and their work with Rochester area schools.
Gage and Thorne co-founded FuturPoint Dance in 2009 as a way to promote cultural diversity and awareness in dance through community outreach, performances, and artistic residencies. The contemporary dance company's eclectic work combines Caribbean dance forms, ballet, and Latin vocabulary.
"We use influences from Africa, Europe, Asia and even pre-Columbian America that are in touch with contemporary and urban culture," said Thorne, who has a bachelor of fine arts in dance from SUNY Brockport. "By breaking the rules of dance, we are able to build our skills and find meaningful work in this medium."
Over the past few years, the Rochester-based dance company, FuturPointe, has toured around the world, most recently performing the Let's Dance International Festival in Leicester, United Kingdom, and the Santa Cruz Fringe Festival in Santa Cruz, California. Locally, their work has been featured at the Rochester Fringe Festival and they have worked with Young Audiences of Rochester, a non-profit arts education organization, to stage multiple interactive performances at the Rochester City School District.
Established by University of Rochester Professor Herman L. Fairchild in 1924, the award is in memory of his daughter, an accomplished designer who died of tuberculosis at the age of 32. Previous awards have been given out to visual artists, composers, choreographers and writers such as modern dance choreographer Garth Fagan, sculptor Albert Paley, and Pulitzer Prize- winning poet Anthony Hecht.
"I love the spirit of this award, and it does an excellent job of encouraging burgeoning artists," said Gage, who graduated from the University of Arts in Cuba with a master's degree in Cuban modern dance techniques. "This year, we'd like to use our dance to help encourage social wellness and interactions, and gain a newer and more diverse audience."
For more information of Gage and Thorne's work, visit http://www.futurpointe.org/.