"To Travel is to Live" Exhibit Opening and Reception planned for February 3rd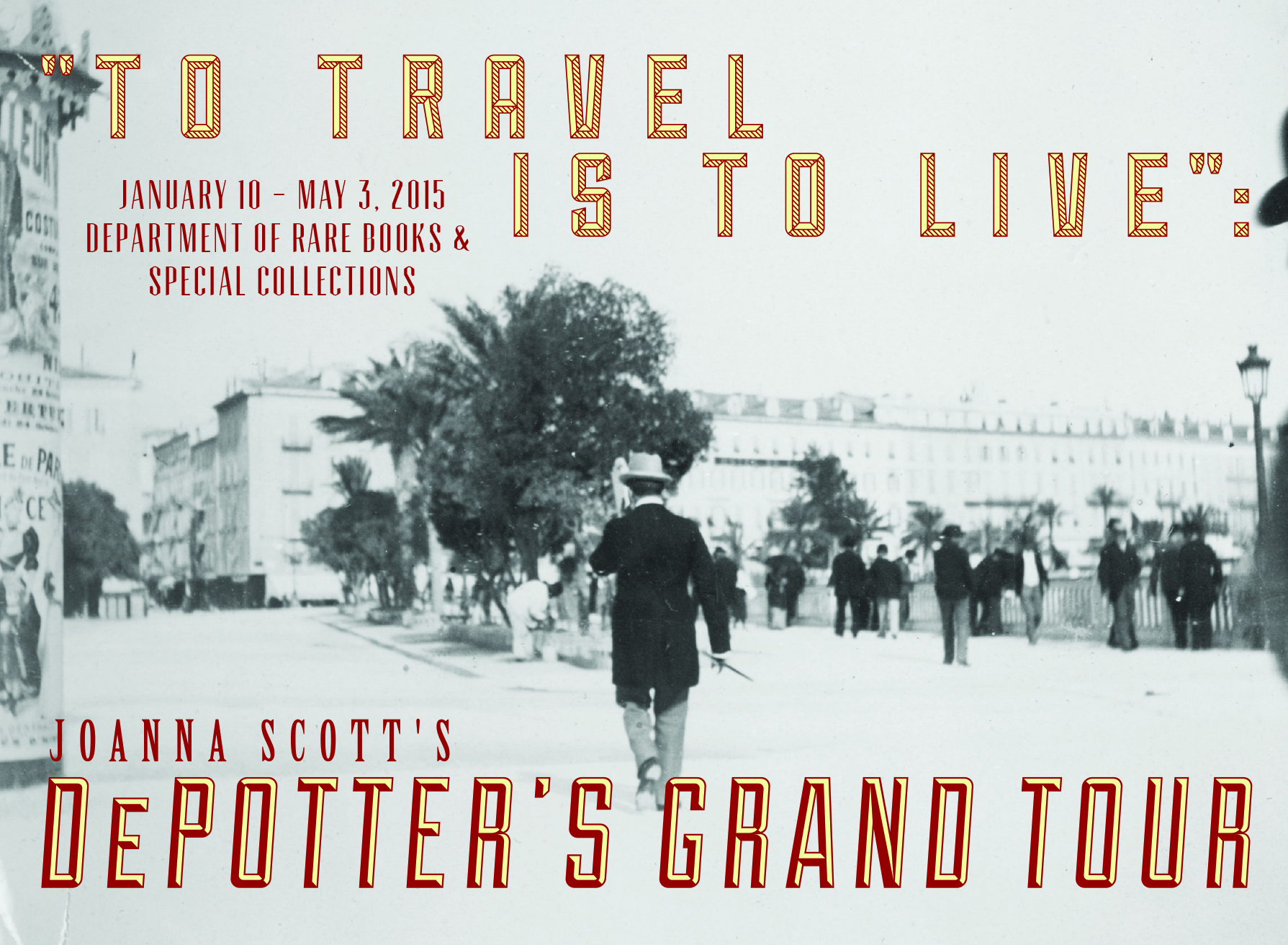 Joanna Scott, the Roswell Smith Burrows Professor of English at the University of Rochester, will offer reflections and take questions about her new novel, DePotter's Grand Tour, during this exhibition opening and reception. The opening reception will be held in the Department of Rare Books, Special Collections, and Preservation (Room 225) in Rush Rhees Library on February 3, 2015 5:00pm-6:30pm. The exhibit will be up through May 3rd, 2015.
Joanna Scott's latest novel originates from her research and imaginative thinking around recently discovered family papers: a steamer trunk full of documents, diaries, photographs and artifacts stored in her mother's basement. Thanks to Professor Scott's generosity, the Department of Rare Books, Special Collections, and Preservation had the unusual opportunity to create an exhibition that interweaves passages from the novel with a selection of items that served as the novel's inspiration.
DePotter's Grand Tour focuses on Armand de Potter [Scott's great-grandfather], an 1870s young Belgian immigrant of modest means and no specialized education, but with a large vision of himself as a world tour leader and collector of antiquities. While working as a French instructor at the Albany Academy for Girls, Armand draws into his vision student Amy Beckwith, the 19-year-old daughter of a prosperous farm family in Dutchess County. Their 1879 wedding trip to Europe becomes a test run for what would soon be the first "De Potter Old World Tour." The novel moves back and forth in time from their first years together to the early 20th century, and alternates between the perspectives of Armand and Amy (Aimée) de Potter. The account of Armand's sudden and shocking disappearance at sea after almost 25 years of marriage and of De Potter [World] Tours becomes a focal point of the narrative.  
Enveloped in elements of mystery, the novel is an exploration of the development and interplay of the de Potters as real players in the business of 19th century tourism – all impelled by very human qualities of ambition, deception, love, and love of learning.
The Department of Rare Books, Special Collections, and Preservation invites viewers to travel via the exhibition, and to share the author's joy of discovery and understanding of people and circumstances through their saved papers and objects.