Plutzik Reading Series welcomes Katherine Larson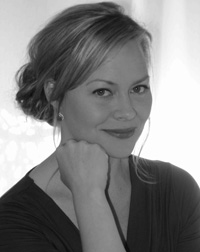 The Plutzik Reading Series welcomes poet Katherine Larson on Tuesday, January 27, 2015. The public reading will be held in the Welles-Brown Room, Rush Rhees Library, at 5:00pm.
Katherine Larson's Radial Symmetry (Yale University Press, 2011) was selected by Louise Glück as the winner of the Yale Series of Younger Poets. Recently a Writer-in-Residence at the Cary Institute of Ecosystem Science, she is also the recipient of a Kate Tufts Discovery Award, a Ruth Lilly Fellowship, the Levis Reading Prize, the Union League Civic and Arts Foundation Poetry Prize, and an Arizona Commission on the Arts Research and Development Grant. She has published poems in a variety of literary journals, including Poetry, The Kenyon Review, AGNI, The Massachusetts Review, Orion, Poetry Northwest, and many others. In addition to writing, she has worked as a molecular biologist and ecologist. She currently lives in Rochester, NY with her husband and daughter.