Student Spotlights
Tash Brown
Senior—BA, Digital Media Studies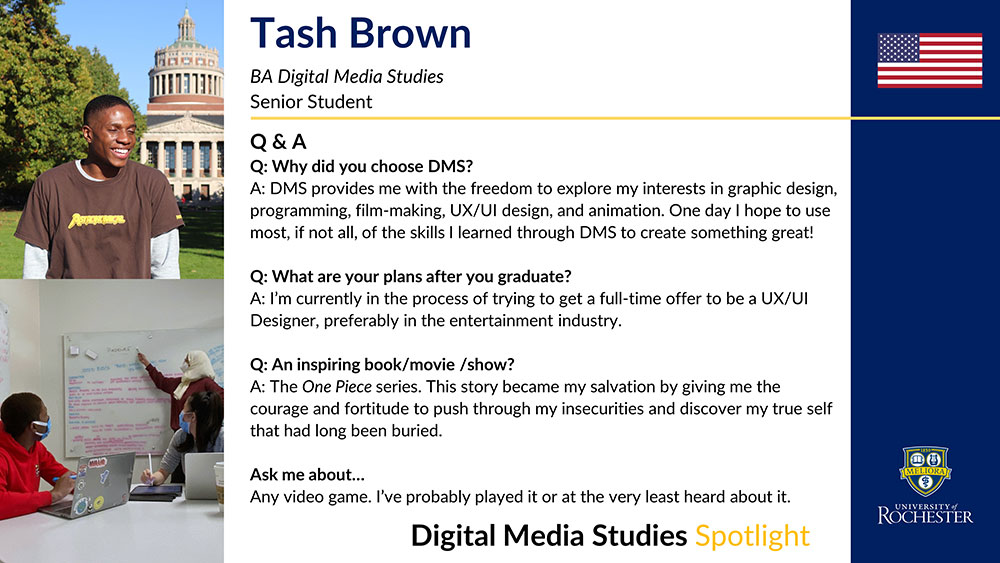 ---
Where is home/Where did you grow up?
Mount Vernon, New York.
Why did you choose this major?
I always knew I wanted to do something related to technology to make lives easier for others. I came into college as a Computer Science (CS) major and a Digital Media Studies (DMS) minor. Now it's the complete opposite. DMS provides me with the freedom to explore my interests in graphic design, programming, film-making, UX/UI design, and animation. While these areas are broad, I still wanted to learn them all while focusing on UX/UI design, my main career path. CS is much more restrictive in what you are allowed to study, and DMS was a great middle-ground for my programming background and the other things I wanted to do. One day I hope to use most, if not all, of the skills I learned through DMS to create something great. Not exactly sure what that magnificent creation will be, but a book series or a videogame are a couple of ideas.
What's your capstone project?
My capstone project is called "Our Access," and it works as an application that supports those who are physically disabled by mapping out the shortest and most accessible routes on campus. Our goal with this app is to create a hassle-free experience for students, staff, faculty, and visitors so that they can get where they need to be without feeling as though their disability is hindering them. An ideal campus should be accessible to all groups of people, and we're one step closer to making that possible.
Why is community engagement important to you?
Getting to know people is something that I've always enjoyed doing. Community engagement allows me to do just that and gives me a new perspective on what a community is experiencing. More than that, it allows me to develop meaningful relationships with others so that we can tackle challenges together.
What are your plans after you graduate?
I'm currently in the process of trying to get a full-time offer to be a UX/UI Designer, preferably in the entertainment industry.
What is your proudest accomplishment while at the UofR?
College has been an uphill battle for me in the way that its arrows rained down on my self-esteem and self-confidence. The biggest challenge I've had during my time at UofR, was passing CSC172 - Data Structures & Algorithms. I never worked so relentlessly hard and struggled so severely. I ultimately had to retake the course as it was a prerequisite for other courses I wanted to take. The next time around, I was genuinely scared I would do poorly again, even with pre-existing knowledge of the course. However, that didn't stop me from trying. I wanted to prove to myself that I could surpass my limits, no matter how hard it gets.
What do you like to do when not in school?
Outside of school, I like to make videos giving commentary on various topics that I enjoy like video games, anime/cartoons, and trends. I spend a lot of time in my own head, and found it to be a healthy way to get my thoughts out. It's the same with writing as well. I love to write poems, short stories, and even songs. They're just usually an outlet for me to express myself and be creative.
A Rochester must?
Hedonist Artisan Ice Cream & Chocolates Shop is my favorite place for anything sweet. I love their mission of recreating history through the taste of their handcrafted desserts for customers.
Feast/meal of the times? Details, please!
Baked macaroni! It is a classic that anyone could enjoy, and it's not too complex to make. I don't have it very often, but that's because I don't want to spoil myself too much, When Thanksgiving comes around, it's something that I'm first to grab and go back to for a second round of eating.
An inspiring book/movie /show? We are really curious as to why!
The One Piece series is hands down one of the places I draw the most inspiration from. Throughout, my life, I would look for motivation anywhere I could find it. One Piece and its themes of pursuing your dreams, being relentless, and fighting for what you believe in with a smile allowed me to find myself. This story came at a time when I was at my lowest and encouraged me to reach my highest. ​​This story became my salvation by giving me the courage and fortitude to push through my insecurities and discover my true self that had long been buried.
Fun fact or quote:
"Who's gonna carry the boats?!" – David Goggins
Ask me about…
Any video game. I've probably played it or at the very least heard about it.