Student Spotlights
Robert Petrosyan
Business, Management, Marketing, and Related Support Services Senior Student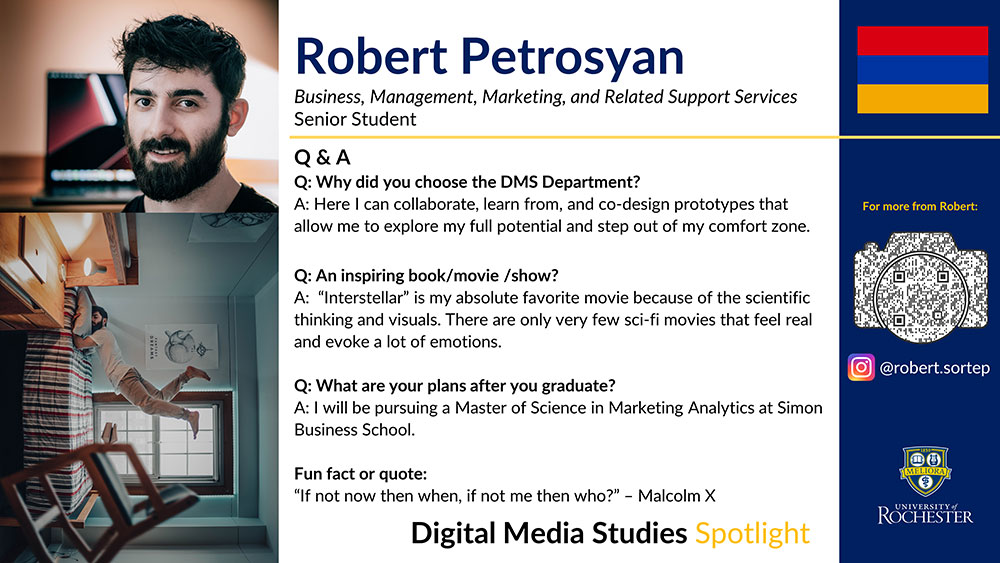 ---
Where is home/Where did you grow up?
Dilijan, Armenia
Why did you choose this major?
To me, the department of DMS feels like a community of like-minded people who are passionate about combining creativity, technology, and media to produce innovative projects and solve problems. I wanted to be part of that community where I could collaborate, learn from, and co-design prototypes that would allow me to explore my full potential and step out of my comfort zone.
What's your capstone project?
My group works with SPIRIT NYS, a non-profit organization that supports the education of home-insecure teens by removing the barriers to success with the goal of breaking the cycle of poverty. The goal of the capstone project is to improve the SPIRIT NYS's marketing strategy and organizational awareness through search engine optimization, website design, blog content, social media, and video. We aim to increase the website traffic and help the organization find more donors and volunteers.
Why is community engagement important to you?
Community engagement has become a popular phrase, but we rarely try to engage with people. The point of the community engagement is to listen, learn, understand the community's challenges, and build strong relationships with them. This is important for me because strong community relationships allow us to co-create and co-design innovative solutions that can make real differences in our lives and the lives of others. 
What are your plans after you graduate?
I will be pursuing a Master of Science in Marketing Analytics at Simon Business School.
What is your proudest accomplishment while at the University of Rochester?
To become the Marketing Lead in iZone, an organization that provides the U of R community with the tools and support they need to imagine ideas for social, cultural, community and economic impact. Additionally, I am proud to be a member of the YellowJackets a cappella group that recently won the championship in the quarterfinals of the International Championship of Collegiate A Cappella (ICCA).
What do you like to do when not in school?
My favorite activity outside of school is to take pictures, videos, and manipulate them to create extraordinary realities that defy logic and rules. Some of my works are posted on my Instagram page (@robert.sortep)
A Rochester must?
One of my favorite places in Rochester is Lamberton conservatory because of its green and relaxing atmosphere.
Feast/meal of the times? Details, please!
I am interested in making the vegetarian version of Armenian Manti. Armenian Manti are dumplings typically filled with lamb or beef. The version that I would like to make will substitute meat with mushroom, beet, and beans.
An inspiring book/movie/show? We are really curious as to why!
"Interstellar" is my absolute favorite movie because of the scientific thinking and visuals. There are only very few sci-fi movies that feel real and evoke a lot of emotions.
Fun fact or quote:
"If not now then when, if not me then who?" – Malcolm X
Ask me about…
Any Adobe software.