Student Spotlights
Quynh-Anh (Angie) Pham
Junior—BA, Computer Science and Digital Media Studies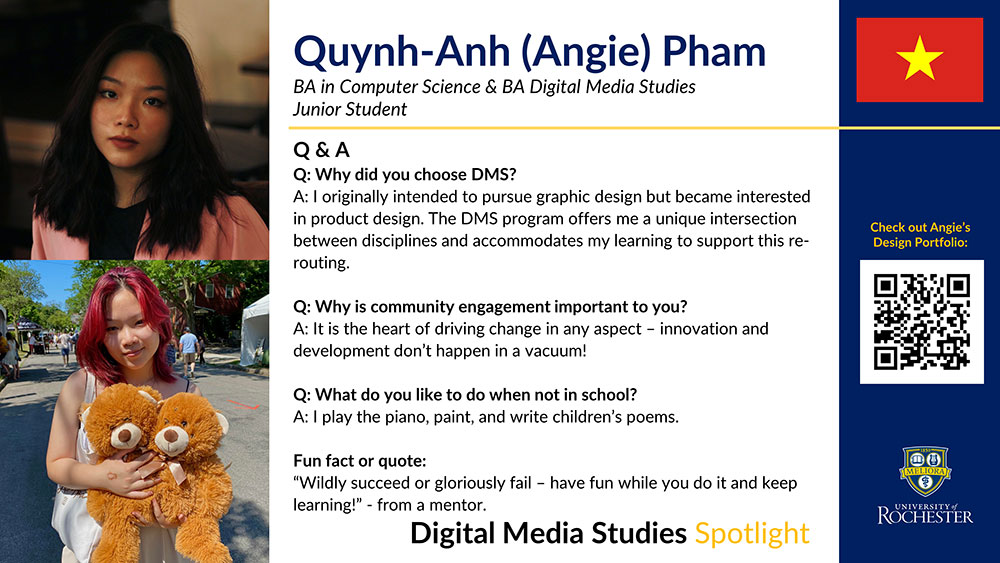 ---
Where is home/Where did you grow up?
Hanoi, Vietnam.
Why did you choose this major?
Digital Media Studies offers me a unique intersection between disciplines. I had a lot of academic freedom and was able to explore courses from different departments while completing DMS major requirements. I also appreciate the diverse career paths that the major prepares me for! I originally intended to pursue graphic design but became interested in product design. The program accommodates my learning to support this re-routing.
Why is community engagement important to you?
Community engagement reminds me that no matter what I'm creating, which product I'm working on, or who I'm collaborating with – innovation and development don't happen in a vacuum. My first professional experiences were with non-profit organizations, starting with a safe home for girls in Vietnam, to Girls Rock! Rochester during my freshman summer. These experiences taught me the heart of driving change in any aspect is community engagement: listening to the communities I'm trying to support and targeting areas that can scale the most.
What is your proudest accomplishment while at the UofR?
Becoming a Writing Fellow! I love seeing my tutees get more confident in their writing and come to their own voices. Currently, as the Advertising Coordinator for the Writing Fellows, I get to involve the Fellows in advertising initiatives – we have a lot of fun!
Additionally, I am involved in the Mediate project with the Digital Scholarship Lab. I'm grateful for the opportunity to participate in both research and development, and it's also super rewarding to see my peers utilizing the platform in class.
What do you like to do when not in school?
I play the piano, paint, and write children's poems.
A Rochester must?
The Lucky Flea and an autumn stroll through Park Ave.
Feast/meal of the times? Details, please!
Hanoian "cha ca La Vong". Elegant and intricate dish of fish, herbs, and freshly made rice noodles – it's truly a journey through different flavors. It's a specialty dish that most people don't think of when they think about Vietnamese food, but the thing I miss most about home!
An inspiring book/movie /show? We are really curious as to why!
"The Last Lecture" by Dr. Randy Pausch. He recounted how he fulfilled his childhood dreams throughout his life, through creativity and resilience. I came across the book by chance when a Vietnamese newspaper published translated excerpts from it. I was in the third grade and decided to learn English just so I could read the book (I did!).
Fun fact or quote:
"Wildly succeed or gloriously fail – have fun while you do it and keep learning!", from a mentor.
Ask me about…
Browser extensions, Neutral Milk Hotel's "In the Aeroplane Over The Sea", or dyeing your hair at home.